Back to selection
"Remember To Let Go of the Plan Now and Again": Editor Andrew Bowser on Onyx the Fortuitous and the Talisman of Souls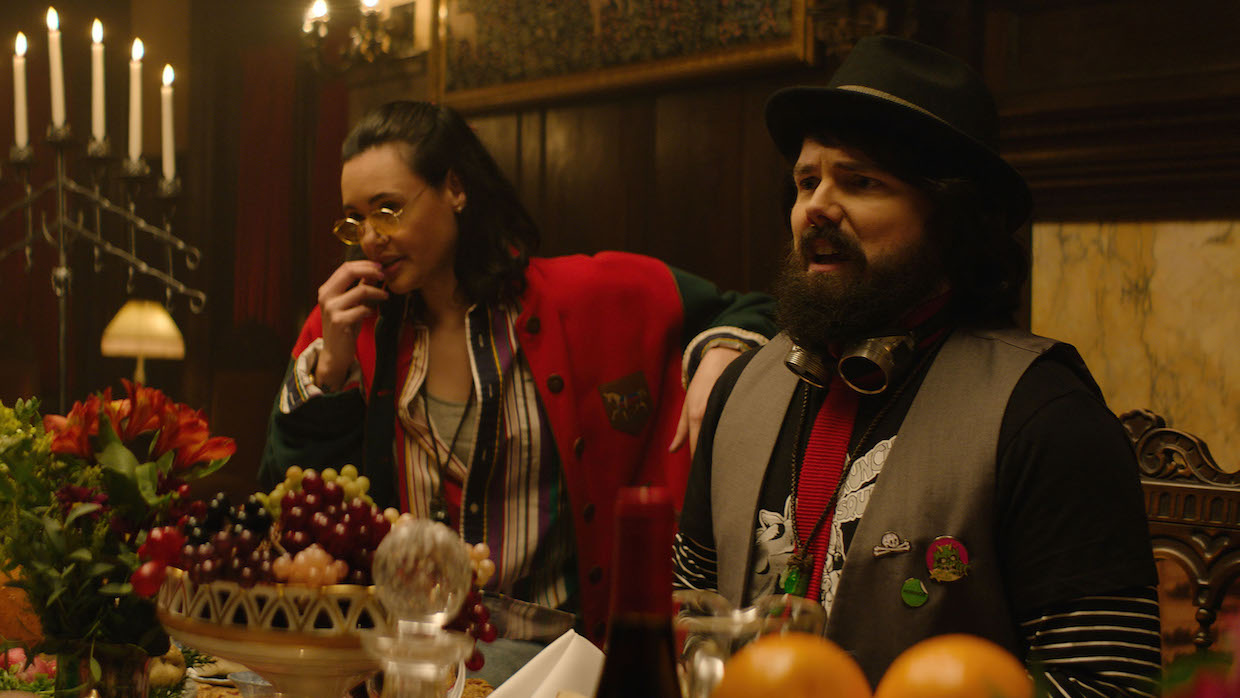 Onyx the Fortuitous and the Talisman of Souls Courtesy of Sundance Institute.
Andrew Bowser is the writer, director, star and editor of Onyx the Fortuitous and the Talisman of Souls, a film based on a comedy character of his own creation. Onyx the Fortuitous (Bowser) is an amateur medium who gets a coveted invite to a seance hosted by his idol Bartok the Great. When they manage to rouse the spirit of an ancient demon, Onyx must fight to keep his life—and his soul—from the demon's clutches.
Bowser offers insight into the film's cut for Filmmaker, discussing how Gremlins, its sequel and Michael Haneke aided in influencing his editing process.
See all responses to our annual Sundance editor interviews here.
Filmmaker: How and why did you wind up being the editor of your film? What were the factors and attributes that led to your being hired for this job?
Bowser: I was hired by the director! Who is also me! 
I have edited nearly everything I have directed since around 2004, especially when it comes to editing comedy that I have written and performed. I always knew if I got to make a feature film in the world of Onyx the Fortuitous, I would be editing it as well. 
Filmmaker: In terms of advancing your film from its earliest assembly to your final cut, what were goals as an editor? What elements of the film did you want to enhance, or preserve, or tease out or totally reshape?
Bowser: For me, it was about losing redundant information. I can be a redundant writer, saying the same thing in multiple scenes. In ways this is helpful, because information CAN be missed by an audience, but it has to come down in the edit (once you can better surmise what is being OVERLY communicated). My film is a comedy also, so I wanted to focus on rhythm. I'd like to think there is a "musicality" to my writing that I seek to preserve in the edit. Big picture, I wanted to get the film "tight" by removing redundancy, then sculpt the rhythm of remaining scenes for optimal comedic effect. This doesn't always mean making a scene shorter, oftentimes it means the opposite! 
Filmmaker: How did you achieve these goals? What types of editing techniques, or processes, or feedback screenings allowed this work to occur?
Bowser: For me, it was having one of my producers in the editing room with me: Olivia [Taylor Dudley]. I am hyper-concerned with continuity and clarity as an editor; Olivia would stay focused on performance when I was getting a bit lost in the technical. By having her there as I cut, she could immediately weigh in on what was working about a scene and what needed to shift. Often, she would see a solution immediately that may have taken me hours to land on. When we were close to being happy, we would send review links out to our other producers and incorporate further notes from them. 
Filmmaker: As an editor, how did you come up in the business, and what influences have affected your work? 
Bowser: I started editing while in film school at SVA. I had a film project that was ignored by an editing student, which caused me to nearly miss a deadline. From then, I immediately began cutting for myself. For this project, I was influenced by the way director Tom Holland cut films that were heavy on practical FX, such as Fright Night and Child's Play. I also watched Gremlins and Gremlins 2 often as horror/comedy inspirations. I am a cutty editor; I cut, cut, cut, so sometimes I watch the films of Michael Haneke to remind myself to… slow down. 
Filmmaker: What editing system did you use, and why?
Bowser: Adobe Premiere! I find it is the most intuitive for how I edit, and my system (Macbook Pro) is small but handles Premiere great. 
Filmmaker: What was the most difficult scene to cut and why? And how did you do it?
Bowser: There's a dinner scene between five characters that was difficult to cut. We shot it with the intention of cutting it by staying on two shots for longer before getting into singles. However once I was editing, the singles did more for me so I relied more on them. It took me a bit of time to let go of how I planned on cutting the scene, and let the scene become what it needed to become. Once I let go of the "plan" I could find my way. 
There was also an earlier scene that relied on a countdown being spoken aloud by a character. This running clock meant that I had a finite amount of time to fill that section with visuals. I wound up needing MORE time than the character's countdown gave me, so finding a way to stretch that was tricky. But that's what editing is about: the expansion and compression of time! 
Filmmaker: What role did VFX work, or compositing, or other post-production techniques play in terms of the final edit?
Bowser: We had a number of sequences that required VFX. I cut our finale first because it is the most VFX heavy sequence. I edited in color shapes and text slugs to time out VFX which ultimately became what some of our sound design was matched to as VFX were still being completed. I would do "shitty comps" as well, just to show our VFX super what I was looking for in regards to size and timing on multiple FX shots. 
Filmmaker: Finally, now that the process is over, what new meanings has the film taken on for you? What did you discover in the footage that you might not have seen initially, and how does your final understanding of the film differ from the understanding that you began with?
Bowser: I am very specific when I write and very planned when I direct. I would say I "shoot for the edit" almost to a fault. I limit my choices on set not only because time and money inform those limitations, but also because I already have the edit in mind. So in that sense, I am pretty locked in on what I want for a scene coverage-wise. But I rely heavily on my DP to surprise me, and he does. Every shot he suggested that wasn't initially "in my head" was a shot that I used in the edit. Same for producers: they suggested shots that I didn't think we "needed" that we very much used. So I would remind directors to stay open; my 1st AD suggested a shot that completely made a sequence work that otherwise didn't. 
As an editor, remember to let go of the plan now and again. Sometimes you get stuck because the solution you need is too far outside of your box. Stand up, walk around, get outside of the box, and maybe you'll find a new way into, through, or out of a scene. Now I can look at the film, and it feels like exactly what I meant to shoot and edit, even though it required many suggestions, surprises, and collaborations I wasn't expecting.