Back to selection
"It's Great When an Idea Is Transformed So Much That the Author Is Rendered Unknown": Editor Jon Philpot on Theater Camp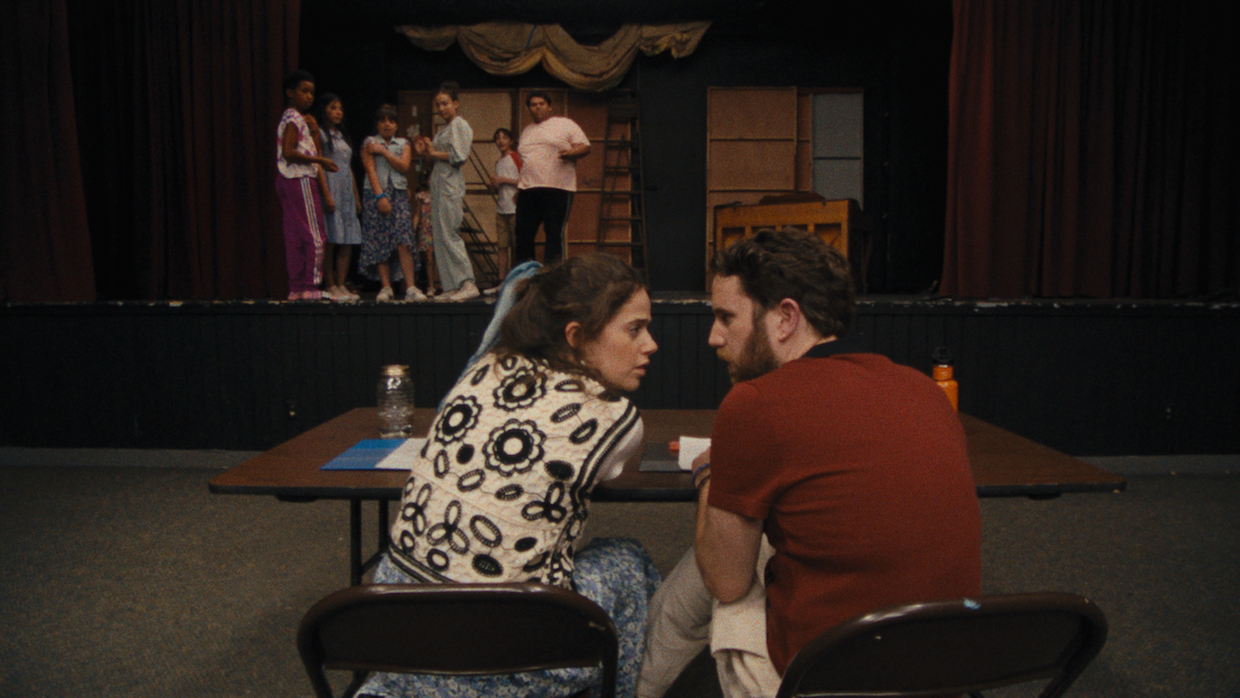 Theater Camp
A dysfunctional summer camp for thespians in upstate New York is the setting of Theater Camp, the co-directing effort of Molly Gordon (who also stars as quirky counselor Rebecca-Diane) and Nick Lieberman. Editor Jon Philpot discusses the process of cutting the mockumentary-style film.
See all responses to our annual Sundance editor interviews here.
Filmmaker: How and why did you wind up being the editor of your film? What were the factors and attributes that led to your being hired for this job?
Philpot: The directors, Molly Gordon and Nick Lieberman, found me on IMDB while looking for editors that worked on fun New York productions. I was an editor for the much beloved Broad City and Search Party, which put me on the short list. After meeting them and discussing their vision, overall aesthetic and creative perspective, it clicked. We like a lot of the same films and music, it was an instant comradery. I will happily follow anyone into battle that mentions Fredrick Wiseman and The Caretaker as sources of inspiration.
Filmmaker: In terms of advancing your film from its earliest assembly to your final cut, what were goals as an editor? What elements of the film did you want to enhance, or preserve, or tease out or totally reshape?
Philpot: Theater Camp is a mockumentary that was shot like an observational documentary.  No interviews, no script, just a long beat sheet, each scene was filmed as spontaneously as possible. My assistant Kira Ablak would organize the footage into similar themes, then I would shape them into vignettes. At this stage, my main goal was to cut the most compelling and funny version of each character. Leaning on this helped us clear the fog as we shaped the scenes. Stylistically, we had no rules — we could make jump-cuts and nobody would think otherwise. The challenge was, we had no rules. Every option of how to tell the story was on the table.
Filmmaker: How did you achieve these goals? What types of editing techniques, or processes, or feedback screenings allowed this work to occur?
Philpot: Once the beast was assembled, Molly, Nick and I started scrambling the order, cross-cutting, setting the stakes, feeling out what could be cut and finding clarity. Ben Platt and Noah Galvin gave us feedback as we pushed forward and the producers were generous enough to let us have two early screenings. The screenings really helped us figure out what was funny or just confusing. Working through notes is one of my favorite parts of the process. It's great when an idea is transformed so much that the author is rendered unknown.
Filmmaker: As an editor, how did you come up in the business, and what influences have affected your work?
Philpot: In my early 20s I was really into hyper-stylized editing. I did some montages that got the attention of the producers of the film Pootie Tang. They asked me to help them make the film look crazier — doing quick cuts and visual effects. After that, I fell in with the folks at PFFR — John Lee, Vernon Chatman and Alyson Levy. I cut Wonder Showzen, Xavier: Renegade Angel, The Heart, She Holler, Neon Joe: Werewolf Hunter and Jon Glaser Loves Gear. Working with them opened the door to scripted comedy and cutting my first feature film False Positive for A24, directed by John Lee and starring Ilana Glazer. For years I bounced back and forth between docs and scripted shows until I had enough credits to primarily cut scripted content.  Those doc years undoubtedly helped me build Theater Camp.
Filmmaker: What editing system did you use, and why?
Philpot: I used Avid to cut this film. The trim tool is wonderful, being able to take a cut, throw it in the source monitor and cut it into another sequence is a very important part of my workflow. Also, at this scale, the media management in Avid is a bit more bullet-proof.
Filmmaker: What was the most difficult scene to cut and why? And how did you do it?
Philpot: There was not a specific scene that was challenging. It was more about striking a balance between all the scenes that was a challenge. Making one reel great would make the next one drag. It was a constant battle of lifting them all to the same level.
Filmmaker: Finally, now that the process is over, what new meanings has the film taken on for you? What did you discover in the footage that you might not have seen initially, and how does your final understanding of the film differ from the understanding that you began with?
Philpot: I was not a theater kid, I was a skater kid. My love of art, music and movies didn't bloom until my late teens. And yet, I always kept theater at arm's length. This film has opened my eyes to a beautifully bedazzled subculture lurking in community theaters across the planet.  If there was ever a gateway drug for an appreciation of theater, Theater Camp is that drug.