Back to selection
"A Family Drama and a Whodunnit at the Same Time": Editor Robert Grigsby Wilson on Fancy Dance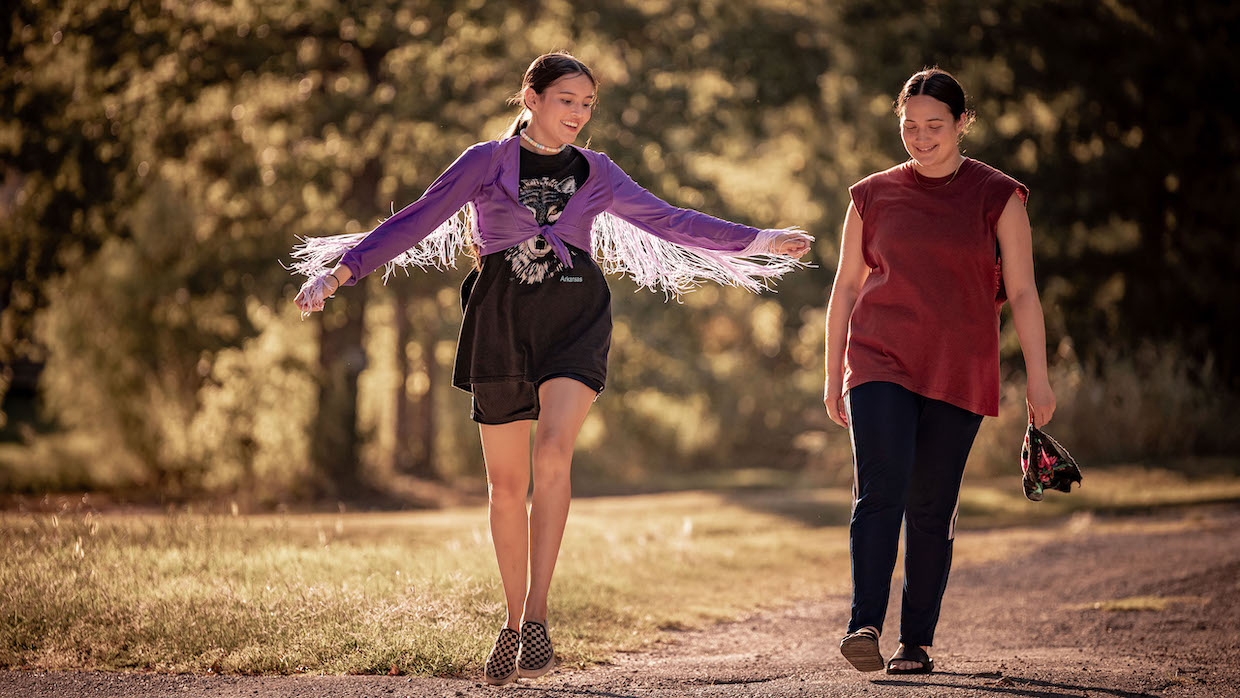 Fancy Dance by Erica Tremblay, courtesy of Sundance Institute.
Jax (Lily Gladstone) has been taking care of her niece Roki (Isabel Deroy-Olson) ever since her sister's recent disappearance in Fancy Dance, the feature debut from Indigenous filmmaker Erica Tremblay. When two weeks pass without word from her, CPS shows up at Jax's door and insists that she's not a fit guardian for the young girl. As a last resort, she jets off with Roki to attend a powwow she's long been anticipating—with the lingering hope that her mother might just show up there, as well.
Editor Robert Grigsby Wilson talks about cutting the film, touching upon his previous collaboration with Tremblay and a host of Sundance-premiering filmmakers.
See all responses to our annual Sundance editor interviews here.
Filmmaker: How and why did you wind up being the editor of your film? What were the factors and attributes that led to your being hired for this job?
Wilson: Erica and I met when she and her producer Deidre Backs were looking for an editor for their short film Little Chief. Our work on that culminated in a premiere for the short at Sundance in 2020. After that, she started sending me versions of the script that would become Fancy Dance to read and give thoughts on. We worked together on this at the Sundance Labs in 2021 and fortunately through the making of this film, which I'm very proud of.
Filmmaker: In terms of advancing your film from its earliest assembly to your final cut, what were goals as an editor? What elements of the film did you want to enhance, or preserve, or tease out or totally reshape?
Wilson: I think the most important thing to balance was being tonally consistent between the emotional family drama and the mystery of Roki's missing mother. The film is a family drama and a whodunnit at the same time, so balancing the tension of the search while focusing on Jax and Roki fighting to keep their family unit together was paramount. The script was so good already, so I wanted to just honor all the parts of the story that Erica was trying to bring to life on the page.
Filmmaker: How did you achieve these goals? What types of editing techniques, or processes, or feedback screenings allowed this work to occur?
Wilson: Our timeline for finishing the film was short. We only wrapped shooting in late September, so we didn't have the opportunity to marinate on the material. A combination of feedback screenings and notes calls helped us trim away the excesses and redundancies and point us in a direction towards the best version of the film. Erica and I collaborated remotely from her home in upstate NY to mine in LA so we leveraged the time difference as well to stretch out productivity in a given day.
Filmmaker: As an editor, how did you come up in the business, and what influences have affected your work?
Wilson: I came up as an assistant editor on a lot of Sundance projects by filmmakers like Miranda July, David Lowery and Matt Ross. I believe this will be my seventh time with a film in the festival. Last time I was here was in 2020 with Erica's short and Radha Blank's The 40-Year-Old Version, which also played in competition. I'm constantly influenced and shaped by the original stories and diverse filmmaking community that Sundance has sponsored. I always see the festival as a guiding light for myself and to the creative community each year.
Filmmaker: What editing system did you use, and why?
Wilson: We used Avid Media Composer 2022 along with Postlab for sharing projects remotely between my Assistant Editor Claudia Capria and the other team members. Erica and I collaborated using Evercast and Frame.io for our reviews.
Filmmaker: What was the most difficult scene to cut and why? And how did you do it?
Wilson: I think the hardest decision we had to make was around getting Jax and Roki to the actual road trip part of the film. There's a lot of narrative setup and a lot of character building that needs to happen before that. But, we couldn't have everything, and we also needed to maintain some momentum and propulsiveness through the film to that point. We killed some darlings but it ultimately served the film to move as quickly as possible to that point.
Filmmaker: Finally, now that the process is over, what new meanings has the film taken on for you? What did you discover in the footage that you might not have seen initially, and how does your final understanding of the film differ from the understanding that you began with
Wilson: I'm always humbled by a filmmaker's willingness to allow me to work with them to tell their personal stories. While this film isn't autobiographical, a lot of the film is rooted in Erica's experience and the experience of her community. To be allowed into that world not just as a viewer but also as a creative collaborator is heartening. Every day my appreciation grew as I learned the details of what Erica had captured on screen and I found ways to bring those pieces more to the forefront. I can't wait to see their response at the festival and learn even more about the film we've made.