Back to selection
"On Any Road of Vieques, There's Beauty Around": Glorimar Marrero Sánchez on La Pecera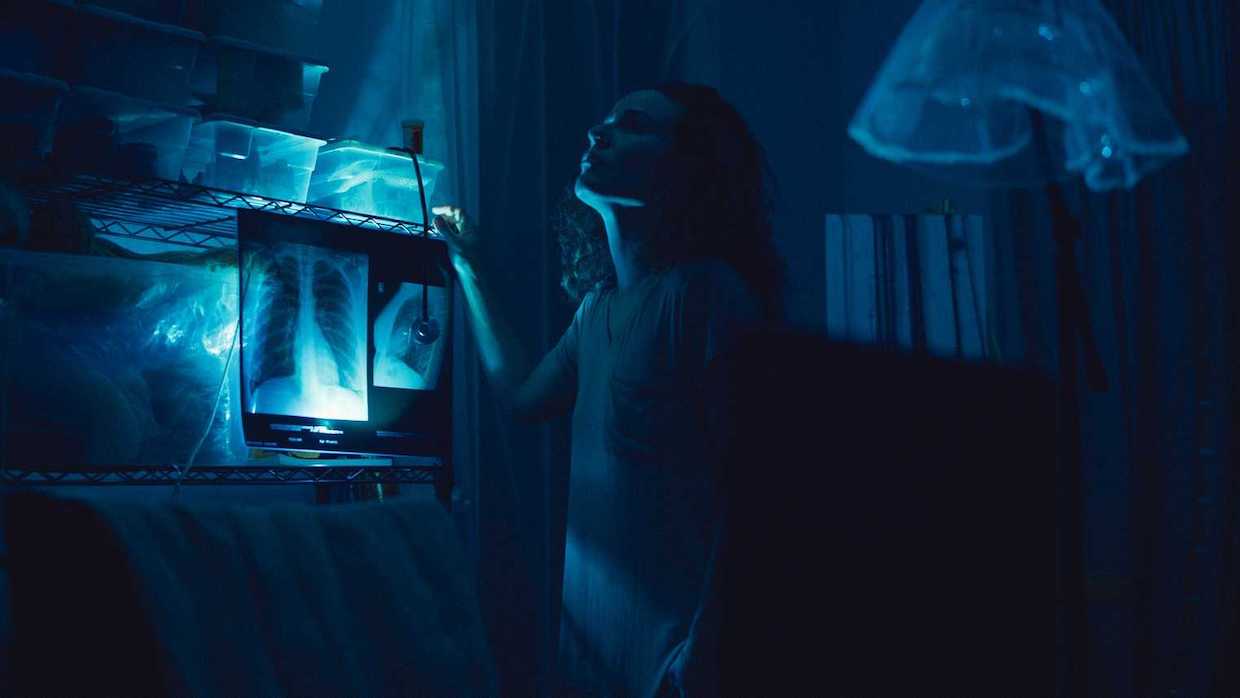 Isel Rodríguez in La Pecera
From the 1940s until 2003, the U.S. Navy used Vieques as a bombing range and military-training site, deploying heavy metals and toxic chemicals, such as napalm and depleted uranium, that left the island contaminated. Today, Vieques has some of the highest cancer rates in the Caribbean, though the U.S. government continues to deny that its activities are responsible. In writing La Pecera, Glorimar Marrero Sánchez sought to reflect the symptoms of colonialism both literally and symbolically, through the character of a woman whose body has been colonized by cancer—a disease, the film asserts, connected to the Navy's pollution of Vieques.
A self-taught, multi-disciplinary artist-director-photographer-screenwriter from Barranquitas, Puerto Rico, Marrero Sánchez began working on her debut feature La Pecera (The Fishbowl) almost 10 years ago, after her mother's death from colorectal cancer.  "I wanted to work on a story related to sickness in a female body," she says. 
Across audiovisual works, still photography, and installation, Marrero Sánchez has often centered issues of grief, identity and colonialism. Developing a feature-length film project allowed her to explore such topics within a character-focused piece that's also a portrait of a place she knows intimately. La Pecera follows ailing artist Noelia (Isel Rodríguez), who leaves San Juan to visit her mother on the Puerto Rican island of Vieques after discovering that her cancer has returned. Opting not to continue treatment, Noelia instead seeks with the time she has remaining to reconnect with her childhood home and those still residing there. 
Depicting the physical pain Noelia experiences as her cancer spreads, Marrero Sánchez effectively mirrors the collective impact of political violence through an individual's personal struggle. In realistic detail, the filmmaker shows us not only Noelia's symptoms but her ways of coping with them; she incorporates strands of hair, falling out after chemotherapy, into her art, and enlists her boyfriend Jorge (Maximiliano Rivas) to help with her ostomy bags and stoma maintenance. 
After Noelia returns to Vieques, healing spiritually through interactions with friends and family even as they struggle to accept her impending death, La Pecera meditates upon the despair, trauma and resilience of all the island's inhabitants. Also attuned to Vieques' environmental beauty, the film balances out its sense of melancholy with lyrically gorgeous sequences that capture the bright blue glow of its bioluminescent bay, the lush greens of its mangrove forests and the many wild horses that wander the island.
Filmmaker spoke with Marrero Sánchez the week following the film's World Cinema Dramatic Competition premiere at the Sundance Film Festival on January 23.  
Filmmaker: Can you first discuss your path to directing this feature?
Marrero Sánchez: At the beginning of writing the screenplay in 2013, I was only going to be only the screenwriter. But when I took the screenplay to different kinds of development labs, all the advisors were telling me I should consider directing it, because it's a very personal piece. I'm a self-taught filmmaker. I wanted to try directing as a form, so I started to direct short films while I was writing, [such as the 2016 short Biopsia], combining the development of the feature-length film with that educational process. After five years of working with a screenwriting coach, we had gone through a rewriting process, and I'd tried many different points of views of the story and different arcs for secondary characters. 
In 2018, I attended a film forum at the Malaga Film Festival and pitched the project there; that's how we developed the film as a co-production with Spain. When the development of the co-production started, that really sped up the process of getting funding. It's easier to get funds from two different countries when you have that agreement. Puerto Rico got hit by Hurricane Maria in 2017, which pushed the project back, as did the pandemic and an earthquake in Puerto Rico. After all these natural events, we were finally able to shoot at the end of my eighth year of working on the project. We did the post-production last year, and now we are premiering, almost 10 years after I wrote the first version. It was a long journey, but being a co-production opened many doors.
Filmmaker: As the film begins, Noelia (Isel Rodríguez) is floating in the ocean, then you cut to a scene of her in a bathtub. It's a rather striking transition. How did you settle on those opening shots?
Marrero Sánchez: That decision was more related to the editing and post-production process. What was written in the screenplay established a longer sequence before that. But when I was in post-production, it became so evident that we really needed to go to Noelia immediately. To go from the water to the bathtub, it's up to the audience to question if she's imagining that she's in the ocean, or perhaps she was in the ocean. There is an ellipsis there, and the audience is free to understand that. 
It was very important to me to establish immediately the importance of water for this character and connections to elements of water as an essential tool in her journey. It starts and finishes in water. That was relevant in terms of the specific language that I wanted to work in, regarding the connections between nature and the character. The director of photography, PJ López, did an amazing job getting these images in a very intimate way. When she's in the water at the beginning, it's a very close shot. You can see the sensibility—the water, the skin and the hair—and then we go from there to the bathtub. He understood the scenario that I wanted to work with, and the importance of having the sickness be visible right away.
Filmmaker: In terms of the film's depiction of terminal illness, it's fascinating to see Noelia collect the hair she's losing and use it as the basis for a sketch. Could you discuss the importance of showing that kind of creative response to cancer? 
Marrero Sánchez: It was important for me to portray a sick woman who has projects and who is creative and brave. She holds to that as an expression of her own journey. Her work with hair, for me, was about including an element that comes from her backstory. We don't see when she was receiving the [chemotherapy] treatment or when she was spending time with other patients. We don't see all that. But through the hair, you know she's connected to the common element of losing hair as a cancer patient. It comes from her experience with her own body. Now, she's collecting the hair, taking care of it, and creating drawings and videos with the hair, because she's exploring work with elements of her own body. The hair is also connected to horsehair. There are a lot of wild horses in Vieques. You cannot talk about Vieques without having horses, so having her human hair and horsehair was a tight connection to develop.
Filmmaker: I have to imagine it was quite a powerful experience, making La Pecera in Vieques, given that the film explores the island's history and health crisis so intently.
Marrero Sánchez: It was a powerful experience, amazing and challenging. We hired people from Vieques, because we wanted to spend the money there. There's a lot of unemployment in Vieques, but also a lot of necessities [for survival]. We had a small crew, but we still needed to have a bubble due to COVID protocols. We created our itinerary specifically by the moon calendar, because we needed to have a new moon for the bioluminescent bay shot, which is a sequence of transition. You have to be there with the new moon; otherwise, you won't get the shot. We planned accordingly. The community of Vieques was very supportive. They were grateful we were making something that talks about the pollution they are living in. It went really well. We saw rainbows almost every day. You can see the real Vieques in the film. 
Filmmaker: Can you talk about capturing that "real Vieques" on screen and especially images you discovered while filming there? 
Marrero Sánchez: We had a very detailed itinerary, but I'm always open to improvisation and the magic of the day. You have to have a plan in order to change the plan. That's what we did, and there was improvisation in terms of our approach to certain scenes. For example, in the moment where the character interacts with a horse, that horse came to us. I was like, "Call the DP right now!" That was not in the itinerary; it just happened, with the horses starting to play in the sand. 
Also, for the shots where she's in the sand, and there's the sunset, where she's connecting with the water and the sand: Playa Negrita (the Black Sand Beach) was far away. We didn't know if we'd have the time to get there. But we finished a shot in another location and saw there was still light, so we jumped into the car with the DP, the lead actress and the boom [operator], and ran to get that. That's a very pivotal scene of the story. For the karaoke scene in Vieques, I did a whole rewrite for that scene in the same location before shooting.
All the time we were recreating the film and learning about new things that could happen. Even though we had a very strict plan that we accomplished, we allowed the magic to appear and the locations to talk to us. Sometimes, you confirm a location, but when you go there with the talent, you find something new that you didn't see when you were doing the tech scout. You don't want to miss that. Luckily, the team was on board with improvisations.
Covering the horses was always unexpected, because you never knew when they were going to show up. We were lucky enough with our scenes that, on the days we wanted to work with horses, they were there. But that's just because we were lucky. We didn't want to rent horses, because we wanted to work with the natural ones for the outdoor scenarios. The ones at the house of the mother, we did work with an animal wrangler for, because it was a very specific moment. and we couldn't risk that the mother wouldn't see the horses in the yard. It was a pivotal moment for their reunion; they get together and hug each other after trying to shoo the horses. At other times, though, it was the natural scenario of Vieques. On any road of Vieques, there's beauty around. 
Filmmaker: That shot where Noelia is leaning out of the car comes to mind. She's looking up, as if bathing in the sunlight, but you hold on that moment even as she's plunged into shadow. 
Marrero Sánchez: In scenes of her traveling in the car, we were using the natural resources of the sun, so you have to be open in terms of whether you have to go this way or that way [to capture the sunlight.] It's the sun that decides. That shot was another form of improvisation with the lead actress, working with the big object of this car. It's an old car, with that broken piece of crystal; you have the symbolism of something broken in the car, and Isel improvised toward that.
Filmmaker: Can you discuss further your collaboration with Isel Rodríguez, particularly around exploring Noelia's motivations for returning to Vieques?
Marrero Sánchez: We worked toward remembering, in every single shot, that she was feeling pain. That's attached to the sickness; colon cancer produces a lot of pain. It was a constant reminder to her—every single day, in every single location, in every single shot—that elements of pain, but also elements of self-determination, were the main theme of the film. Noelia really wants her freedom. She doesn't want to get any more treatment. She wants to be able to express her self-determination for the end of her days. Isel is very well-connected to Vieques, and the grandmother of her two daughters is from there and lives there. So, for her, it was very natural to relate to a story of women from Vieques. That was very evident for me in terms of her work. Being able to express as she did has to be because of her sensitivity to the topic of the film. It was easy for her to see herself as a woman from Vieques.
Filmmaker: As one final question, the longest-standing Latina-led organization in the United States, Mujeres Latinas en Acción, is based in Chicago and recently selected you to create a feature-length documentary about its history. Would you mind sharing a bit about that upcoming project?
Marrero Sánchez: I live between Hyde Park in Chicago and San Juan in Puerto Rico, so I was happy to be selected for that. It's an honor. For their 50th-year anniversary, Mujeres Latinas en Acción commissioned a documentary that can relate to their history but also relate to its necessity today for Latina women. This organization works closely with Latina women, promoting resources for avoiding violence and abuse. They promote services for victims of domestic violence as well. They have a program for the development of entrepreneurship so Latina women can develop their skills, open businesses, and get economic independence from their abusers. 
It's been a very important organization, led by Latina women, for 50 years. They started in an informal way, but they've grown rapidly. They have many programs to support Latina women. I want to work with their archives for the documentary. We've been working on the digitization of these archives in order to evaluate the material. I want to develop a story focused in part on the voices of participants. I'm going to follow some of the participants and try to talk about how this institution impacts their lives. There are women, now business-owners, who were victims of domestic violence, many years ago. Thanks to Mujeres Latinas en Acción, they completed the whole circle to recover from it. There are so many stories of success from the programs of Mujeres. I also want to explore the voices of the founders and the voices of those joining today this organization that is so relevant for everyone in Chicago.