Back to selection
15 Films to Catch During Prismatic Ground 2023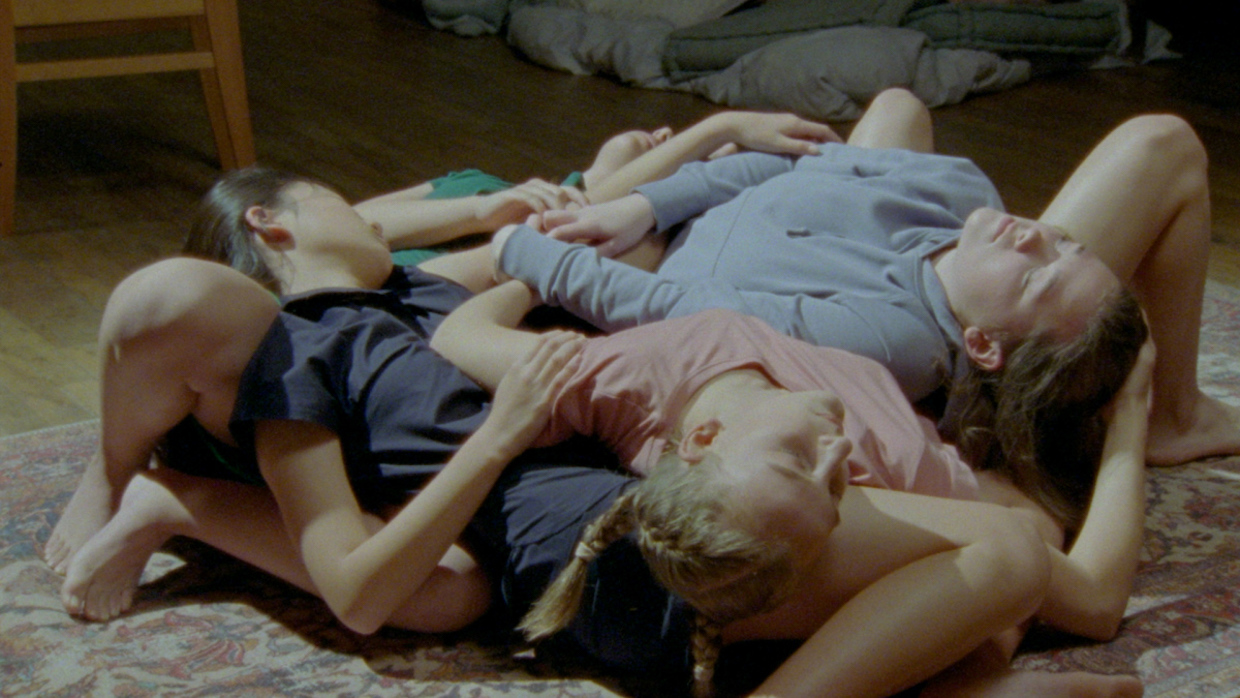 A still from Lucy Kerr's Site of Passage.
Prismatic Ground, the New York-based film festival that showcases experimental documentary and avant-garde works, kicks off this week. Spanning five days and six theaters, the festival will run from May 3-7 with screenings at the Museum of the Moving Image, Maysles Documentary Center, BAM Cinematheque, DCTV's Firehouse Cinema, Light Industry and Anthology Film Archives.
Now in its third year, Prismatic Ground's 2023 slate features approximately 60 films, including both recent films from contemporary artists and new restorations of work from essential filmmakers. During a recent chat with Prismatic Ground's founder and director Inney Prakash, he emphasized that the festival's lineup was crafted so that no simultaneous screenings would occur so that audiences could "potentially watch everything" in the hopes that every film programmed is made "as widely available as possible." With so many offerings to choose from without fear of overlap, Filmmaker is happy to share a cursory list of Prismatic Ground programming to check out this week in NYC.
We're also pleased to break the news that this year's Outstanding Contribution to the Field of Experimental Media Award will be co-presented by EAI (Electronic Arts Intermix) and honor Anthony Ramos. This arrives on the heels of EAI's own in-person film series that honored the late artist's career and will entail a selection of Ramos's films being available online to screen for free during the festival. "I think it's an incredibly important, overdue recognition of a major video artist," Prakash said. Additional films from the lineup will also be made available to watch online for free, though specific selections have yet to be finalized.
Bel0w, find a list of screenings to catch during Prismatic Ground 2023, which doesn't include the sold out opening night screening at MoMI of sibling duo Soda Jerk's Hello Dankness (which Prakash says still has stand-by tickets available) and Alexandre Larose's closing night scènes de ménage trilogy at Anthology Film Archives. For festival passes, tickets and more information, visit their official website.
Wave 1 Shorts: A to Z, A Chair and Where do you stand, Tsai Ming-Liang?
Though the price of one ticket allows access to all films screening in the Wave 1 program at the Maysles Documentary Center on Thursday, May 4, the first batch of shorts screening at noon serve as a perfect survey of the legacy artists that Prismatic Ground honors through its programming. All three films center on abstract representations of physical seats: experimental icon Michael Snow's breakthrough 1956 short A to Z is a five-minute animated film of chairs having sex; Japanese avant-garde pioneer Takahiko Iimura's A Chair is a eight-minute, black and white recording of an empty chair scored by pulsing static; Malaysian-Taiwanese master Tsai Ming-Liang states "I am fond of chairs" via opening title card in his 23-minute pandemic short Where do you stand, Tsai Ming-Liang?, which captures the filmmaker's favorite chair to sit in alongside images of his recent paintings and orange tabby cat. Particularly because Snow and Iimura both passed quite recently, it's wonderful to see two pivotal figures of experimental and avant-garde image-making channeled through the work of a renowned filmmaker whose own artistic output has become more experimental and unconstrained by narrative as his career progresses.
Onlookers
After catching the Wave 1 program at Maysles, hurry over to BAM in Brooklyn for Kimi Takesue's 2023 film Onlookers, which screens at 7 pm on May 4. In a recent interview with Takesue for the site, Aaron Hunt summarized the intended gaze and goal of the experimental filmmaker's most recent effort:
Takesue's Onlookers, a surprisingly funny observational documentary feature she shot in Laos on sabbatical, is all about these times when eyes meet each other, or a lens, and that recognition causes one party to fall in or out of balance.

Heightening the game of glances is Laos's tourism industry and confrontations between locals and the country's tourists: mostly French (who made Laos a protectorate), American (who dropped more than two million tons of bombs on Laos during the Vietnam War, making it per capita the most heavily bombed country in history) and East Asian. Takesue's lens can disturb the otherwise untrammeled gaits of sightseers who, upon realizing they're being watched, sometimes furrow their brow and tense their shoulders. Generally, locals (who are perhaps more subjected to cameras) respond less suspiciously. But the film captures an array of responses and ways of looking among people that complicates this binary. Takesue also observes banal activities—alms giving, river tubing, TV watching, souvenir buying and selling—and transcendent historical sites and mountain ranges, tracking the repetitiveness of tourist traffic rather than the landscapes that visitors ritualistically photograph to death from the same height and angle. 
Stick around after the screening ends for a Q&A.
Speech for a Melting Statue and Private Footage
Speech for a Melting Statue, a 10-minute short by the coalition of Belgian and Congolese filmmakers named Collectif Faire-Part, will precede a screening of Brazilian director Janaína Nagata's feature film Private Footage at DCTV Firehouse Cinema on May 5.  The first film unfurls during Black Lives Matter protests in Brussels during June of 2020, which threatened to topple a statue of King Leopold II in a city square. This intention never manifested into action, but a poet reads a forward-looking speech she's prepared for the (hopefully) eventual dismantling of the statue.
Private Footage originally began from a benign blind-buy when Nagata ordered a South African home movie online. As she delved into the footage, however, the violent specter of apartheid provoked her to unpack the implications of each frame. Adapting the project into a desktop thriller, Nagata clicks through the home movie and hones in on specific details in order to provide broader insight into a devastating historical period as seen through a seemingly happy family's eyes.
"This is partly because of the image the festival has cultivated, but I think one still sees a lot of strong engagement with leftist politics when it comes to experimental and avant-garde film," emphasized Prakash about this year's slate. Clearly, these two films speak to the current state of leftist activism while also reflecting on lingering political implications of the not-so-distant past.
Close, but no Cigar Trilogy
Brooklyn-based artist Ayanna Dozier's Close, but no Cigar trilogy of films are incredibly short yet potent, with the filmmaker using her body and image to comment upon performative sexual inclinations and the general garishness of declaring one's love. The three films—lovertits, A Picture for Parco and an exercise in parting—are 10 minutes in total and screen at Brooklyn's Light Industry on May 6 at 2:30pm, with a Q&A to follow. All three films will be projected in 16mm, something Prakash said is a big facet of this year's festival in general. "Celluloid is more popular than ever," he said. "One out of every six films during the festival will be projected on celluloid, which is really exciting."
Where
The idea of attending a Tsai Ming-liang midnight screening is too good to pass up, especially when the film is the latest in his decade-spanning "Walker series," which follows Lee Kang-Sheng (Ming-liang's frequent collaborator and muse) dressed as a Buddhist monk as he very slowly walks around a distinct city, through the frame of the director's unmoving camera. Where finds Kang-Sheng in Paris as he moves through the bustling city in an almost excruciatingly unhurried pace. People stop to stare, snap pictures and even spew insults at him, yet the film culminates in the peaceful crossing of Kang-Sheng and wandering young man at the Centre Georges Pompidou. Arrive at Light Industry early for this screening, as no advance tickets are sold at this venue—the space is filled on a first come, first served basis.
Wave 5 Shorts: NYC RGB, Only If You Could See a View Above the Clouds, M*U*S*H, Crashing Waves and Site of Passage
The last wave of Prismatic Ground's programming before the closing night selection will be hosted at Anthology Film Archives. The 1:20pm screening features a recent work from celebrated filmmaker and animator Jodie Mack, her 16mm stop-motion film M*U*S*H from 2022. An assortment of shriveled floral debris dance around the screen before they make way for fresh, bright new petals, with black and white images peeking through the organic imagery. We're also pleased to see Lucy Kerr, one of our most recent 25 New Faces of Film, in the mix with two films: Crashing Waves and Site of Passage.
In his profile of Kerr, Vadim Rizov wrote about both films:
Crashing Waves begins with Kerr speaking over black, telling the story of a stunt coordinator on a set for a rehearsal that requires her to sit in a car as it drops into water; a little less than halfway through, the title image appears onscreen. The granular particulars of the experience—the performers are required to buy their own seatbelts, and the narrator realizes in hindsight that "production should have provided those, but that's a whole other story"—form a disturbing portrait of an unsafe stunt. The story is taken from the experience of queer stunt coordinator Jess Harbeck; Kerr chose to record herself reciting the anecdote in part because Harbeck's delivery was so fast, but also because of the conceptual aptness of doubling her subject's experience just as Harbeck was doubling for an actor. Site of Passage (2022) presents a group of adolescent girls playing four games with ritualistic intensity, beginning with "light as a feather, stiff as a board" (as featured in The Craft) and climaxing with the four intertwining their limbs and pushing themselves up from the floor as one body. As with her 2019 performance piece Four Girl Trick, the last shot was inspired by the internet challenge of the same name.
Viktoria Schmid's NYC RGB "surveys the architecture of Manhattan in a series of fixed-frame compositions, each exposed three times, through red, green, and blue filters." The geometric bursts of color evoke the phenomenon of glass panes reflecting similar colors as it catches the light, which has become more commonplace in the city through the increased presence of "modern" glass buildings. However, the film ignores such edifices in favor of the gray stone buildings that remain some of the most iconic staples of the city's landscape.
Another 16mm film during this screening is Only If You Could See a View Above the Clouds by LA-based Chinese filmmaker Zhuoyun Chen. The 4-minute long film is described by the artist as "a ghost, a face, lucid minerals, vague landscapes…What do you see when my words fall?"
"Avant-garde and experimental modes of filmmaking create and pose the opportunity to exist at the highest level of artistic achievement while also making strong statements about the world we live in," Prakash said about this year's slate. Established voices converge with emerging talents during this screening, which similarly concludes with a Q&A, and distills Prismatic Ground's overall ethos: 16mm projections, NYC-specific observations, experimental modes of filmmaking from a diverse set of women filmmakers. Yet it's only one of many perfect morsels of programming the festival boasts this year—so go out and see whatever you can!
"My plea to people who want to support the festival is, really, please come out [and see films outside of opening and closing night selections], because that will be vital to whether the festival succeeds and continues or not," concluded Prakash.