Back to selection
"I Observe Human Behavior With Such Pleasure": Nicole Holofcener on You Hurt My Feelings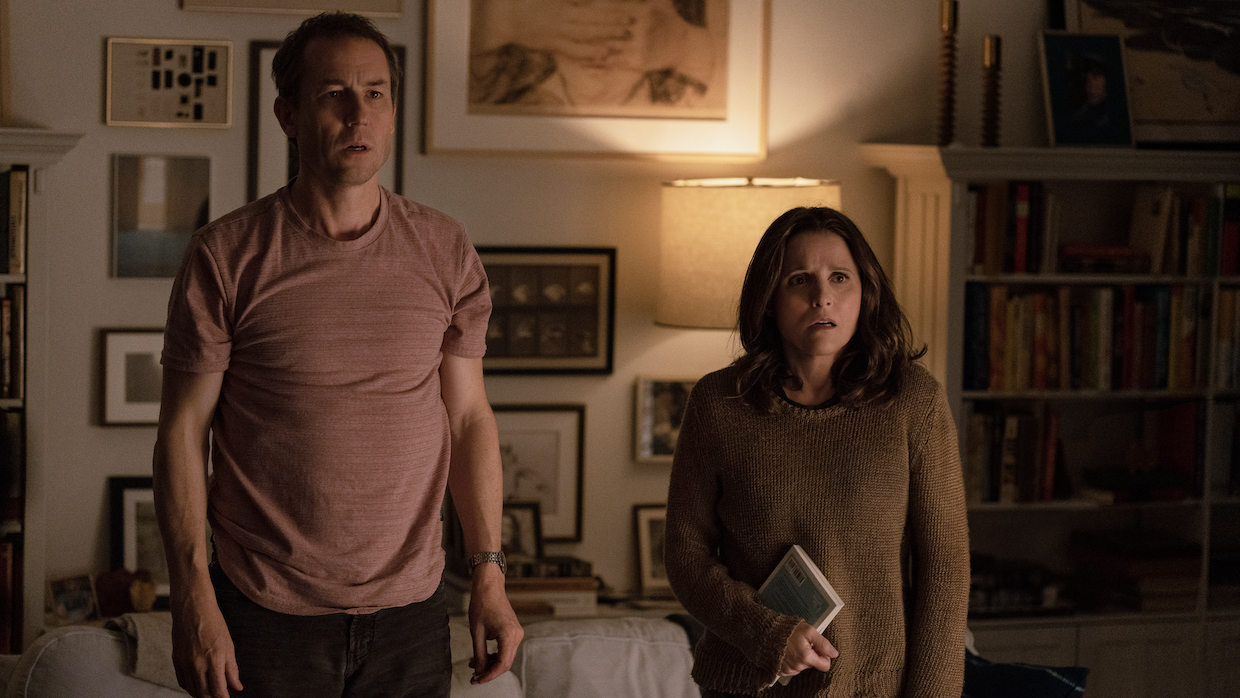 Tobias Menzies and Julia Louis-Dreyfus in You Hurt My Feelings.
It's no surprise that Nicole Holofcener prides herself in thinking that she can always tell when people are lying to her about her work. After all, she's as observant as writer-directors come, able to portray even the slightest nuances in idiosyncratic human behavior across the likes of Please Give, Friends with Money, and Enough Said. "There are certainly some tells," she says, during a recent Zoom interview with Filmmaker on her latest feature You Hurt My Feelings, centered on the white lies we tell loved ones about their work in order to, well…not hurt their feelings. "The bad ones are bad," she continues. "'Congratulations, you made it.' Or, 'That must have been so fun to make.' That's a bad one. And when people don't talk about anything specific and just say, 'It was great. Bye!' 
An extreme case of a white lie is what Julia Louis-Dreyfus's Beth has to come to terms with in You Hurt My Feelings upon accidentally overhearing her husband Don (Tobias Menzies) being critical of her latest, still-stuck-in-draft-mode novel. Over the course of the New York-based story, Holofcener compassionately inspects whether honesty and love always have to go hand in hand, while examining the peculiarities of her infinitely relatable urban characters with depth and a unique sense of humor.
Below is our conversation on her latest film, her collaborations with Julia Louis-Dreyfus, her overall career across TV and film and the ongoing WGA strike.
Filmmaker: Not having your loved one's approval is one of the greatest artistic fears, isn't it? So I'm wondering what was the starting point for You Hurt My Feelings? Was it your own fears around approval?
Holofcener: I don't think there was just one [starting point]. A lifetime of wondering if people are lying to me inspired the idea. And when they don't lie, can I cope with that? I guess my experience of being vulnerable to other people's opinions about me and my work, and the fact that my work is so autobiographical. My movies feel like they're me. I really feel like they are so close to my personality and values and the things I think and worry about. And the characters—at least one usually—are so clearly based on me. And if they don't get it, can they get me? Can I also live with the possibility that they don't get it, or like it, and still love me? But yeah, sometimes I can cope with it well, and sometimes I can't. I still want approval, of course. Don't we all?
I just was curious about all of this on both sides. I've had to tell white lies. I've had to decide whether to tell the truth or not. Because I might love that person, and I don't want them to know that I didn't care for [their work], and I don't want to hurt their feelings, just like they don't want to hurt mine. But it's the bargain I've struck. If I'm going to put myself out there in such a vulnerable way, people are going to have feelings.
Filmmaker: Speaking of that vulnerability, I'm curious if you read critics and the reviews of your own films.
Holofcener: I read reviews. I think that I've never made, knock on wood, a movie that got terrible reviews. And I think that if the majority of the reviews were terrible, I would stop at some point to save myself. But of course, I love reading good reviews if I feel they really got it. Sometimes reviewers will show me things about my movie I didn't even notice. I'm more of an unconscious writer. 
Filmmaker: Do you remember an example of that, that you haven't thought about something in a certain way and a review illuminated it?
Holofcener: I wish I did have an example, but there's been times when it's like, "Oh, I never thought of that," if they're talking about some Freudian or some Oedipal thing. Or drawing a comparison to a previous film, maybe a theme that I've repeated. Some of those, I'm fully aware of and embarrassed about. But sometimes a critic will show me something I was not aware of. I wish I had an example.
Filmmaker: This is now your second collaboration with Julia Louis-Dreyfus after Enough Said. And I think she has a certain relatable quality and comedic timing that makes her so perfect to convey the type of vulnerability you're referring to. I'm not surprised you referred to her as your muse in other interviews.
Holofcener: To picture Julia while I'm writing is a gift, and the possibility of her wanting to do it is really inspiring. And as soon as I met her, I just immediately felt we got each other, that we were similar in what was important to us; our obsession with our kids, our sons, and we have the same sense of humor. I can't pretend to be as hilarious as Julia, but she certainly does help me look better. We laugh at the same things. We work in a really similar way. The way she works is very intuitive, and the way I direct is very intuitive. And she can improvise better than anybody. It's more like ad-libbing lines that end up in the material. And I guess as mothers and similar ages, going through similar things in our lives really helps us to connect. She really understands my work and respects it, which is wonderful. And I have so much respect for her, and we have a really good time. Both of us can really screw around and have a lot of laughs and waste time when there isn't any. So it's really a pleasure.
Filmmaker: Revisiting Enough Said again recently, I was struck by how closely you're leaning towards discomfort and tension in both that and You Hurt My Feelings. And in both cases, they're caused by a lie.
Holofcener: It's interesting that both those films rely so heavily on a lie, because ironically, I have such an allergic reaction to movies that are based on lies. But somehow, of course, I think mine are different. But you know, a rom-com that's based on a huge misunderstanding or a lie, so often it feels so fabricated.
But this one doesn't, and that's the miracle of it. In both movies, these lies felt very possible to me. And I don't know, they really helped spin a story, because how would I have a story if she didn't overhear what he said about her book? And Enough Said, the idea of that came out of a really specific thought: "If only I could talk to the ex-wife of the boyfriend, what would that be like?" So that's how that movie came about. It was a very specific desire. And this one was a little more vague: I'm very vulnerable to criticism and wanting people to think I'm fabulous.
Filmmaker: You have mentioned that all your movies in some way are about you. So how do you craft your ideas and start a screenplay? Do you take a lot of notes based on real-life experiences and anecdotes, maybe growing list of things that one day you want to plug into a story?
Holofcener: I wish I had that drawer full of scraps of paper. I don't. I remember stuff, and usually if it's really good, I'll remember it. Or I'll take a note about it, about a certain person or something somebody said. But no, it usually starts with a theme, something that I'm grappling with in my life, something that is curious to me. That's what usually inspires a new script. And my movies are so obviously growing with me. The characters just slowly become my age, and the issues are the issues that are important to me at the time. Hopefully one day I'll go back and do a younger Nicole, maybe. But I'm pretty fascinated by this stage of life that I'm in at the time. I observe human behavior with such pleasure. It's just the best, most fun thing to do. It's just people's idiosyncrasies, including my own, and my own failures and contradictions. Those are the things that interest me.
Filmmaker: I do admit, I sometimes feel like you're secretly hiding in my living room, peeking into my life and putting that on the screen.
Holofcener: I am. [Laughs] Good, because we're all so similar. And I love tackling something universal in a very personal way. I don't imagine that my problems are particularly unique, and I guess that's why people can relate to them.
Filmmaker: I want to ask you specifically about the rhythm and choreography of your movies. What's your philosophy towards setting the scene, deciding how much we see vs. the character sees, which is very crucial to several turns in this movie.
Holofcener: This was on a very short schedule, so I couldn't be too picky. Certain streets, it was like, "Fine, we'll just shoot on that street." I often storyboard most of the movie, and then generally the DP and I will look at it and forget about it, and see where we are and what the best angles are, and what I want to see and what I don't want to see. It's very intuitive. I'm usually not setting a serious mise-en-scène to express the characters. I feel like the set decoration and the practical locations do so much for creating a world and an environment that's New York. I wanted to show as much of New York as I could. I was thrilled to be able to shoot in the Paragon Sports Store, which has been, for me, a part of my life, going in there for the sales. And Central Park. Jeff Waldron was the DP on this movie, and I'd worked with him before; he was really flexible and inspired. We create things together and we couldn't waste a minute. There was no luxury in master shots, generally. And again, the set decoration is incredibly important. I'm from New York. I know these people. I know what kind of crap they'd have in their house. And I think that's all pretty well expressed in the film.
Filmmaker: What are some of the particularly hard things about shooting in New York, a city that can often throw you a curveball?
Holofcener: Everyone in New York knows this one photographer who will just descend on a set and create havoc. And they know who he is, everyone knows who he is. And I would say shooting in the city, that was our biggest problem. And other than that, people in New York are so blasé that they didn't pay that much attention. I mean, Julia's a huge star, but she managed to go undercover. I think on a bigger film, she would have a lot of security and people walking around with her, but not on this movie. And she was game. There was not a lot of time and not a lot of money to be that choosy about locations, but I think we did great.
Filmmaker: And since this is a very New York film, what are some of the New York films you always find yourself gravitating towards?
Holofcener: Well, certainly Woody Allen's early films, for sure. Manhattan and Annie Hall. And movies like Dog Day Afternoon. And Midnight Cowboy is one of my favorites. And that's the New York I grew up in; the graffiti-ridden, dirty New York with 42nd Street in the '60s. Now it's quite different, or at least parts of it is. I have filmmakers that I love so much that shoot all over, but it's the sensibility that I love, I guess.
Filmmaker: Since it's the biggest topic in the industry right now, I want to ask you a little bit about the WGA strike. Even though your TV work is more on the directing side, you're still a filmmaker that works across different mediums, both TV and film. I'm wondering if you have some reflections on it.
Holofcener: Yes, since I don't write television, that's personally not a battle for me. But I truly believe in the battle that we're fighting. And because the industry is changing so much, writers are entitled to their wages to reflect the changes. It's ridiculous that they aren't. And I think writers can generally be undervalued, and so I think the strike is a good thing. I wish that it didn't have to happen, but we'll see.
Filmmaker: One of the things everyone's so rightfully alarmed about right now is AI. Do you feel it's a real threat on the craft of screenwriting and filmmaking?
Holofcener: I guess I have a fatalistic approach to that. If art is being created by artificial intelligence, we just need to throw in the towel. It's over. You can't compete with that. And hopefully that's never going to happen, or it's far in the future. But I almost can't worry about that. It's so absurd to me. And scary. But I don't think we're there yet and it's not one of the major talking points. But yeah, if that happens, forget it. We're done for. And it's the same with fine art. If a computer can create beautiful art, beautiful original art, we're just done for. In many ways in this world right now, I feel like we're done for if things continue as they are.
Filmmaker: You direct both for television and big screen. Does your way of working change depending on the medium? Or is there a medium that you feel more comfortable in?
Holofcener: I'm more comfortable directing my own words, because I know why they're there and what they mean, and I can change them whenever I want. I've been fortunate enough to work on shows I really like and respect, and I really want to please the writers and producers. So that's a different energy. When I'm working on a TV show, I often come across actors who might not work the same way as I do, or the same way the actors in my movies work. And so that's sometimes a challenge, adapting to different styles of acting and what actors need. But it's been really fun and I've gotten to know new actors that way. I loved working with Owen Teague on Mrs. Fletcher, and so I cast him in this movie. So there's always things to be gained from exploring new stuff and meeting new people. And also, I make films so infrequently that I miss directing. I want to remember how to do it.
Filmmaker: And this is where I want to bring up the work you've done as a co-screenwriter on The Last Duel, which I love and mostly because of your contributions. I'm wondering what you took from that experience, collaborating with Matt Damon and Ben Affleck on a script that someone else was going to direct.
Holofcener: It did help me realize I can write a character that has nothing to do with me and isn't remotely like me, but I could still put myself in her shoes. And initially, I was insecure. Could I write about this time period, and with these words in her voice? So it was nice to know that I could. And it was weird watching someone else direct my scenes. I can see how writers decide they want to direct themselves after experiencing that. I mean, Ridley Scott's a great director, but we saw scenes differently sometimes, and I had to just let him do his thing. So that was an interesting experience. But really fun. So out of what I would ever expect would come to me.