Back to selection
"I Had Three Art Directors and Two Cinematographers": Rodrigo Moreno on The Delinquents at Cannes 2023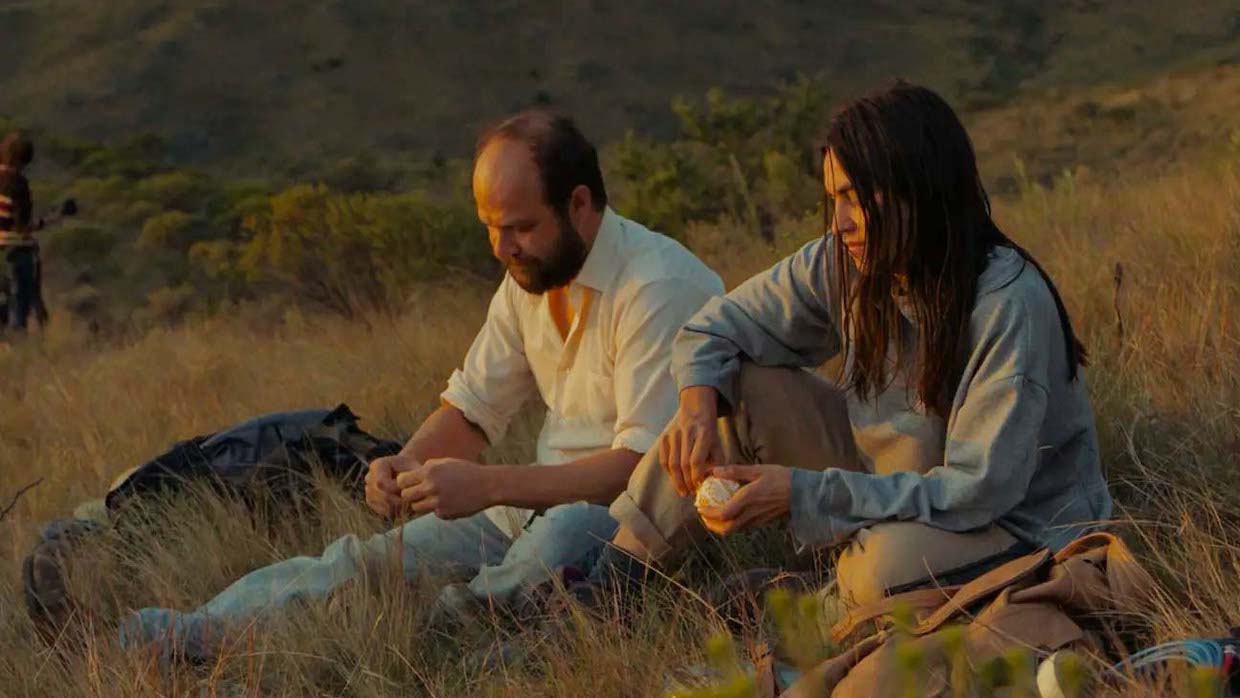 Daniel Elias and Margarita Molfino in The Delinquents
It's the rare three-hour film that has as light a touch as The Delinquents while keeping a deft hold on the audience. That's partly down to its surefire bank heist plot, borrowed somewhat from Hugo Fregonese's 1949 Argentine noir Hardly a Criminal: a longtime clerk steals enough money to retire on, stashes it, then goes to jail, planning to recover the loot upon release. Morán (Daniel Elias) is the nebbishy thief in Rodrigo Moreno's new film, which premiered in Un Certain Regard at Cannes to general delight. But his accomplice on the outside, Román (Esteban Bigliardi), gets distracted by another kind of escape from drudgery, in the form of a radiant free spirit, Norma (Margarita Molfino), he meets in the countryside.
That detour, and other twists, set The Delinquents apart from the usual ticking heist plot, along with Moreno's especially smooth control of tone, comedic aplomb and a characterful cast. With Laura Citarella's Trenque Lauquen recently out in the U.S., some have drawn comparisons within Argentine cinema, but Moreno's storytelling has its own sly appeal and mysterious drive, without leaning on an appreciation of narrative gamesmanship. Shot on an Arri Alexa with (Moreno specified) Cooke S4 lenses, the film seems all the more remarkable given its protracted production, which seems to have had no impact on its vividly imagined world, from the Pinochet-era bank decor to the bucolic riverside where Román starts drifting off track. I chatted with Moreno in Cannes, where he'd just seen (and loved) Aki Kaurismaki's Fallen Leaves.
Filmmaker: You've said that one influence on this story was the 1949 film Hardly a Criminal, Hugo Fregonese's final movie in Argentina (Spanish title: Apenas un delincuente). What's different about the era when Hardly a Criminal takes place and The Delinquents?
Moreno: There are many differences, but the most important is the main goal of Moran (and I purposely preserved the name of the character from Hardly a Criminal). In Hardly a Criminal, Moran wanted to be rich. That was his aim. The social and economic context not only of Argentina but of the world was that it was after World War II and capitalism was in the zeitgeist. Everything was expanding, so Argentina was a very rich country in those years. Now, things have changed a lot, and what we have is a huge crisis—also from capitalism. So, I find the fact of being rich very superficial now. It's kind of stupid. The aim of my Moran is to stop working. When I started thinking of this project, the main obstacle was how to find a goal for this character. Once I found it, everything fell into place.
Filmmaker: So in the '40s, being rich is a nice fantasy, but now, it's less of a fantasy than just wanting to be able to retire at all.
Moreno: It also has to do with genre, because Hardly a Criminal belongs to a classic way of telling stories that you can frame within the genre. This is something new that I'm thinking up right at this moment. Being rich fits a classic model of storytelling more than this one. To stop working, to have a more natural life, doesn't have any glamour at all, and classic films needed glamour. So, I'm revising genre—which is an old move, of course, because there are many people here [France] who already did that in the '60s.
Filmmaker: I was fascinated by the structure of the story, which obviously holds the audience's attention through the tension after the bank theft, but isn't just about the bank theft. 
Moreno: I think it has to do more with the montage [i.e., the edit] than with the screenplay. I found the film in the montage. Of course, those things all had to be written out before, but the script was more linear. I told the story too chronologically. What I found in the montage is that the fact that Moran had met Norma was really in the third act. But I really never thought in terms of how to keep the attention of the spectator. I did not have an strategy. I trusted in making funny things. When I was at the university, we studied storytelling and all the recipes of how to tell a story. And they work, it's proven that they work, and that's OK. But when I went to the cinematheque—well, not exactly a cinematheque, because Argentina has no cinematheques, but we have some artahouses and at the time I was studying, I went to see some Fellini film, Amarcord or another one, I don't remember which. I said to myself, "This storytelling is totally different!" Fellini keeps you focused on the story by showing you things that make you laugh.
Filmmaker: So it's more about making each individual scene as vivid and lively as possible?
Moreno: Yes, and what helped in the montage was the investigation in the bank. The investigation allowed me to tell the story of Román, the man who has to keep the money, and this absurd investigation—because it is absurd—allowed me to have a kind of MacGuffin in the structure. Once it finishes, the rest of the film goes into uncertain territory in terms of storytelling and structure.
Filmmaker: Like when he runs into these filmmakers in the countryside.
Moreno: Bohemian people. Yes, a very strange independent film.
Filmmaker: They seem to activate him more than his wife, who is a music teacher.
Moreno: Yes, though in the montage I discarded some things we shot between Román and his wife, Flor, where she longed for a better life: we can stop working, we can go to the countryside. But it was too expository. 
Filmmaker: So she had dreams as well.
Moreno: Yeah.
Filmmaker: The visual scheme of the film gets a special radiance when Román does go to the country in the second half (for reasons related to the loot). What was your thinking for the different look of the city and country sequences?
Filmmaker: Well, it's weird for me to think about that, because of course I said, "OK, let's work out the cinematography and the image with my art director and DP." But they all changed in the middle, because the shoot took us four-and-a-half years because of the lockdown and many other things. We started shooting in 2018 with one DP and art director. We did more shooting in 2020, then came the pandemic. In 2021, the actor who plays Román, Esteban, had to leave to shoot in Spain for nine months, so we had to wait for him. We finally shot the end part of the film in 2022. The bank was the last thing I did. So it was very strange to think of the film in visual terms, because it was so split, so separated, at every stage of shooting, that it required me to have some kind of faith. I had three art directors and two cinematographers. You see the film and you feel like it's all one thing, but it was not.
Filmmaker: What was the first thing you shot?
Moreno: Mostly scenes of Román and his wife, plus when Norma goes to Buenos Aires and they [Norma and Moran] go to the hotel and to the cinema to see L'Argent.
Filmmaker: So, mostly interiors?
Moreno: Yeah, but also some exteriors because I shot some things in the street. It's funny because when you watch the film, you don't know that Román is at the cinema in 2018, and when they walk out of the screening, that was shot four years later. But that's why during the last part of the shooting last year, I decided to invent another scene with the music students that Román's wife has. It's like a Linklater effect, because I first shot those kids in 2018, when my daughter was four years old and my son was seven years  old. Then I shot them again four years later—four years Link-later…
Filmmaker: Nicely done. Wait, those are your kids?
Moreno: Yeah, that's why it was OK. It was one of those ideas that come to you when you are on the bus or going to the university, thinking about the film all the time. I said, "OK, I figured out how to say that time went by!"
Filmmaker: The answer was right in front of you—at home.
Moreno: Yes!
Filmmaker: Part of why the movie runs so smoothly is the excellent cast you've put together. Esteban Bigliardi, who plays Román, is someone you've worked with before. What's the connection you have with him?
Moreno: I worked with Esteban on two other films. I like to repeat actors because you create a familiar relationship. It's nothing to do with professionalism—it's more familiar, and it's the best way to develop a dialogue with them. For me, it's always hard to face an actor for the first time. It can seem like we speak different languages. Once you are with the same actors again and again, you can create the same language and the same spirit of what we are pursuing, what we want. And Esteban is an actor that I really like because his presence in the front of the camera, his way of being, is a mix between naive and… I don't know how to say in English. In French, it's noble. 
Filmmaker: I think I do see that in his work in this movie.
Moreno: The camera catches everything, like an X-ray machine, so it's important how they look not only in front of the camera but also how they are outside.
Filmmaker How did you cast Margarita Molfino as Norma?
Moreno: Margarita is an incredible dancer. I saw her dancing.
Filmmaker: Contemporary dance?
Moreno: Yes, she works in a company directed by Diana Szeinblum, one of the great choreographers in South America. I met Margarita because I don't do casting. I hate casting—it's very cruel. I prefer to meet people in a bar or over coffee, and talk about art, about films, about life. That's how I met Margarita, and I trusted her, I don't know why. It was intuitive: "OK, you can do it." She had played some roles before, like in the wedding in Wild Tales, from Damián Szifron, who's now on the Cannes competition jury. And the connection between Margarita and Esteban, and Margarita and Daniel [Elias], worked. There was another thing which maybe for a foreigner isn't very important but for me was a big thing to be aware of: she is not from Buenos Aires. She was born in the countryside and grew up there, riding horses. That was very important to me for building this character. Something would have been wrong if you had someone very urban, with a Buenos Aires accent.
Filmmaker: So she's authentic as someone Román might run into in the Cordóba countryside. How did you come up with the double role played by Germán Da Silva, which is another clever piece of casting?
Moreno: The double role! The double role was one of those things that come by chance. I have to confess that it was not an idea that [snaps fingers] I had at the beginning. I always want to work with Germán, he's a great actor. He was also in Un Mundo Misterioso [2011] and my first film, El Custodio, which was shown in New Directors/New Films in 2006. I wanted him to play Garrincha, the capo in the jail [where Moran is locked up]. And I also had him on the list for Del Toro, the boss in the bank, but not in the first position. I first called another actor to be the boss in the bank, someone who had worked with me before. He said, "I don't feel it, I don't understand your script." I thought, "Oh man, it's a job, you're an actor! But, OK." So, that night, I was thinking about what to do with this character, and we were close to shooting. Again, I was on the bus going to the university, and said, "What if I asked Germán to do both roles, and enhanced the idea of the mirror, the doppelganger, the two lives, which is one idea in the story?" Because at the end of the day, what I wanted to make was a fable. I had no obligation to reality—my debt was to cinema. So I said, "Let's do it, let's play this game. Here's an actor playing two roles."
Filmmaker: I also love it because it looks like people who work in a bank are gangsters, too, which feels apropos to what we were talking about before.
Moreno: Exactly! There are many readings you can have after that choice. Both characters have monologues about freedom. Del Toro in the bank refers to the prohibition of smoking: he says, "In the past we had more freedom." Marianela [the assistant bank manager] says, "Are you sure?" Because in Argentina in the past we had more freedom but it was related to the dictatorship. And he says, "No, you are right, we didn't have more freedom, but we could smoke everywhere." And then in the prison, he has a monologue about freedom that's about cellphones and the outside. He says everybody thinks that they are free but they spend all their time on updating their webpages.
Filmmaker: It's the little things. How much do you rehearse with your actors? I read that you like a documentary approach to production, but what does that mean in practice?
Moreno: We did rehearsals many times before shooting with the actors because we had to find the tone. A tone in common, like a musical note in common. It's how the film has to sound. This is very important, so that's why I like rehearsals. I don't like improvisation on set, but during the rehearsals actors are allowed to improvise, and sometimes things appear in the movie that we get through improvisation. 
But "documentary" means being free at the moment of shooting—something that the industry doesn't allow. For example, if I want to shoot on a bus, within the industry way of making things we have to rent a bus, we have to pay extras, people that pretend to be passengers, and we have to close the streets. This is very expensive and takes a lot of time to do. So I said, "Why not get on a bus with a camera and shoot the bus with the people who are there?" I like to shoot in that way. It's the same with every scene in the street. People look at the camera—I don't care. Sometimes they have a mask because we were in a pandemic—I don't care. And sometimes they don't have a mask, when it was before the pandemic. 
I really like to feel the city by shooting like that. In this case, this film has to have a strong feeling for the city because of the opposition between countryside/nature and city/bank. I had to clearly see that difference. So, the more free I was in shooting the street, the more real the street would be.