Back to selection
Nuri Bilge Ceylan, Three Monkeys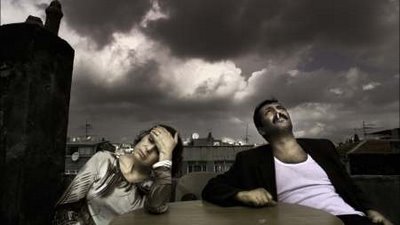 YAVUZ BINGÖL AND HATICE ESLAN IN DIRECTOR NURI BILGE CEYLAN'S THREE MONKEYS. COURTESY ZEITGEIST FILMS.
In film writing these days, superlatives like "visionary" and "genius" are thrown around all too often to describe directors, though few truly deserve them; Nuri Bilge Ceylan, however, is one of those few. The Turkish writer-director was born in 1959 in Istanbul, and started taking photographs in his mid-teens. He earned a degree in Engineering at Bo?aziçi University, but after graduating he moved on to study film, a newly discovered passion, at Mirnar Sinan University. After a ten-year period spent living in London (during which he studied filmmaking by reading books), Ceylan returned to Turkey and embarked on his film career with a 20-minute black and white short, owing much to his photographic background, called Koza (Cocoon) which was selected for the 1995 Cannes Film Festival. Ceylan made his feature debut with Kasaba in 1997 and followed it up with Clouds of May (1999); both pictures had their international premieres at the Berlin Film Festival. Ceylan's breakthrough came in 2002 with his third feature, Distant, a moody tale of urban and artistic alienation which won the Grand Prix at Cannes and made Ceylan an important figure in global film. In 2006, he returned with Climates, an understated study of a couple's disintegrating relationship in which Ceylan and his wife, actress and fellow photographer Ebru Ceylan, played the leads.
His latest film, Three Monkeys, co-written with his wife (along with Ercan Kesal, who appeared in Distant), is a brooding tale of a family torn apart. The action begins with a local politician Servet (Kesal) killing a pedestrian in a hit-and-run accident. To salvage his career, he pays his loyal driver Eyüp (Yavuz Bingöl) to take the fall for him, however the situation is greatly complicated when Eyüp's wife, Hacer (Hatice Eslan), begins an affair with Servet while her husband is doing time, and their son, Ismail (Ahmet Rifat Sungar), discovers her treachery. As the title implies, Three Monkeys examines the impact of actively ignoring the misdeeds of those around us, and around this premise Ceylan creates a film which is deeply emotional yet highly restrained, an intense human drama which always feels utterly authentic. The skill Ceylan has in conveying the complex inner lives of his characters is perfectly complemented by his peerless visual style, making Three Monkeys a rich, complete cinematic experience. Each textured shot is beautifully lit and composed, with the subdued, muddied interiors and the expansive brooding skies all adding to Ceylan's masterful vision of a world in perpetual shadow.
Filmmaker interviewed Ceylan by email and discussed the motivation behind this new movie, collaborating with his wife, and the "death of film."
Filmmaker: What was your motivation behind making Three Monkeys?
Ceylan: I don't know. Many things… To be able to understand the astonishing nature of human existence by creating a story which is capable of showing such situations. This is a specific story created specially to be able to show certain aspects of human soul.I don't remember [where the idea came from]. It is a kind of mystery for me. I think starting a script is like the birth of a river. Many little drops of water from different sources come together to form a stream first and many streams come together to form a river. It is a bit like that.
Filmmaker: Can you explain the significance of the title?
Ceylan: Today "Three Monkeys" is commonly used to describe someone who doesn't want to be involved in a situation, or someone willfully turning a blind eye to the immorality of an act in which they are involved.
Filmmaker: You collaborated on the writing of Three Monkeys with two actors, your wife Ebru and Ercan Kesal. What was the reason for this decision?
Ceylan: They are not actors actually. They only acted in my films. They are two of my best friends. I thought with them the script could be easier and richer. In fact, I realized Ebru was very good at writing during Climates. And Ercan was a good friend with whom I used to speak [about these] sort of things in real life often.
Filmmaker: You have said that you wanted to challenge yourself with this film and tell a different kind of story with this film. Can you explain the reason for that more fully?
Ceylan: This type of story has always been charming for me but it is now that I felt enough courage to deal with it. [But] I never felt ready or more confident. I always start a new project with fears, anxieties and uncertainties. But fortunately after a certain point you can not give up. And the uncertainties go on till the end, until you complete the movie.
Filmmaker: Do you have a clear idea of what a film will look like visually when you start writing it?
Ceylan: Not really. Perhaps more than that I have a certain mood of the film in my mind.
Filmmaker: You have worked with your wife and your parents on many projects. How important is the personal aspect of your films to you?
Ceylan: Not that important. The important thing is that what you made with them and the universal dimension in it.
Filmmaker: Is the use of non-actors as significant in your filmmaking process? Do you see yourself as a naturalist?
Ceylan: No. I am not a naturalist. I am trying to reach the truth or reality but it could be in many different ways.
Filmmaker: Your films are visually very beautiful, with great cinematography and carefully composed shots, but also are humanistic and insightful in their writing. How easy is it for you to balance the visual aspects with the emotional?
Ceylan: Very easy. Because I don't do anything special for it… Visual aspects are more effortless or instinctive.
Filmmaker: You've said that Tarkovsky's movies made you want to become a filmmaker. Do you feel part of a larger cinematic tradition? Who are your biggest influences, both in cinema and other art forms?
Ceylan: He was just one of them together with Ozu and Bresson, and Bergman. In other art forms, mostly the Russian literature, baroque music and many painters.
Filmmaker: How much overlap is there between your perspective on photography and the way that you view cinema as an art form?
Ceylan: Not much. Actually cinema contains photography for me and also many many more.
Filmmaker: You shoot on HD digital video and said recently that "film is dead." Were you being totally serious, and if so do you see the death of film as a good thing?
Ceylan: Yes. Film is dead for me. It is unnecessarily bulky and less capable to capture the reality I want. I don't need it. I don't mind much that the "pelicule" is dying.
Filmmaker: How different will cinema be in the future as a result of this?
Ceylan: I don't know. Perhaps special effects movies will increase. But realistic movies will be more valuable. Because realistic attitudes will not be out of obligation but because of the choice of creators "free will"…
Filmmaker: You've taken the role of cinematographer on some of your films, and been the editor on some also, but you stopped doing both jobs together after doing Clouds of May, ten years ago. Is there a conflict between doing both jobs at the same time?
Ceylan: Until Uzak, I did both. Then I quit using the camera. Because it is unnecessary. You can control everything better if you don't use it. But I was always the editor of all my films and I will continue to be. It is the heart of the job.
Filmmaker: How do you feel being self-taught affects the way that you view filmmaking?
Ceylan: Mistakes are the greatest teachers.
Filmmaker: Do you feel at all like an outsider because you took a less conventional route to becoming a director?
Ceylan: Not anymore. Maybe it is a pity.
Filmmaker: How significant was your extended time living in London on your perspective on film and also on life in Turkey?
Ceylan: Very important. Because for the first time in my life I became so sure that I want to live in Turkey.
Filmmaker: What was the first film you ever saw?
Ceylan: A black and white adventure movie in the sea. [I remember having] strong feelings at that time.
Filmmaker: What's your best piece of advice for aspiring filmmakers?
Ceylan: Walk alone on the road you think it is right.
Filmmaker: Which phrase best describes your philosophy on life?
Ceylan: "All credibility, all good conscience, all evidence of truth come only from the senses." (Friedrich Nietzsche)
Filmmaker: Finally, when was the last time you wished you had a different job?
Ceylan: Never.