Back to selection
KEVIN SMITH REVEALS "RED STATE" POSTER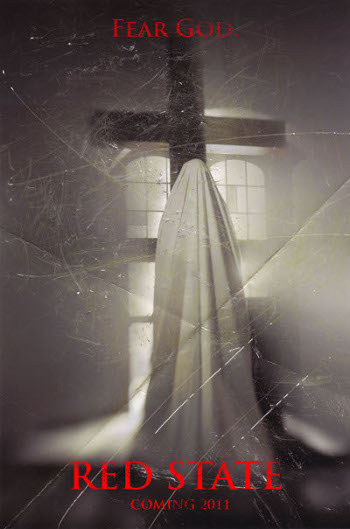 Here's a little treat for ya on Halloween!
Today on Kevin Smith's blog, Silent Bob Speaks, the outspoken writer-director put up a teaser poster of his next film, Red State, his first foray into horror. In the past Smith has described the film as being loosely based on religious extremism, and its one he's talked about making for years. If you follow Smith on Twitter you know he finally found enough money to shoot it over the summer, and according to his blog post, principal photography is now wrapped.
Smith on the poster:
Moody, weird, and pitch-perfect for the tone of the film. If I went out to an ad agency here in town, I'd be billed close to 20 grand for a campaign that'd maybe… maybe… include this poster. But this piece of artwork (I call it "The Holy Ghost") didn't come from a top-tier ad agency: Jon Gordon is my RED STATE producer, and this poster was created by his assistant, Melissa Bloom. So we've got a marketing image that was put together by someone who was on set every day, integral to the process that produced the film which inspired this image. This isn't the work of some gun for hire who's doing six other campaigns; we're not just one of many. The marketer is actually family, RED from pre-production all the way through wrap, so she's got an insight into the flick that no ad agency could ever boast.
When I interviewed Smith about Zack and Miri Make A Porno for the Fall 2008 issue of Filmmaker, he gave me little insight on Red State.
It's about fundamentalism that goes to a heinous degree. After Sept. 11 we were looking for the enemy outside and this is about looking for the enemy within. Before we discovered international terrorism on our home soil we've been multiple victims of domestic terrorism. It will be very traumatic and very horrific. It's either going to work like gangbusters or people are going to be like, "Go back to comedy, you idiot!" It's going to be a real changeup. It's very Spartan when it comes to dialogue and it's not about relationships. But I gotta tell you, when people say they don't want to put in the money, it's a little off-putting but it fuels me a little more. Nothing worthwhile is easy and this is the farthest from easy, so Jesus, it must be worthwhile.
The film's cast includes John Goodman, Melissa Leo, Kevin Pollak and Steven Root.
Smith also told me that he did approach Harvey Weinstein to make the film but he declined saying he didn't know how to market it. But Smith's not bitter at all. In fact, in his blog post today he says the way Red State has been made and will be promoted/distributed will be in the vein of the man who put him on the map.
We're doing everything the way Harvey taught us. That's why Jon & I decided to call the RED STATE production company The Harvey Boys – as a shout-out to an Indie Icon who once said "Fuck this traditional bullshit, I'll do it my way…" and gave us a metric shit-ton of awesome flicks.
Smith has also said in Tweets that he will be submitting the film for Sundance.