Back to selection
Sundance 2011 Competition Lineup Announced
The Sundance Institute announced today the competition films for its 2011 edition of the Sundance Film Festival. At first glance, it looks like an exciting list with quite a few filmmakers we follow here at the magazine premiering their work, including Rashaad Ernesto Green's Gun Hill Road, Sean Durkin's Martha Marcy May Marlene, Andrew Okpeaha MacLean's On the Ice, Dee Rees' Pariah, Azazel Jacobs' Terri and Marshall Curry's If a Tree Falls: A Story of the Earth Liberation Front to name just a few.

In the release sent out today, festival director John Cooper commented, ""The Festival is a challenge to narrowly define. It is all at once exciting, fun, crazy, engaging, visceral, and sometimes even painful. We can explain storylines, we can share what we know of each artist's unique journey, but ultimately what we will experience for 10 days in January is different for each of us. It's the spark from the filmmakers – their passion – that brings 200 unique worlds to life and, in turn, ignites the audience. The films, conversations, encounters are there to experience. And that's what makes Sundance so magical."
Said Trevor Groth, director of programming, "Knowing how difficult it is to get a film made anywhere, and given that the number of submissions was higher than ever, it is a testament to the passion and creativity of filmmakers everywhere that they are able to preserve and stay true to their vision. The caliber of films submitted this year was exceptional and made for exhilarating discussion among the programmers. Now that discussion gets turned over to the audience."
The festival, which takes place Jan. 20-30, 2011 in Park City, Salt Lake City, Ogden and Sundance, Utah, will also change their opening night format by screening one narrative, one documentary and one shorts program to kick off Sundance 2011.
The four competition sections — U.S. Dramatic and Documentary, and World Dramatic and Documentary — are below. The out-of-competition sections will be announced tomorrow.
Check back in the coming days for more commentary on this year's selections.
U.S. DRAMATIC COMPETITION
Another Earth (Director: Mike Cahill; Screenwriters: Mike Cahill and Brit Marling) — On the eve of the discovery of a duplicate Earth, a horrible tragedy irrevocably alters the lives of two strangers, who begin an unlikely love affair. Cast: William Mapother, Brit Marling, Jordan Baker, Robin Lord Taylor, Flint Beverage.
Benavides Born (Director: Amy Wendel; Screenwriters: Daniel Meisel and Amy Wendel) — A high school senior in a forgotten town has earned admission to the University of Texas at Austin but can't afford to go. Her one shot is a scholarship for winning the State Powerlifting Championship. Cast: Corina Calderon, Jeremy Ray Valdez, Joseph Julian Soria, Julia Vera, Julio César Cedillo.

Circumstance/U.S.A., Iran (Director and screenwriter: Maryam Keshavarz) — Iran's new generation fighting for personal freedom in the face of ongoing repression is explored through the lens of a teenage love triangle. Cast: Nikohl Boosheri, Sarah Kazemy, Reza Sixo Safai, Soheil Parsa, Nasrin Pakkho.
Gun Hill Road (Director and screenwriter: Rashaad Ernesto Green) — After three years in prison, Enrique is back in his beloved Bronx, back in the arms of an estranged wife and back in the life of his teenage son, who is stumbling towards a transformation that will put the bonds of their embattled family to the test. Cast: Esai Morales, Judy Reyes, Harmony Santana, Vanessa Aspillaga.
HERE (Director: Braden King; Written By: Braden King and Dani Valent) — On assignment to create a new, more accurate satellite survey of Armenia, an American cartographer forms a powerful bond with an Armenian expatriate and art photographer. Cast: Ben Foster and Lubna Azabal with Narek Nersisyan, Yuri Kostanyan and Sofik Sarkisyan.
Higher Ground (Director: Vera Farmiga; Screenwriters: Carolyn S. Briggs and Tim Metcalfe) — A frustrated young mother turns to a fundamentalist community for answers, but after years of dogma and loss, she must find the courage to ask the questions that will help her reclaim her life. Cast: Vera Farmiga, Joshua Leonard, John Hawkes, Dagmara Dominczyk, Norbert Leo Butz.
Homework (Director and screenwriter: Gavin Wiesen) — Quirky, rebellious George has no ambitions other than to cut his next class. But one day, one girl gives him the perfect reason to figure out who he really is. Cast: Freddie Highmore, Emma Roberts, Michael Angarano, Elizabeth Reaser with Rita Wilson and Blair Underwood.
The Ledge (Director and screenwriter: Matthew Chapman) — Perched on a ledge, a man says he must jump by noon, while a cop races against time to get to the bottom of it. Cast: Charlie Hunnam, Liv Tyler, Patrick Wilson and Terrence Howard with Christopher Gorham.
Like Crazy (Director: Drake Doremus; Screenwriters: Drake Doremus and Ben York Jones) — A young American guy and a young British girl meet in college and fall in love. Their love is tested when she is required to leave the country and they must face the challenges of a long-distance relationship. Cast: Anton Yelchin, Felicity Jones, Jennifer Lawrence, Charlie Bewley, Alex Kingston.
Little Birds (Director and screenwriter: Elgin James) — Amidst the stark landscape of the Salton Sea, two 15-year-old girls test the limits of their friendship when one follows the other to Los Angeles, only to discover that the boredom of home may be better than learning to survive in the big city. Cast: Juno Temple, Kay Panabaker, Leslie Mann, Kate Bosworth, Kyle Gallner.
Martha Marcy May Marlene (Director and screenwriter: Sean Durkin) — Haunted by painful memories and increasing paranoia, a damaged woman struggles to re-assimilate with her family after fleeing an abusive cult. Cast: Elizabeth Olsen, Brady Corbet, Hugh Dancy, John Hawkes, Sarah Paulson.
On the Ice (Director and screenwriter: Andrew Okpeaha MacLean) — On the snow-covered Arctic tundra, two teenagers try to get away with murder. Cast: Josiah Patkotak, Frank Qutuq Irelan, Teddy Kyle Smith, Adamina Kerr, Sierra Jade Sampson.
Pariah (Director and screenwriter: Dee Rees) — When forced to choose between losing her best friend or destroying her family, a Bronx teenager juggles conflicting identities and endures heartbreak in a desperate search for sexual expression. Cast: Adepero Oduye, Pernell Walker, Kim Wayans, Charles Parnell, Aasha Davis.
Take Shelter (Director and screenwriter: Jeff Nichols) — A working-class husband and father questions whether his terrifying dreams of an apocalyptic storm signal something real to come or the onset of an inherited mental illness he's feared his whole life. Cast: Michael Shannon, Jessica Chastain, Shea Whigham, Katy Mixon, Kathy Baker.
Terri (Director: Azazel Jacobs; Screenwriters: Patrick Dewitt and Azazel Jacobs) — Orphaned to an uncle who is fading away, mercilessly teased by his peers and roundly ignored by his teachers, Terri is alienated and alone. When the dreaded vice-principal sees something of himself in Terri, they establish a friendship which opens Terri up to the possibility that life is not something to be endured, but something to be shared, and even enjoyed. Cast: Jacob Wysocki, John C. Reilly, Creed Bratton, Olivia Crocicchia, Bridger Zadina.
Untitled Sam Levinson Project (Director and screenwriter: Sam Levinson) — A pair of reckless siblings are dragged into a chaotic family wedding by their overwrought mother. Cast: Demi Moore, Kate Bosworth, Jeffrey DeMunn, Ellen Barkin, Ellen Burstyn, Thomas Haden Church.
U.S. DOCUMENTARY COMPETITION
Beats, Rhymes and Life (Director: Michael Rapaport) — The story of the rise and influence of one of the most innovative and influential hip hop bands of all time, the collective known as A Tribe Called Quest.
BEING ELMO: A Puppeteer's Journey (Director: Constance Marks) — The Muppet Elmo is one of the most beloved characters among children across the globe. Meet the unlikely man behind the puppet – the heart and soul of Elmo – Kevin Clash.
Buck (Director: Cindy Meehl) — In a story about the power of non-violence, master horse trainer Buck Brannaman uses principles of respect and trust to tame horses and inspire their human counterparts.
Connected: An Autobiography about Love, Death & Technology (Director: Tiffany Shlain; Screenwriters: Tiffany Shlain, Ken Goldberg, Carlton Evans and Sawyer Steele) — Connected is an exhilarating stream-of-consciousness ride through the interconnectedness of humankind, nature, progress and morality at the dawn of the 21st century. For centuries we've been declaring independence. With insight, curiosity, and humor, the film explores whether it's time to declare our interdependence.
Crime After Crime (Director: Yoav Potash) — Debbie Peagler is a survivor of brutal domestic violence incarcerated for her connection to the murder of her abuser. Two decades later a pair of rookie land-use attorneys cut their teeth on her case, attracting global attention to the troubled intersection of domestic violence and criminal justice.
Hot Coffee (Director: Susan Saladoff) — Following subjects whose lives have been devastated by an inability to access the courts, this film shows that many long-held beliefs about our civil justice system have been paid for by corporate America.
How to Die in Oregon (Director: Peter D. Richardson) — In 1994 Oregon became the first state to legalize physician-assisted suicide. How to Die in Oregon gently enters the lives of terminally ill Oregonians to illuminate the power of death with dignity.
If a Tree Falls: A Story of the Earth Liberation Front (Director: Marshall Curry) — The Earth Liberation Front is a radical environmental group that the FBI calls America's 'number one domestic terrorist threat.' Daniel McGowan, an ELF member, faces life in prison for two multi-million dollar arsons against Oregon timber companies. But who is really to blame?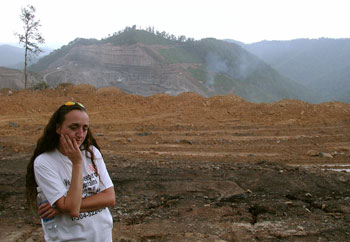 The Last Mountain (Director: Bill Haney; Screenwriters: Bill Haney and Peter Rhodes) — A coal mining corporation and a tiny community vie for the last great mountain in Appalachia in a battle for the future of energy that affects us all.
Miss Representation (Director: Jennifer Siebel Newsom; Screenwriters: Jennifer Siebel Newsom and Jessica Congdon) — Miss Representation uncovers how American mainstream media's limited and disparaging portrayals of women contribute to the under-representation of women in power positions – creating another generation of women defined by youth, beauty and sexuality, and not by their capacity as leaders.
Page One: A year inside the New York Times (Director: Andrew Rossi; Screenwriters: Kate Novack and Andrew Rossi) — Unprecedented access to the New York Times newsroom yields a complex view of the transformation of a media landscape fraught with both peril and opportunity.
The Redemption of General Butt Naked (Directors: Eric Strauss and Daniele Anastasion) — A brutal warlord who murdered thousands during Liberia's horrific 14-year civil war renounces his violent past and reinvents himself as an Evangelist, facing those he once terrorized.
Resurrect Dead: The Mystery of the Toynbee Tiles (Director: Jon Foy) — An urban mystery unfurls as one man pieces together the surreal meaning of hundreds of cryptic tiled messages that have been appearing in city streets across the U.S. and South America.
Sing Your Song (A film by Susanne Rostock) — Most people know the lasting legacy of Harry Belafonte, the entertainer; this film unearths his significant contribution to and his leadership in the civil rights movement in America and to social justice globally.
Troubadours (Director: Morgan Neville) — A musical journey tracing the lives and careers of James Taylor and Carole King, pillars of the California singer/songwriter scene, which converged in and around LA's Troubadour Club in the late 1960s and early 1970s.
We Were Here (Director: David Weissman) — A deep and reflective look at the arrival and impact of AIDS in San Francisco and how individuals rose to the occasion during the first years of this unimaginable crisis.
WORLD CINEMA DRAMATIC COMPETITION
Abraxas/Japan (Director: Dai Sako; Screenwriters: Dai Sako and Naoki Kato) — After botching a speech on career guidance at a local high school, a depressed Zen monk with a heavy metal past realizes that only music can revive his spirit. Cast: Suneohair, Rie Tomosaka, Manami Honjou, Ryouta Murai, Kaoru Kobayashi. International Premiere
All Your Dead Ones (Todos Tus Muertos)/Colombia (Director Carlos Moreno; Screenwriters: Alonso Torres and Carlos Moreno) — One morning, a peasant wakes to find a pile of bodies in the middle of his crops. When he goes to the authorities, he quickly realizes that the dead ones are a problem nobody wants to deal with. Cast: Alvaro Rodríguez, Jorge Herrera, Martha Marquez, Harold Devasten, John Alex Castillo. World Premiere
The Cinema Hold Up (Asalto Al Cine)/Mexico (Director: Iria Gómez Concheiro; Screenwriters: Iria Gómez Concheiro and Juan Pablo Gómez) — Four childhood friends in Mexico's Guerrero colony toy with the idea of robbing a cinema. Each hopes that the heist will hurtle them past life's obstacles, only to realize that the caper risks the only thing they have: their friendship. Cast: Gabino Rodríguez, Juan Pablo de Santiago, Ángel Sosa, Paulina Avalos. World Premiere
A Few Days of Respite (Quelque Jours de Repit)/Algeria, France (Director and screenwriter: Amor Hakkar) — A pair of gay men who have escaped from Iran seek safe harbor in a small French village, where a lonely middle-aged woman offers aid. Cast: Marina Vlady, Samir Guesmi, Amor Hakkar. World Premiere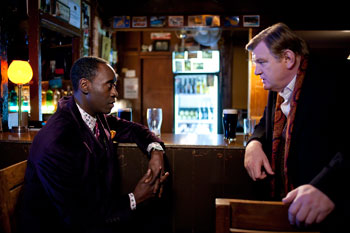 The Guard/Ireland (Director and screenwriter: John Michael McDonagh) — A small-town cop in Ireland has a confrontational personality, a subversive sense of humor, a fondness for prostitutes and absolutely no interest whatsoever in the international drug-smuggling ring that has brought a straight-laced FBI agent to his door. However, a surreal chain of events pulls him into the action. Cast: Don Cheadle, Brendan Gleeson, Mark Strong, Liam Cunningham, David Wilmot, Fionnula Flanagan. World Premiere
Happy, Happy (Sykt Lykkelig)/Norway (Director: Anne Sewitsky; Screenwriter: Ragnhild Tronvoll) — A perfect housewife, who just happens to be sex-starved, struggles to keep her emotions in check when an attractive family moves in next door. Cast: Agnes Kittelsen, Henrik Rafaelsen, Maibritt Saerens, Joachim Rafaelsen. World Premiere
Kinyarwanda/Rwanda, USA (Director and screenwriter: Alrick Brown) — Based on accounts from survivors, Kinyarwanda tells the story of Rwandans who crossed the lines of hatred during the 1994 genocide, turning mosques into places of refuge for Muslims and Christians, Hutus and Tutsis. Cast: Edouard Bamporiki, Cassandra Freeman, Cleophas Kabasiita, Hadidja Zaninka, Kennedy Mazimpaka, Hassan Kabera. World Premiere
Lost Kisses (I baci mai dati)/Italy (Director: Roberta Torre; Screenwriters: Roberta Torre and Laura Nuccilli) — A 13-year-old girl in the deprived outskirts of a sprawling Sicilian city becomes a local celebrity to her needy community when word spreads that she just might be able to perform miracles. Cast: Donatella Finocchiaro, Pino Micol, Giuseppe Fiorello, Carla Marchese, Martina Galletta, Tony Palazzo. International Premiere
Mad Bastards/Australia (Director: Brendan Fletcher; Screenwriters: Brendan Fletcher in collaboration with Dean Daley-Jones, Greg Tait and John Watson) — In a frontier town of northern Australia's Kimberley Region, an urban street warrior meets his match in a local cop. Performances and stories from real people in Kimberley are woven through the music of legendary Broome musicians, The Pigram Brothers. Cast: Dean Daley-Jones, Greg Tait, John Watson, Ngaire Pigram, Lucas Yeeda. International Premiere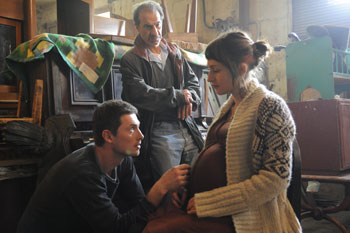 Restoration (Boker Tov Adon Fidelman)/Israel (Director: Yossi Madmoni; Screenwriter: Erez Kav-El) — Aided by a young and mysterious apprentice, an antique furniture restorer struggles to keep his workshop alive, while his relationship with his own estranged son, who is trying to close down the shop, begins to disintegrate. Cast: Sasson Gabay, Henry David, Nevo Kimchi, Sarah Adler. World Premiere
The Salesman (Le Vendeur)/Canada (Director and screenwriter: Sébastien Pilote) — Car salesman Marcel Lévesque operates by the rules of a bygone era, turning on the charm to make his quota. But the increasing decline of his fading industrial town threatens to plummet this peddler of dreams into an unfriendly reality. Cast: Gilbert Sicotte, Nathalie Cavezzali. World Premiere
Ticket to Paradise (Boleto al Paraiso)/Cuba (Director: Gerardo Chijona Valdes; Screenwriters: Gerardo Chijona Valdes, Francisco Garcia Gonzalez and Maykel Rodriguez Ponjuan) — A teenage girl running away from her father's sexual harassment meets a young rocker who has escaped to Havana with his misfit group of friends. Set in 1993, during a period of acute shortages in Cuba, the local AIDS hospice begins to look like an unlikely refuge to the hopeless teens. Cast: Miriel Cejas, Héctor Medina, Dunia Matos, Jorge Perugorria, Luis A. Garcia. World Premiere
Tyrannosaur/United Kingdom (Director and screenwriter: Paddy Considine) — For Joseph, a man plagued by self-destructive violence and rage, a chance of redemption appears in the form of Hannah, a Christian charity shop worker with a devastating secret of her own. Cast: Peter Mullan, Eddie Marsan, Olivia Colman. World Premiere
WORLD CINEMA DOCUMENTARY COMPETITION
An African Election/Ghana, Switzerland, U.S.A. (Director: Jarreth Merz) — The 2008 presidential elections in Ghana, West Africa, serve as a backdrop for this feature documentary that looks behind the scenes at the complex, political machinery of a third-world democracy struggling to avoid civil war and establish stability for good. North American Premiere
The Bengali Detective/India, U.S.A., United Kingdom (Director: Phil Cox) — Chubby, dance-obsessed private-detective Rajesh Bharti and his motley band of helpers tackle poisonings, adultery and the occasional murder on the frenzied streets of Kolkata. World Premiere
The Blackpower Mixtape 1967-1975/Sweden, U.S.A. (Director: Göran Olsson) — From 1967 to 1975, Swedish journalists chronicled the Black Power movement in America. Combining that 16mm footage, undiscovered until now, with contemporary audio interviews, this film illuminates the people and culture that fueled change and brings the movement to life anew. World Premiere
Family Portrait in Black and White/Canada, Ukraine (Director: Julia Ivanova) — In a small Ukrainian town, Olga Nenya, raises 16 black orphans amidst a population of Slavic blue-eyed blondes. Their stories expose the harsh realities of growing up as a bi-racial child in Eastern Europe. World Premiere
The Flaw/United Kingdom (Director: David Sington) — Within a few months in 2008, several American financial institutions failed, and before you knew it the U.S.A. was in the red. An imaginative blend of archive, animation and personal stories delivers a devastating indictment of the unfettered capitalism which has led to crippling, catastrophic income inequality in the land of the free. North American Premiere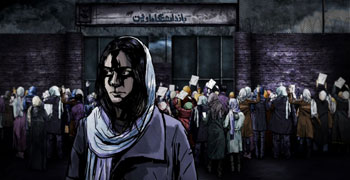 The Green Wave (Irans grüner Sommer)/Germany (Director: Ali Samadi Ahadi) — Animated blogs and tweets tell the story of democracy under fire and hopes dashed as protesters are arrested, tortured and raped during Iran's tumultuous elections of June 2009. North American Premiere
Hell and Back Again/U.S.A., United Kingdom (Director: Danfung Dennis) — Told through the eyes of one Marine from the start of his 2009 Aghanistan tour to his distressing return and rehabilitation in the U.S., we witness what modern "unconventional" warfare really means to the men who are fighting it. World Premiere
KNUCKLE/Ireland, United Kingdom (Director: Ian Palmer) — An epic 12-year journey into the brutal and secretive world of Irish Traveler bare-knuckle fighting, this film follows a history of violent feuding between rival clans. World Premiere
Position Among the Stars (Stand Van De Sterren)/Netherlands (Director: Leonard Retel Helmrich) — The effects of globalization in Indonesia's rapidly changing society ripple into the life of a poor Christian woman living in the slums of Jakarta with her Muslim sons and teenage granddaughter. International Premiere
Project Nim/United Kingdom (Director: James Marsh) — From the Oscar-winning team behind Man on Wire comes the story of Nim, the chimpanzee who was taught to communicate with language as he was raised and nurtured like a human child. World Premiere
Senna/United Kingdom (Director: Asif Kapadia; Screenwriter: Manish Pandey) — The story of the legendary racing driver and Brazilian hero Ayrton Senna takes us on the ultimate journey of what it means to become the greatest when faced with the constant possibility of death. North American Premiere
Shut Up Little Man! An Audio Misadventure/Australia, U.S.A. (Director: Matthew Bate) — When two friends tape-recorded the fights of their violently noisy neighbors, they accidentally created one of the world's first 'viral' pop-culture sensations. World Premiere