Back to selection
DUSTIN GUY DEFA'S "BAD FEVER"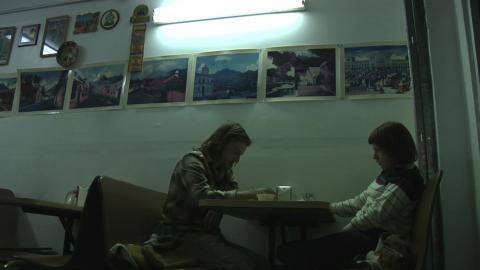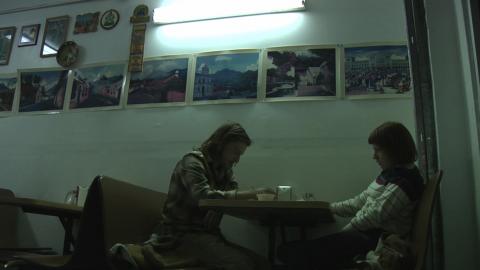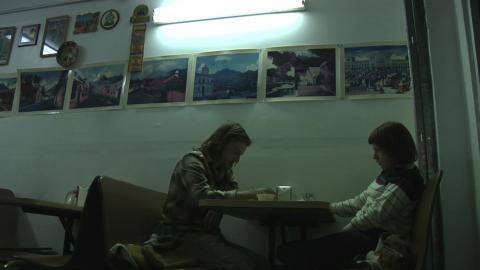 Screening Times: Friday March 11th, 8:45pm (Alamo Lamar B), Monday March 14th 4:00pm (Alamo Ritz 2), Thursday March 17th, 3:00pm, (Rollins Theatre)
SXSW stalwarts Kentucker Audley and Eleonore Hendricks star in Bad Fever, the debut from Brooklyn-based newcomer Dustin Guy Defa about the wistful, misbegotten almost, but not quite love affair between a couple of drifters, one of whom seems to videotape everything she does with an antiquated video camera.
Filmmaker: How did you first conceive of Bad Fever?
Defa: I was in the middle of writing a different screenplay and working as a carousel operator. One night this couple got on the carousel, a middle-aged business-type and a young Asian woman. There was something lonely about them, something terrible and sad. I got an awful feeling that they didn't know each other, not deep down, and that this was really some sort of make-believe role-playing moment. From there this idea snowballed about a man who can't connect with people, who has trapped himself inside his own thoughts. I didn't use the two people on the carousel as characters but they were the catalysts and pushed me into a theme, loneliness, which is a word a repeated to myself over and over again for the next two weeks. Then I started writing, and the writing came fast. At the beginning of the first draft, I came down with a horrible fever, and I thought of the title. I knew the title had nothing to do with my actual fever, it just sounded right. Bad Fever really means that feeling of loneliness that I was hoping to capture, this dreadful sense of desperation, wanting so much to find somebody who likes you. That desperation can turn a person into a someone completely different, it really is like a fever that can overtake somebody.
Filmmaker: Who was most instrumental in getting the film financed and produced?
Defa: I'm the producer on the film. I did most of the grunt work and financing. I've never done this before and so it was a big challenge and the learning curve was steep. From the get-go I've had the support of my girlfriend Keha, who has stood by me through the adventure of making this film. She eventually became a co-producer on the film, as did our assistant director David Fetzer. This movie couldn't have been made without them. Early on, I tried to get other producers involved, but either because I couldn't find the right people to ask or because of scheduling conflicts, it ended up that I had to take a deep breath and produce the film myself. It wasn't my first choice and I'd prefer not to produce my own work again, unless it's short form. That's really what I'm on the lookout for now, the right producing team for my work. It's something I need at this point to grow.
Filmmaker: What were your biggest challenges when constructing the film in post-production?
Defa: Post-production took three times longer than I was planning. I thought I was going to end up as the main editor, but it became clear that I was too close to the material. I did a quick edit, threw that out, and then did a new rough cut to show a prospective new editor, David Lowery. He fell in love with the rough cut and took over. I needed some space so I sent the hard drive to him in Dallas and he worked without me. That was a hard choice but it worked for this film. David started over again from scratch and he's the one who shaped the film.  David is somebody who you can trust with anything because he loves films so much, he breathes them!  It was agonizing to be so far removed for such a long period of time — I think it was three months — but when he finally showed me what he had done, it was refreshing and brought the film back to life. Then he came to New York and we worked together for a few weeks, and then I took over again and did some cutting and trimming. That whole process took almost an entire year. During that time there were stretches when the film was sitting there waiting for somebody to touch it, but it was best to trust the organic process.
Filmmaker: Where were you and how did you react when you were told you'd been accepted to SXSW?
Defa: I was at home in Brooklyn. At first I felt sick and empty. I sat on the floor. Most of the day I didn't tell anybody, and it only when I told everyone else who worked on the film did I get excited. The next few days I felt an overwhelming sense of pride for everyone who worked so hard on the film. We all really put everything we had into it. I've never been to the festival so I don't know what to expect, but I imagine it's the best place to premiere this particular film. And we're in good company, it looks to me like the Emerging Visions section is strong this year.
Filmmaker: Are you planning to do any DIY promotion or distribution with the film?
Defa: There are no plans for any DIY distribution. I will only take that route if necessary. I'm willing to, but again I'm not the best producer so I can't imagine I'm the best distributor. I love the idea of retaining rights, and all along this film has been a very homemade, grassroots-type production, but with distribution it would be great to find a good home. I think the film deserves it. This isn't Little Miss Sunshine but there is an audience out there for us.  This is a weird sad-funny movie and I personally like weird sad-funny movies.
Filmmaker: Any other projects in the pipeline?
Defa: I'm writing my next feature and editing a short documentary about my family. I'd like this year to be full of collaborations with other filmmakers too, in some form or another.