Back to selection
SXSW SNAPS, PART TWO
The Innkeepers' star Sara Paxton, glam at the Driskill Hotel premiere afterparty. In Ti West's excellent horror picture, wearing a red hoodie and blue jeans she plays a tomboyish hotel clerk and amateur ghost hunter.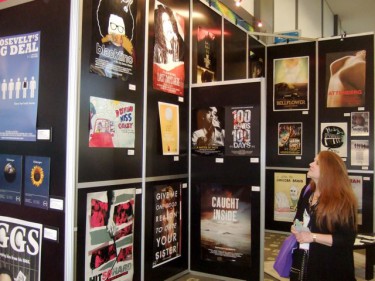 A fantastic idea — as part of its Film Design Awards, SXSW hosts a poster design competition, displaying all the entries in lobby gallery.
Myth of the American Sleepover producer Adele Romanski and Visit Films sales agent Ryan Kampe at the Kodak Filmmaker's Brunch.
Forget barbecue. Grilled cheese is the food of Austin. The sandwich here is from The Big Cheese, inside the convention hall. It costs $5.75. About 25 yards away, outside, the grilled cheese is free at a GroupMe food shack as long as your prove you use the service. The lines there are very long, setting up a personal financial experiment. How much is your time worth? I've been paying for my sandwiches. What is it about grilled cheese that sends you right back to childhood? The American suburban youth's madeleine.
In the main hall, Matthew Lesko, who is appearing at the trade show promoting his site, which he calls the "world's largest database of government programs. See what programs you are eligible for!"
There is a lot of free food at SXSW. Also in the trade show, free cotton candy.
There are many long lines at SXSW. Sometimes you come across one and have no idea what it's for.
At the Alamo Ritz, director Ben Wheatley answers questions about his Heart of Darkness-meets-Wicker Man hit-man thriller while actor Neil Maskell looks on. IFC Midnight has picked up the film.
Vikram Gandhi following a tough Q&A at the Alamo Lamar screening of his documentary, Kumare. The film follows Gandhi as he reinvents himself as yoga-teaching Indian spiritual leader and amasses a small crowd of unsuspecting and quite sincere followers. "I want to hear you say, 'I'm sorry,' to the people in this film," one audience member said. "I feel humiliated on their behalf." "I don't think we should feel sorry for them," Gandhi replied. "We worked hard to make them the heroes of the movie."