Back to selection
SXSW WINNER: ROBBIE PICKERING'S "NATURAL SELECTION"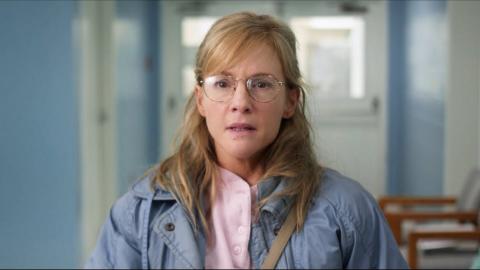 Robbie Pickering took home the Dramatic Grand Jury Prize and the Audience Award at SXSW last night for his grim Southwestern drama Natural Selection. The Jersey Village, Texas native and NYU grad's debut feature, which tells the story of a sterile Christian housewife sent by her dying husband to find and bring back his illegitimate son from the Florida hinterlands before he dies, also won prizes for the performances of its stars, Rachael Harris and Matt O'Leary, plus its score, writing and editing. Filmmaker caught up with him during the festival to discuss his multiple prize-winning debut.
Filmmaker: What inspired you to write Natural Selection?
Pickering: I had always wanted to do a serious film about the women I grew up around in Texas — conservative housewives like my mother. But I never had an emotional window into the character, so I struggled for a long time. Then my Mom called me one night and told me that my stepfather Bill had stage IV terminal cancer. I realized she would soon be completely alone for the first time in her life, and dealing with that fear gave me an emotional foundation to build a story around.  Essentially, I wrote a film about a woman very similar to my Mom, dealing with the possibility of death and abject loneliness for the first time in her life. Later, I realized that this was also my way of coping with Bill's death. Oh yeah, did I mention it's a comedy?
Filmmaker: How did you get the picture financed and produced?
Pickering: I give my producers a lot of guff (yes, I just used the word 'guff' non-ironically). But they were there from the beginning and have always believed in the project, even when I couldn't deal with all the rejection — both financial and creative. They were instrumental in hitting the pavement and raising all of the funds, which wasn't exactly easy with this film. "Hey, we're doing a coming-of-age movie about a middle-aged woman! Give us all your money!" Investors don't exactly form a queue for that.
Filmmaker: What were your biggest challenges when constructing the film in post-production?
Pickering: At a certain stage, I had to realize that the film was becoming its own thing and was different from the movie I had initially envisioned when I wrote the script six years ago.  This meant letting go of most of my preconceived notions and dealing with the picture on its own terms. Essentially, it was another rewriting process. Some of it was painful, but most of it was revelatory. And I think that if a movie is to be any good, it has to be alive and surprise you and sometimes even disappoint you. Otherwise, it's just another tract home.
Filmmaker: Where were you and how did you react when you were told you'd been accepted to SXSW and what are your goals for the film?
Pickering: I don't know. I can't clearly remember. Probably crying and listening to Depeche Mode in my bedroom.  When I heard, I do know I was very happy, though. Screening in Texas with our crew is kind of a dream come true. And obviously SXSW is one of the best venues in the world to premiere your work. We'd like to find a distributor at the festival.