Back to selection
Lord Byron — A Hammer to Nail Review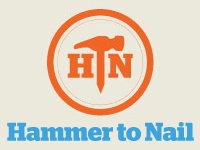 (Lord Byron opens on Friday, May 6, 2011, at the reRun Gastropub in Dumbo. Read Zack Godshall's "Revolution and Apocalypse: The Lord Byron Manifesto" if you haven't already, then visit the film's official website to learn more.)
Zack Godshall's Lord Byron was not shot on the Canon 5D (aka, the everybody's-using-it-so-you-should-too-consumer-grade-Digital-SLR-camera-of-the-very-moment !). Instead, Godshall used a Sony Z1U that he purchased all the way back in 2005 (the horror!). This means that the movie's images were captured at a 29.97 frame rate, as opposed to the more cinematic 23.98. Which is to say that this 2011 narrative feature has a pretty glaring chip on its shoulder. Just about everything else in Godshall's production screams no budget at best and amateur at worst: the lack of lighting, the point-and-shoot production design, the clearly nonprofessional performances. But here's the thing. While Lord Byron has so many technical strikes against it—and I'm confident that this is why it hasn't received more attention, aside from an appropriately wise slotting in the 2011 Sundance Film Festival's NEXT Section, that is—it nonetheless remains one of the year's more memorable micro-budget achievements. How is that possible, you ask? Good question.
Lord Byron is Godshall's third feature, after Low And Behold and God's Architects. Here, as with those films, the Louisiana-based Godshall has drawn from a Southern pot of gumbo to deliver another peculiar dose of ecstatic truth. There are many valid cinematic references for Lord Byron—Slacker, Werckmeister Harmonies, Down By Law, just to name a few—but based on its production value alone, there is an unfortunately more direct correlation to those well-intentioned-but-just-not-up-to-snuff local productions one encounters at tiny regional festivals everywhere. So what makes Godshall's vision so different? Though it may have a similar look and "feel," Lord Byron's ace in the hole is one powerful word: literature. By wielding their camera like a pen, Godshall and his creative collaborator Russ Brupbacher have plunged deep into the bayou's soul, whereas most other work of this ilk just skitters on the surface. We're supposed to compare movies to other movies, but when I try to do that with Lord Byron, the names John Kennedy Toole, Walker Percy, and Carson McCullers instead spring to mind.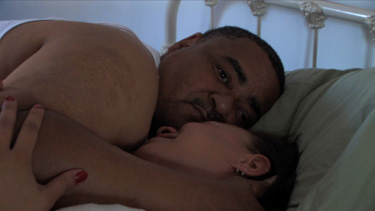 Written by Godshall and Brupbacher, Lord Byron concerns a ladies' man (Paul Batiste) in the midst of a midlife crisis. Wandering around Louisiana in his newfound quest to find spiritual fulfillment, Byron cuts a large African-American figure, yet his demeanor isn't imposing (perhaps it's all that weed he smokes?). In an ongoing voice-over, Byron tells of a life lived to the max, womanizing to a dangerous degree and never being able to settle down. The contrast between these outlandish words and the seemingly ordinary man speaking them adds levity to the proceedings. Though Byron does seem to get laid a lot, there nonetheless remains the question of embellishment. Is this man spilling his soul, or is he simply spinning a yarn? Or is he doing both? Part of the pleasure in watching Lord Byron is wondering to what depths Godshall and Brupbacher will drag their floundering hero.
Throughout this wacky existential tale, we meet an onslaught of too-strange-and-hilarious-to-be-anything-but-true characters that populate Byron's life: a conspiracy theorist, an aspiring dancer, a Dungeons & Dragons obsessed couple, a bickering family. This all unfolds in a meandering way, but in addition to reflecting Byron's own numb and hazy state of mind, it also makes for a surprisingly honest glimpse into life as it's lived in the cracks and margins of modern day Louisiana.
Though it was made for pennies and it sure looks like it, Lord Byron remains an extremely accomplished movie. It's well acted, it's cinematic in how it drifts from Byron's internal monologue to his everyday actions and back again, and it builds to a spellbinding conclusion with the help of a recurring musical theme that sounds like it was discovered in a flooded out church (compliments of the multi-tasking Brupbacher). But, more than that, there is just something deeply, inherently literary going on here, and that is what makes Lord Byron resonate and stand out from the pack. Watching this movie is like reading a good book. One of those good zany Southern fiction books, that is.

Filmmaker has partnered with our friends at Hammer to Nail for a weekly "Pick of the Week" post that will be exclusive to our newsletter and blog for a long weekend, at which point it will go live over at Hammer to Nail as well. In the meantime, be sure to visit www.hammertonail.com for more reviews and lots of other great editorial.