Back to selection
Foreign Correspondent: Going Dutch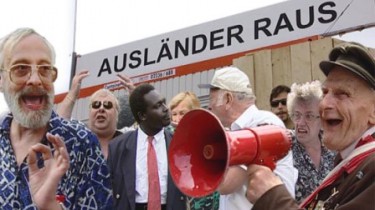 Lauren Wissot's report on arthouse viewing in Amsterdam inaugurates a new occasional, rotating column, "Foreign Correspondent." In this space find reports on film cultures around the world, covering everything from production to distribution to exhibition. Bookmark this first edition for your next trip to Amsterdam. — Editor
Besides the Dutch no-nonsense approach to everything from healthcare to vice, what I find most impressive about this Venice of the North is that there's an actual cinema culture here — which is not the case in my hometown NYC, where there are only a handful of repertory screening rooms to serve a forever-dwindling audience. Just flipping through the venue of listings at the back of the local Off Beat Cinema (that there's even a free monthly magazine called Off Beat Cinema is darn impressive, too) one can choose from a whopping 16 different places to see underground and indie films, many with English subtitles. (This in a city half the size of Brooklyn.) For the hipster crowd there's De Nieuwe Anita, a cozy bar that also hosts art exhibits, live music, poetry readings — and yup, even a knitting night. Best to arrive as soon as the doors open, though, else you won't be able to squeeze into one of the usually sold out screenings in the retro living room-styled basement.
For a more bohemian vibe there's OT301 Cinema, located in a building that used to house the Dutch Film Academy, and still has the feel of the squat it was back in the late '90s. If you're not into any of the flicks that week — which play in a comfy college campus-type screening space on the top floor ' you can always just go to Overtoom 301 for the bands, the vegan restaurant, or for classes ranging from yoga to aerial trapeze. Another spot with activist roots is Kriterion, run by students who also sponsor the annual Imagine Film Festival, similar to Austin's Fantastic Fest. Though I've yet to check out any of its cinematic offerings the organization — originally started right after WWII by members of the Dutch Resistance — recently opened up a Kriterion Sarajevo here along with a sister venue in Bosnia.
Interestingly, an American ex-pat by the name of Jeffrey Babcock, who once studied under Stan Brakhage at University of Colorado, Boulder and has resided in Europe for decades, is the sole programmer responsible for most of the English-language and English-subtitled micro-cinema happenings around town. He's also the author of a DIY-published book, Screening As An Ideology, which isn't as academic as its name might imply. Indeed, Babcock's tastes are eclectic and far-reaching, his mind like an iPod shuffle for film. The week I caught the first half of a double feature tribute to the late German provocateur Christoph Shlingensief at OT301, I also missed both Johnny To & Wai Ka Fai's cult flick Mad Detective (2007) at DNA, and Alice (1988), Jan Svankmajer's stop-motion animated adaptation of Alice in Wonderland, which was projected in HD at another venue called Cavia.
Fortunately, Paul Poet's Foreigners Out! Schlingensief's Container (Auslander Raus!) (2002, pictured), an enlightening documentary that was followed by Schlingensief's own German reunification satire from 1990, The German Chainsaw Massacre – was worth the low four-euro price of admission and then some. The titular container refers to Schlingensief's Yes Men-type response in 2000 to the previous year's election that put right-wing extremist Jörg Haider and his buddies into power in Austria. In a stunningly ballsy act of artistic jujitsu Schlingensief set up a concentration camp smack in the middle of Vienna's tourist section, right next to its famed opera house. Housed inside were a dozen real asylum seekers who were, in a nod to international phenomenon Big Brother, under constant surveillance for most of an entire week – on display until given the boot (yes, driven all the way to the border) via the public's Internet voting. Director Poet manages to capture not just Schlingensief's hilarious piece of political performance art and the surrounding surreal circus it spawned, but also the disturbing xenophobia the German enfant terrible literally teased out of many average Austrians (some breezily deriding the "Krauts") who professed otherwise.
And the next week? I could take in another dose of Austrian-flavored scripted reality with George Butler's prescient bodybuilding doc Pumping Iron (1977) at DNA, or Jules Dassin's classic Rififi (1955) at Cavia, or Wim Wenders's influential Alice in the Cities (1974) at Delicatessen (yes, that venue includes the option for dinner). With time for only one movie and such a smorgasboard to choose from I decided to skip the food for thought and go straight to the recently sex-scandalized dessert. Even in Amsterdam it was Arnold all the way.