Back to selection
MANAUGH AND TWILLEY ANNOUNCE STUDIO-X NYC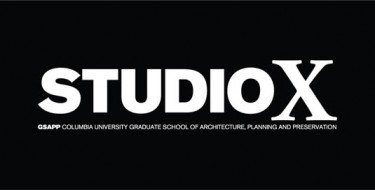 Filmmaker readers know I'm a fan of BLDGBLOG, the speculative architecture and criticism site run by Geoff Manaugh. There's a link on our home page, and I picked the BLDGBLOG Book as one of our "Super 8" selections several issues ago. So, I was happy when Manaugh contacted me to announce he's moving from Los Angeles to New York to embark on a new project. Manaugh and partner Nicola Twilley are co-directors of Studio-X NYC, an "off-campus event space, gallery, classroom, and urban futures think tank, part of a global network run by Columbia's Graduate School of Architecture, Planning and Preservation." And, we'll be involved.
In a blog post on Studio-X NYC, he quotes Mark Wigley, dean of the GSAPP:
In recent years, GSAPP has adopted the label "Studio-X" to refer to its most advanced leadership laboratories for the future of the built environment that have to evolve at the same rapid speed as the urban environment itself. The label tries to capture the sense that we have to be ready to face many unknown questions that will arise and need to be engaged urgently, creatively, and responsibly with a range of different partners. A Studio-X offers a protective space for private and collegial exchange of ideas still in formation and a public gallery/lecture space, website and publication program for the exhibition, communication and discussion of the thoughts and designs that result from this exchange. Such laboratories will be located around the world in a dynamic interactive network dedicated equally to practical problems in the city and to emergent thinking….

With locations in Amman, Beijing, Moscow, Mumbai, New York, and Rio de Janeiro, it is the first truly global network for real-time exchange of projects, people, and ideas between regional leadership cities in which the best minds from Columbia University can think together with the best minds in Latin America, the Middle East, Africa, Eastern Europe, and Asia.
Okay, but what exactly will you find at Studio-X NYC? "…a huge array of exhibitions, events, and public meetings—design charrettes, walking tours, all-day interviews, film fests, panel discussions, standalone lectures, slideshows, night schools, and more," says Manaugh. And how will Filmmaker be involved? Well, if you're a regular reader here you know that I'm fond of finding new prisms through which to watch and curate films. So, look for a "distributed film festival" organized around the subject of "bank heists and prison breaks as architectural phenomena."
Studio-X NYC is located at 180 Varick Street, Suite 1610, and events are free and open to the public. However, RSVPs are required. Check out Manaugh's post for more info and you'll certainly hear more about the space as well as the film series here on this website.