Back to selection
DAVID LOWERY ON STORY STRUCTURE IN "MARTHA MARCY MAY MARLENE" & "SLEEPING BEAUTY"
"Martha Marcy May Marlene"
Filmmaker David Lowery (Pioneer, St. Nick) has an interesting piece on his blog today comparing the storytelling engines in Sean Durkin's Martha Marcy May Marlene and Julia Leigh's Sleeping Beauty. Martha, he argues, deliberately builds tension by withholding key information, while Sleeping Beauty lays everything on the table up front in an attempt to diffuse tension and focus deeper on story, theme, and character.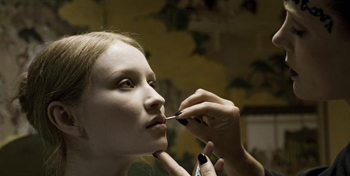 In the article, Lowery also defends Martha against Richard Brody's recent New Yorker blog post (a response in itself to Anthony Lane's review of the film) in which Brody argued that the film's flashback-heavy narrative structure was little more than an excuse to mine cheap thrills from the viewer. Lowery counters by arguing that Durkin's storytelling is quite precise, even masterful. He writes:
"(Brody's) assessment is basically correct, except that the trade-off Brody suggests Durkin made is not for a better film, but a different film altogether. What he did make is indeed a thriller, an expertly crafted one which, in that it even suggests the depths which Brody wishes it fully plumbed, has the bonus of being more than the sum of its well-calibrated parts. That its structure doesn't completely mirror the psyche of its subject doesn't bother me. I'll wait for another film to do that, and enjoy what this one does so well.
Martha Marcy May Marlene is up for three awards at this year's Gothams Independent Film Awards (including Best Picture). Whatever your stance on the film's structure, it's hard to argue that Martha is an ambitious debut; the type of film that invites debate and discussion.
So… did you find Martha's structure to be manipulative? Or did you appreciate the film's tension-filled pacing?