Back to selection
NET NEUTRALITY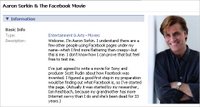 I like Aaron Sorkin, but I don't know what to make of the fact that he's so loudly publicizing the fact that he knows so little about the online world he'll be writing about in his Scott Rudin-commissioned script on Facebook. I've listened to interviews with Sorkin before in which he's talked about capturing the rhythms of intelligent speech and about how one doesn't have to know all the details of a character's profession in order to write that character. And yes, often an outsider's eye can be the best when it comes to entering into a world and finding the moments of drama that will connect with a larger audience.
But did he have to go so far as say that his dead grandmother knows more about the internet than he does?
You can visit Sorkin's Facebook group here.