Back to selection
DAVID POMES, "COOK COUNTY"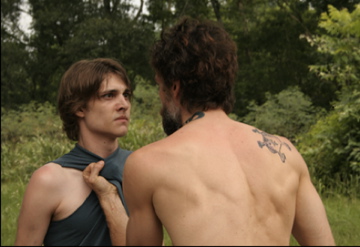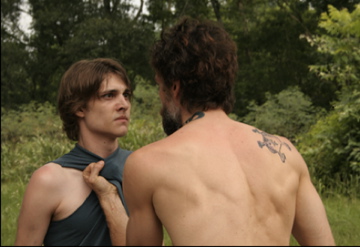 The rapid growth of methamphetamine use in rural America has been unabated for years now, but it has just now found its definitive cinematic dramatization in David Pomes' bittersweet crime thriller Cook County. Contemplating the final weeks in the life of an east Texas drug din as its proprietor spins out of control, Pomes' film details the dark underbelly of addiction within an entire community that silently affirms the control meth has taken over many of its citizen's lives. Meditating on the particularly harsh affect the drug has had on a family through three generations, Cook County is at heart a film about family. The meth-pushing brothers at the center of the film, played with startling authenticity by Anson Mount (AMC's Hell on Wheels) and Xander Berkeley (Sneakers, Gattaca, Safe), are one of the more contentious and complicated set of siblings to grace screens in quite some time.
Cook County was a hit at the 2009 SXSW film festival, where it won the audience award. Since then it has enjoyed a strong run on the American regional circuit, winning prizes in Nashville, Dallas and at Birmingham's Sidewalk Moving Picture Festival. Pomes, a Houston, Texas native who lives and works in New York and had been a lawyer for a decade before turning to film, has already shot a second film, Sunny Side Up, with Kathryn Erbe and Parkey Posey. His debut Cook County opens in New York at the Cinema Village tomorrow.
Filmmaker: Did you have any experience with meth or meth addicts before embarking upon this film? Was your way into the story an interest in how they operate?
Pomes: I didn't start out writing about that. I started writing about people living on the margins of society I guess, living outside of urban areas, really kind of secluded backwoods of the country. I began to write about and do research on some of these people, the type of people I grew up around in these outside, bordering areas of Houston. My family is from Louisiana, so going there and the more writing and researching you do, the crystal meth problem is pretty apparent. Telling the story of one of these communities needed to be in there to drive the story and drive the characters. It didn't really start out as a movie about crystal meth, that's just sort of the situation.
Filmmaker: The story is more about brotherhood and the burdens of family I suppose.
Pomes: Yes, I mean its not a "family" film [laughs], but it's about the family dynamics of people living isolated lives in the underbelly of American society. Meth however is a huge problem and the film wouldn't have been as interesting or have been an honest story without that element.
Filmmaker: What kind of research did you do about the rural meth culture in the south?
Pomes: I did a ton of research. Mostly just through the Internet, through magazine articles and things of that nature. I did a lot. There is so much out there. People on meth like to talk about it. They like to take about the process of making it, the problems they have with it. There are tons of blogs out there, websites, people write songs and poetry about it [laughs]. Not in a good way necessarily, or a glorifying way, but just how it's affected there lives. There's recipes out there, you don't just have to make it one way. There's a bunch of different ways to do it. We found lots of pictures of people on meth and meth labs and used those to inspire us a bit for wardrobe, makeup, art direction, the general aesthetic of the movie.
Filmmaker: You shot not too far from your hometown?
Pomes: That's right, we shot for twenty-two days in a little town north of Houston called Cleveland, Texas.
Filmmaker: Did your familiarity with the area help you achieve some things on what I imagine was a low budget that you perhaps wouldn't have been able to do elsewhere?
Pomes: We pretty much shot what we wanted to shoot. That's one cool thing about not having a producing team around that's trying to dictate the schedule to you. No one was saying based on the schedule and the budget what could be done and what couldn't be done. We did what we wanted to do. If we had to, if we absolutely had to, we would expand a day, no hassle. Fortunately we were able to get everything we wanted with the time we set aside, but I don't know if we had any hard outs anywhere we shot. We had a schedule, but if we had to we could expanded it.
Filmmaker: Both of your leads are listed as producers. Did you write the film with them in mind? Were they involved early in the process of putting it together?
Pomes: I didn't write the roles for them. I didn't write it with anyone particular in mind, although I did think of a few different people as I was writing to be models for me, voices to use as I was writing. Anson got involved after the script was written, but not at the earliest of stages. He got involved after reading the script. He was the most involved out of all of them in terms of producing the film. He co-produced it with me. We were both pretty heavily invested in it. Xander also did quite a bit too. Anson and I were more in a partnership on it producing-wise however.
Filmmaker: How long was it from the time you started writing until your first day of shooting?
Pomes: Well, the writing took some time. I had to put it down for a bit. I was working, I was a lawyer. I'd go through these stretches where I'd work on it a lot, then I'd put it down for awhile. I probably worked on it for over six months, and then I'd put it down for two or three months at a time. Once you get the money, everything kind of falls into place, the wheels really start moving. I'd say the entire thing from start to finish took about a year and a half or so. We finished the film in 2008, so the distribution situation has been the problem, its taken a long time. It dragged this thing out.
Filmmaker: Were there aspects of the story that surprised you and took on a previously unforeseen life as you shot the picture?
Pomes: Well, there were certain scenes that we would be ready to shoot and then we'd say, "Well, we don't need that." We definitely were still developing the story as we went along in the shooting. The actors had a lot of really great ideas. If I thought it helped the film, I'd always accommodate them. Often we'd have two scenes and we'd decide that they were redundant, so we'd combine the two scenes into one smaller scene to accomplish telling the story that way.
Filmmaker: You made another film since shooting and cutting Cook County. Having had that experience, would you do anything different had you made this film now as opposed to three-and-a-half years ago?
Pomes: Well, its always been very personal and important to me and thinking back on things I would do differently most of them center on how I would have handled post-production. Doing another film hasn't changed my perspective too much, but it did make me realize how important it is to be involved with every aspect of your film, from the writing through the pre-production. You obviously need to bring great people in to help, but I was a director-for-hire on this last film and I'd prefer to direct my own writing.
Also navigating the waters of the independent filmmaking world. I would have put a few more people around me who have a little bit more experience I think someone like Mark Urman maybe, who could help steer the ship and let us know when we're doing the right thing and not doing the right thing. Maybe we should have held on to it. Maybe it would've been a good movie for Sundance. We could have tried to submit there instead of rushing it out, I don't know. Being at SXSW was such a wonderful time, it's a great festival but at the time we entered the marketplace it was a terribly time for independent film sales. Getting a theatrical release was and still is a hard thing to do for an independent film. The most specific thing I can say is, I would have put people around me who had done it before. We didn't know what we were doing. This was the first time any of us had produced a film. Anson had never produced or distributed a film, so we were kind of learning as we went along, making the best decisions we could. Looking back at the movie itself, of course you say, "Well, I could have changed this or done that," but over all I'm pleased.