Back to selection
The Blue Velvet Project, #80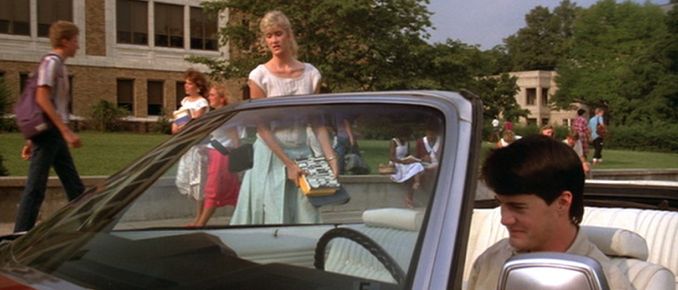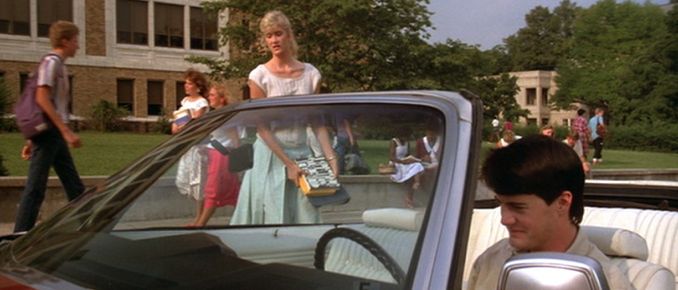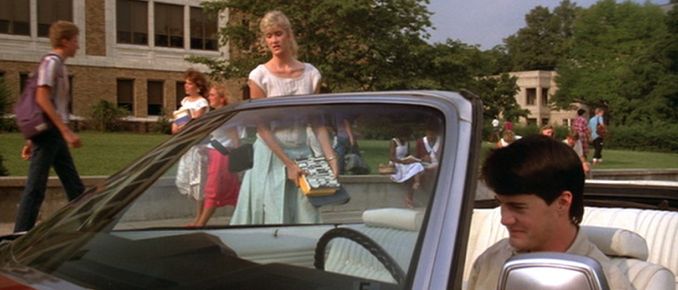 Second #3760, 62:40
Jeffrey, having arrived later than expected to pick up Sandy after school, has just been spotted by Sandy's boyfriend Mike, who is doing a variation of jumping jack exercises with the football team (in full uniform, including helmets) on a tennis court across the street in a scene that oddly predicts the "Do the Locomotion" scene in Inland Empire. We are back in the sunlight now, the deeply coded normalcy of high school, the girls in their long skirts recalling the teenage rebel movies of the 1950s. The frame captures no one looking at anyone. Dead gazes. A frame filled with people and trees and grass and a building and a car. The end of spring. The beginning of summer.
Sandy. The fact of Sandy. In her classic 1974 book From Reverence to Rape: The Treatment of Women in the Movies, Molly Haskell wrote:
In the penumbral world of the detective story, based on the virile and existentially skeptical work of writers like Hammett, Chandler, Cain, and David Goodis (which found its way into crime films like Dark Passage, The Blue Dahlia, Farewell My Lovely, Double Indemnity, I Wake Up Screaming, and The Big Sleep), the proliferation of women—broads, dames, and ladies in as many shapes and flavors, hard and soft centers as a Whitman's sampler—was a way of not having to concentrate on a single woman, and again, of reducing woman's stature by siphoning her qualities off into separate women.
In Blue Velvet, Sandy's Dorothy is matched by Jeffrey's Frank. Which is to say: the film is a carefully constructed two-hours of tension which threatens to snap but never does. The movie seems to be about Jeffrey's fascination with darkness, but what if it's really about Sandy's role as the gatekeeper between darkness and light? After all, she supplies the initial information and clues that Jeffrey needs to take his plunge. In any case, this is one of Blue Velvet's most visually diverse frames, regressing from right to left into the green, green natural world, the same world that existed within the thick grass of Jeffrey's front lawn at the beginning. Sandy, her body from the chest down viewed through the double glass of the film camera and the car windshield, is a Molly Haskell woman and something more. Of all the characters in the film, she bears the burdens of the signs of the past more than anyone else, a repository of the very nostalgia that fuels Blue Velvet and that, ultimately, it renounces.
Over the period of one full year — three days per week — The Blue Velvet Project will seize a frame every 47 seconds of David Lynch's classic to explore. These posts will run until second 7,200 in August 2012. For a complete archive of the project, click here. And here is the introduction to the project.