Back to selection
A FILMMAKER'S GLAMOROUS LIFE: TZE CHUN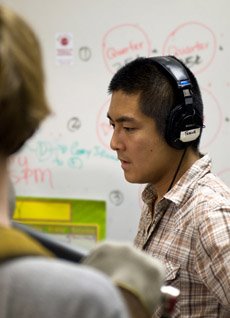 In "A Filmmaker's Glamorous Life," online and in our latest print edition, Esther Robinson surveyed a number of filmmakers about the jobs they've taken to support themselves when they are not making films. In this blog series we'll run the unedited responses we received that were then condensed for the piece. Below: Tze Chun.
Filmmaker: How did you support yourself during the production of your last movie/movies? What was good/not good about this kind of job(s)?
Chun: I didn't go to grad school, but was committed to making films. So I opted to do a bunch of short-term work rather than something that would have me in an office from 9-5 so I could focus on that. For the first three or four years out of school I sold abstract paintings and did portrait painting on commission as well as random event videography and DVD authoring work. What's nice about painting is that it uses a totally different part of your brain, and you never really have to worry about getting financing or raising co-production money etc. You just need a paintbrush and a canvas. And for commissioned portrait painting especially, once the undercoat was done, I found I could let your mind wander and think about film work. I'm big on multi-tasking that way. Event videography was nice, because you do it and it's done and you never think about that job again. I taught myself DVD Studio Pro, so I knew how to use it before most people did, and back in 2002-2004, that was kinda in demand. For about a year in 2004, I helped my mom open a real estate company in Boston. I did everything from designing the inside, to overseeing construction, to setting up the furniture and computers. I also painted the 15'x6′ sign in front of the building, which I am really not qualified to do.
As for what was bad about those jobs, I was getting paid, and I really have no complaints since they allowed me to do film in my free time.
Now, though I still do some portrait commissions, I'm really focused on TV or Studio screenwriting as a day job.
Filmmaker: What is the best second job you ever had? What made it the best?
Chun: I would say writing on the TV show Cashmere Mafia was the best second job I ever had. I know TV writing is still in the entertainment industry, but it's so far removed from an indie career (the career I was pursuing), it really felt like a day job. What's nice about it is it's the exact opposite of indie film. In indie film, you're driving the boat. If something goes wrong, you're to blame, and so you're responsible for every little thing in the production. Your quality of life goes down while you're working, etc. With TV writing, you're a small part of something big. You're not responsible for everything. In fact, you can write stuff one day, then send it off and two days later you see dailies. You're completely removed from the physically painful parts of the process, like being in the sun or the cold or whatever. You mainly just sit in a room and people bring you food and you tell embarrassing stories about yourself. It's really fun.
Filmmaker: What is the worst? What made it the worst?
Chun: I oversaw the construction on renovations for my mom's small real estate office in Boston Chinatown. It was my family's first time opening a business, and we were excited. But the place hadn't been renovated or cleaned for decades, and when we tried to renovate the basement we found that 1) we could smell the live chicken store no matter what we did to the walls; 2) the fast food place on the other side of us had some kind of leak from their fridge; 3) I think we may have displaced a colony of diseased mice. Also, sometimes Chinese builders are cheap but not necessarily by the books. For example, in the bathroom of that office, the sink drains through a tube that's stapled to the toilet seat. I have no idea why they decided to do this.
Tze Chun's debut feature Children of Invention premiered at the 2009 Sundance Film Festival and is currently on the festival circuit. In the last six months, the film has won Grand Jury Prizes at the Independent Film Festival Boston and the Los Angeles Asian Pacific Film Festival, as well as Special Jury Prizes at the San Francisco Asian American, Sarasota, Nashville, and Los Angeles Asian Pacific Film Festivals. In 2007, Chun was named one of Filmmaker Magazine's "25 New Faces of Independent Film" for his short film Windowbreaker, an official selection of Sundance and over 30 other international festivals. He is currently reteaming with producer Mynette Louie (Children of Invention, Mutual Appreciation) on his second feature, You're a Big Girl Now. Chun also works as a painter and visual artist. Recently, he contributed drawings to Filmmaker Magazine and painted the poster for Anna Boden and Ryan Fleck's Half Nelson. To find out more, go to www.childrenofinvention.com