Back to selection
Transart Film Express
Filmmaker, critic and Filmmaker magazine writer Shari Roman died in Manhattan on Wednesday, September 9. The following is a reprint of the last piece that Shari wrote for us, published in Summer, 2007. In the piece she surveys a number of young visual artists using film and film installation as a medium. For more on Shari and her life and work, visit the blog post on her passing.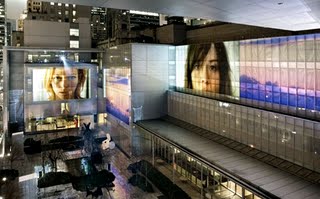 When Matthew Barney kicked off his five-part Cremaster film cycle in 1994, perforating the barrier between the art world and independent cinema, the multidisciplinary artist took some hard knocks from purists who felt he was creating his increasingly lavish HD provocations with Hollywood in mind. But the success of Barney's large-scale Cremaster vision — museum retrospectives, film festivals, international gallery tours, theatrical release, DVD sales — also proved to have an unanticipated ripple effect. Its wide-scale acceptance reawakened a broader appreciation of that other kind of art film — films made by visual artists.
Two generations ago, painters, sculptors, performance artists and photographers working in film and video, including Andy Warhol (Sleep, 1963), Michael Snow (Wavelength, 1967), Vito Acconci (Theme Song, 1973) and Robert Smithson (Spiral Jetty, 1970), had experimented in much the same way. With their related explorations in film and video, these artists proposed gestural and narrative approaches that influenced other artists, filmmakers and those who, like Barney, bridge the divide.
Currently, in the indie/mainstream world, there are several filmmakers who continue to explore the realm between artist and arthouse. The painter Julian Schnabel, who has been making features since Basquiat in 1996, expresses the extreme reality of a severely paralyzed man who communicates through one twitching eyeball in his third dramatic feature, the 2007 Cannes favorite The Diving Bell and the Butterfly. And, Sweden's proud polemicist Lukas Moodysson (Together) recently created the Acconci-like Container, "a silent movie with sound," replete with its own Brobdingnagian interactive gallery installation.
Meanwhile, coming from the gallery world, the new international cadre of art-school trained, "fine"-art anarchists are unabashedly wielding the language and history of traditional cinema. Entertaining both the eye and the brain, and as at ease with a brush as with a guitar or a camera, they appropriate and stylishly compound critical narrative-image structures while toying with the construct and context of material, sound, space and time.
There are projects which run to feature length: Eve Sussman's lushly shot "historical" feature Rape of the Sabine Women (2006); Britain's Mark Wallinger wanders around the Mies van der Rohe museum in a bear suit in his Sleeper (2005); performing live, Gregory Weeks' 12-piece psych-folk orchestra The Valerie Project (2007) composed a brand-new psych-folk musical score to accompany Czech director Jaromil Jires's erotic myth Valerie and her Weeks of Wonder (1970) (at MoMA this fall). But most are working within the short form.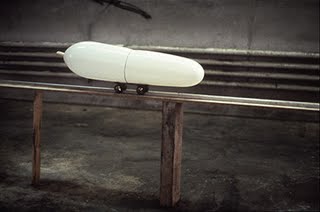 Among these prolific up-and-comers is Denmark's Jesper Just, 33, who has moved from DVCam to 16mm to anamorphic over the past seven years. Staging Douglas Sirk–inspired, imagistic and operatic scenarios in settings ranging from strip clubs to parking lots to the countryside, Just has his protagonists communicate primarily through song. In I Don't Want to Set the World on Fire, men inside a gentlemen's club sing songs by the Ink Spots into telephone receivers around the room. With Sleepwalkers (pictured above), America's Douglas Aitken, 39, projected five literally larger-than-life characters (including Donald Sutherland and Tilda Swinton) onto seven facades at New York's MoMA for two months in a crisply beautiful, interconnected narrative about humanity and the architecture of time and space. Sweden's own Dadaist Erik Bunger, 31, is a musician, performance artist and video artist who has been appropriating and remixing media from existing music and film. His Let Them Sing It for You (2003) is an interactive Web site wherein you write a song and it is crooned back to you via a computerized voice mélange of different pop stars. In Bunger's ironic 16-minute dialogue Gospels, he reassembles short clips in which famous faces, such as Bonnie Raitt, Eric Stoltz and Eric Clapton, seamlessly speak of "him" (whoever that might actually be) with such fervor that the piece takes on a creepy-canny, recontextualized religious dedication. Using 25 actors, the Netherlands' Gabriel Lester, 35, now based in Brussels, played with six simultaneous 15-minute video projections, inspired by Jacques Tati's Playtime, on the exterior of Stockholm's Bonnier Konsthall. He also ingeniously tinkered with the image-search forms in Google and Alta Vista, and from those "found" images constructed the Chris Marker–style docufables All Wrong (2005) and All Right (2006) without ever leaving his studio. Swiss artists Peter Fischli and David Weiss, collaborators since the late '70s, were given a massive retrospective at London's Tate Museum last year, due, not in small part, to their early video work. Their most notorious is the 29 minutes of The Way Things Go (1987) (distributed by First Run/Icarus Films and pictured below), in which they document 100 feet of deliriously synchronized Rube Goldberg destruction. (In 2003 even Honda saw fit to parody the piece for a commercial).
Unlike a bourgeoning Jarmusch, let's say, these image-makers are nourished by a formidable "guaranteed" support and distribution platform that encourages their personal expression. Not only do they have the opportunity to screen at proper cinemas; they have museums, galleries, Web sites and a global interface of arts-funding organizations (Creative Time, NESTA, Motiroti). There are also a conflux of multimedia marketers like Japan's Artstar (which makes artists' work available for iPod download) and Denmark's ArtNode (which offers ARTpod, free MP4 videos from renowned artists including Just) ready to pick up the slack. It just might pay to be an artist after all.