Back to selection
LOCARNO CRITICS NOTEBOOK #1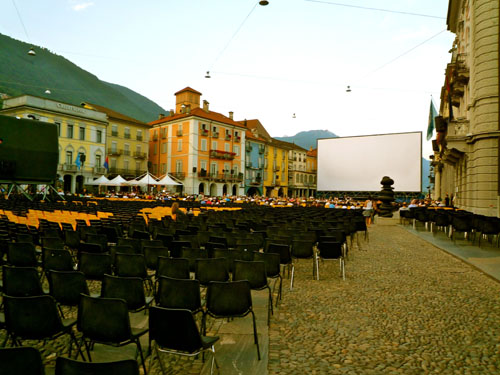 The Locarno Film Festival has carved out a role for itself since Olivier Père took over three years ago, in which it offers the best of all festival worlds. Acting as perhaps the best cross-section of contemporary cinema—or something very close to it—available on the festival circuit, it has often been described as one of the true "cinephilic" fests. Additionally, in order to make this possible, Locarno still needs to be something of a hotspot, and the "glamor" that makes such a reputation possible is also a key component. However, Locarno manages to avoid being an industry-driven media frenzy like Cannes. Essentially, you get to have your cake and eat it too; plus: the view. As one of eight members of the Critics Academy this year (young film critics chosen from around the world to cover Locarno), I'm lucky enough to be able to take in the wonderful and astonishingly diverse lineup and the laid back yet classy atmosphere—and, of course: the view. This year, at the 65th edition of the festival, things got off to a shaky start, but one that was quickly corrected.
The opening film at the Piazza Grande—Locarno's key venue, an astonishing outdoor cinema that seats 8000 people—was Nick Love's by-the-numbers The Sweeney. Based on the 70s British TV cop show of the same name, it set the bar very low. Starring Ray Winstone, and directed with autopilot indifference, it's almost shocking the film is a project seven years in the making. On to better and brighter things, the next couple of days offered some memorable films that have already debuted at Cannes. Namely, Léos Carax's understandably divisive but wholly genius Holy Motors and Apichatpong Weerasethakul's minor but nonetheless impressive moyen-métrage Mekong Hotel, both of which comprise two of the most notable highlights of the early going here in the south of Switzerland.
Both Apichatpong and Carax are here at the festival, Apichatpong as president of the Concorso Internazionale jury, and Carax to receive the Pardo d'onore Swisscom awarded each year to "a master of contemporary cinema." Each of them held a public conversation at the Spazio Cinema Forum, an intimate spot attended by press and fans alike. Known for his timid behaviour, Carax offered Locarno a rare opportunity by openly discussing the world and cinema for an hour with Père. His new film was, of course, a main topic of discussion, but Carax spoke about movies in a broader sense as well. When describing his approach to filmmaking, he said "a film is like a misunderstanding. I feel like I'm searching for one viewer, someone up there…someone missing." Though Carax was not all of a sudden a professional orator, his usually reserved personality seemed somewhat more at ease—especially in comparison to his press conference at Cannes back in May—making the occasion very special. On the other hand, Apichatpong was unsurprisingly eloquent when interviewed by fellow jury member Hans Ulrich Obrist about his career. Much of what was discussed was previously tread territory, but the Thai filmmaker did reveal details of his next project, which will be about a group of people who come down with a sleeping sickness in which they can only stay awake two hours a day. Apichatpong is interested in looking at how this disease affects these characters' minds. Needless to say, it sounds like yet another in a series of great ideas. Perhaps the most memorable part of the conversation had to do with his unrealized film Utopia, a sci-fi elegy that was to star various genre stars, including old Star Trek actors, in which the Starship Enterprise is discovered dying in the snow. Apichatpong revealed that he met with Ray Bradbury about the film and that he had 30 minutes to speak with him at his home. Apichatpong fondly spoke of how the conversation veered away from his project and towards cats, a particular area of interest for Bradbury. Once it registered in Bradbury's mind that a kid from Thailand had cared so deeply about his stories, he began to cry. Apichatpong movingly referred to this as "a key moment."
The programming at Locarno is also full of restored classics and opportunities for new discoveries of old films. In the broad and impressive Histoire(s) du Cinéma section—a new addition to the festival—there's a range of lesser-known films that deserve some attention. I was able to catch a screening of three short films from the 1930s by German artist Hans Richter. It was one of those ideal festival situations: walking in without any prior knowledge of the films and coming across great cinema. Richter's Die neue Wohnung is particularly of note, a film commissioned to demonstrate the qualities of modern architecture that actually goes much further, entering Tati-esque territory in critiquing the oppressive forces of objects and restrictive space.
As far as films from the main competition, there will be more to discuss in the coming days. For now there are two films to bring up, firstly Bradley Rust Gray's Jack & Diane, a disappointing follow-up to The Exploding Girl (2009). Though anchored with a strong lead performance from Juno Temple, it suffers from a tonal messiness and an awkward and transparent metaphorical gimmick involving stop-motion animation and creature effects—Temple turns into a "monster" as her sexuality activates her conflicting desires and vulnerability—to communicate the emotional confusion of the characters. Secondly, the far better Berberian Sound Studio from Peter Strickland, the director responsible for the excellent Katalin Varga from 2009, screened to an enthusiastic audience on Saturday night. While not a great film, it's an effective homage both to Giallo films from the 70s and 80s as well as in a broader sense to working with analog equipment. Toby Jones stars as Gilderoy, a British sound engineer hired to work on an Italian horror film. The socially impotent protagonist is alienated by this strange environment of difficult collaborators, screaming actresses, and the constant projecting of gory, unspeakable acts. The film's most interesting decision is to never show any footage from the film being worked on—titled The Equestrian Vortex—instead focusing on the sounds, and the process of creating those sounds. It's easy to link Berberian Sound Studio to a film like Blow Out, another movie (admittedly a far superior one) interested in the blending of reality and cinema—specifically with sound—and using the psychological imbalance of its protagonist to create a sense of unease and foreboding.
The most instructive viewing of the festival so far was my first: a screening of Carax's debut feature, Boy Meets Girl (1984). I walked in without realizing it wasn't subtitled. Instead of giving up, I decided to pay special attention to the images, and ended up with a greater understanding of Carax, his use of physicality, and his obsession with motion—both within the mise en scène and with the camera itself. I became especially attuned to every gesture, every visual detail. It prepared me for the rest of the festival, which will surely bear more such surprises and challenges.