Back to selection
VIFF Critics Notebook #1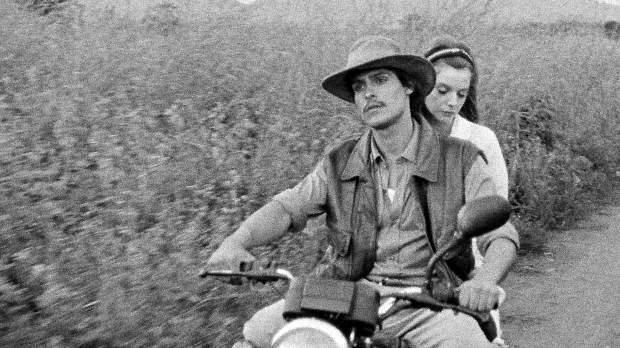 My fifth year in a row of attending the Vancouver International Film Festival in my hometown has been unique thus far—I'm at the precise halfway point of the 16-day event as I write this—in that it's the only time that I've already caught many of the films playing thanks to my trip to Locarno in August. This has afforded me the freedom to venture beyond the "festival-of-festivals" programming of obligatory Cannes leftovers and such, to explore, among other things, the Dragons & Tigers section for which VIFF is renowned. For those that don't know, Dragons & Tigers is a long-running program, initially set in motion by Tony Rayns, that features the largest selection of East Asian films screened outside of East Asia—not a small feat. In contrast to Locarno and many of the headliner festivals, VIFF's only competition is the Dragons & Tigers Award For Young Cinema, dished out by a jury of three each year to an early film by an as-of-yet unrecognized director. VIFF also circumvents the sort of media and celebrity attention that TIFF garners (cultivates). Thus, the atmosphere here in downtown Vancouver during the festival is relaxed—buzz doesn't revolve around Ryan Gosling or who will win what, but is merely word of mouth from a stranger in line with you about the latest gem just discovered.
One way to start out a film festival is to see a masterpiece. That's what I did in seeing Miguel Gomes' sumptuous Tabu, in some ways an ode to cinema's past but also a film that marries a heritage with future possibilities (a trend in contemporary world cinema right now, no?). Though not stylistically comparable, Tabu's rich mysteriousness and poetic beauty comes close to rivaling the work of Apichatpong Weerasethakul, placing Gomes at the forefront of cinema's greatest talents. Tabu is a new-silent-cinema love story (partly) set in colonial Portugal that shifts forms (35mm to 16mm in its second half), evades description, and astonishes.
From a highly anticipated film to one I knew nothing about: LeeSong Hee-Il's White Night was a mostly forgettable film, but not one without its merit. Of greater interest, however, was the short film that Tony Rayns programmed to play before it: Cock. In its world premiere, Hwang Hyunjin 's 20-odd minute short is a biting comic look at a filmmaker bent on getting into Cannes, and has decided to make a film featuring gay lovers solely for that reason, under the assumption the "daring" content will secure a premiere. Hwang satirizes this filmmaking-for-festivals mentality to great effect, and things escalate to hilarity as the heterosexual lead actor proves unable to perform.
Other highlights of VIFF's first week include 10+10, a mildly amusing mixed bag of curiosities with, all-too-predictably, one great entry from Hou Hsiao-Hsien; Darezhan Omirbayev's Student, an original take on Crime & Punishment that touches base with Bresson & Kaurismäki while honing in on social reality in place of psychological crisis; Thom Andersen's Reconversão, a documentary about the great Portugese architect Eduardo Souto Moura shot by Tectonics' Peter Bo Rappmund, which features a worthy subject and visually interesting cinematography but is less than the sum of its parts; and Nameless Gangster: Rules of the Time, an adequately directed genre piece elevated by a fascinating lead performance from Oldboy's Choi Min-Sik.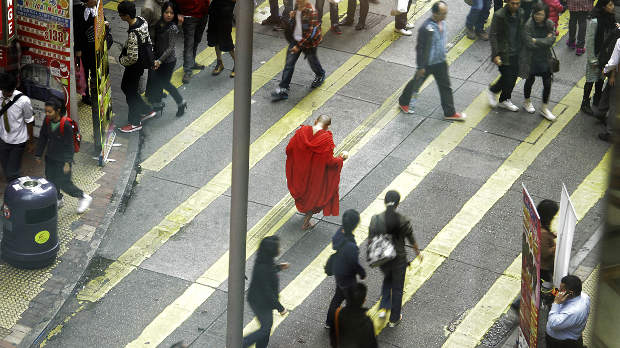 Since the disappointing Face, I've awaited a return to form from Tsai Ming-Liang, and his 25-minute short Walker fits the bill, and is, quite literally, a change of pace. Featuring Tsai's muse Lee Kang-sheng as a monk, he walks at an achingly slow speed through Hong Kong's busy streets. This contrast of speed and slowness, of focus and distraction (many of the film's frames are populated with bystanders, many of whom don't take notice, some of whom snap a photo on their phone), of serenity and business, keeps the film dynamic as Lee navigates through each static composition. Walker is a lesson in the relationship between spectator and subject.
Playing in the same collection of short films under the heading "Beautiful 2012", Ann Hui's My Way is a moving look at a transsexual shifting lifestyles from a married man to being a single woman. Played eloquently by Frances Ng, the protagonist is, understandably, nervous about the changes she is going through, an anxiety not helped by the lack of support from his ex-wife. However, in an affecting moment, when the ex-wife recognizes the person she knew in her new form, she reconciles these seemingly separate identities into their one self. Ann Hui rather beautifully simplifies this complex situation into a brief melodrama without being reductive, and evoking sympathies for both characters' points-of-view.
Another short film well worth remarking upon is Athina Rachel Tsangari's The Capsule, a bold and creepy Lynchian work about a group of women undergoing a series of trials in obedience to a demanding matriarch. Though it defies definite readings with its surrealist logic, Tsangari portrays an oppressive, possibly arbitrary, system in which women compete with each other for recognition, and, ultimately, freedom.
A sweet surprise, Joo Sung-hee's A Werewolf Boy is a strong follow-up to his feature End of Animal. which played three years back in VIFF's Dragons & Tigers competition. Simple but solid, Joo pays homage to Spielberg with an exercise in sentimentality and adolescent wonder, even going as far as to, it seems, copy-and-paste the moon from E.T. into his mise-en-scene. Don't let the vaguely Twilight-ish plot of a love story between a werewolf and young girl dissuade you from seeing this film if you get the chance. It may not amount to more than its whimsical charm and emotional swells, but this is a movie fully aware of what it is and is entirely competent in fulfilling its modest ambitions.
The most fun film of the festival, though, is Hong Sangsoo's In Another Country. There's pretty much been a new Hong film (sometimes two!) every year at VIFF since The Day a Pig Fell Into a Well won the Dragons & Tigers Award in 1996, and they rarely disappoint. In fact, I don't know if there's a more consistent and prolific filmmaker out there. His latest comedy is a wonderfully fruitful collaboration with Isabelle Huppert who plays three different characters, all French women visiting the same seaside town in Korea. In each of the three scenarios, the basic elements are the same: a lifeguard; a lighthouse; a tent; a barbecue; an umbrella, but the results vary. Hong Sangsoo effortlessly weaves these charming tales together in what may be one of his most relaxed, yet most rewarding works yet.
And then there's the film of the year. Wang Bing's deeply affecting documentary Three Sisters is a capital "M" Masterpiece of the highest order. Wang follows three little girls, aged 4, 6 and 10 through their difficult daily lives in an impoverished village in China near the north of the Yangtze River. The devastating conditions they live in is not fodder for pity but mere fact. The director's interest lies in their courage, strength and tenacity in spite of their environment. The result is an intimate study of the human spirit in a context that exemplifies its resilience that will surely humble anyone who sees the film. Wang's camera—though in fly-in-the-wall mode—is guided by the eye of a poet, and each handheld composition transcends observational documentary, using natural light and striking human figures to create profoundly beautiful painterly frames of village life. Surprisingly apolitical, Wang Bing devotes the entire 152-minute running time to following these girls as they work with livestock, collect dung, pick lice off each other, help cook, and traverse the mountainous landscape of the Yunnan province, never complaining: working and living for each other. It seems inevitable that the remaining films of the festival will live in this one's shadow, but then again, with names like Kiarostami, Ruiz and Benning lying ahead, more bold and unpredictable works of art await.