Back to selection
Nicole Kidman: Hollywood's Unlikely Rebel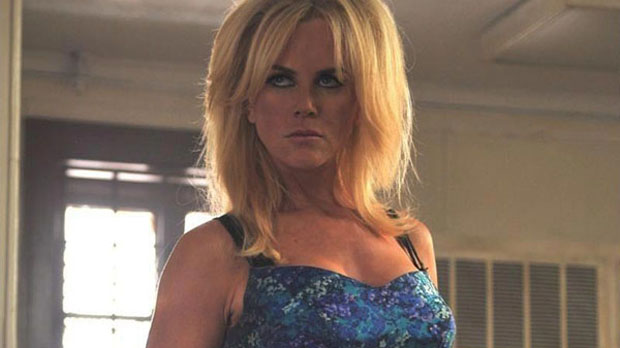 While other A-List actresses have chased the kind of star vehicles that kill on opening weekend, Nicole Kidman has been quietly becoming Hollywood's most unlikely rebel—a statuesque leading lady with a snowballing penchant for bold auteur partnerships. It's hard to pinpoint when, exactly, the gal from Days of Thunder began her metamorphosis into the daring muse currently drawing viewers to The Paperboy (above), but many would likely cite Gus Van Sant's To Die For as the pivotal work in Kidman's filmography. The sheer unlikeability of the delusional, cradle-robbing viper Suzanne Stone screams of Tinseltown-bombshell repellant, but Kidman executed the role with brio and darkly comic conviction, declaring that she was more than your average risk-taker. Of course, To Die For was followed by some uncertain moves (namely Batman Forever and The Peacemaker), which slightly muddled a career that remains considerably hard to define. But when tracking Kidman's projects from 1995 on, a refreshingly experimental variety leaps out, punctuated by increasingly offbeat, benchmark choices.
It's fitting that the New York Film Festival's recent gala tribute for Kidman featured a clip reel that kicked off with To Die For, opening not with the start of a career, but the start of a career renaissance. There are few top-tier actresses who seem keenly aware of—or, perhaps, interested in—making films that are as much about the director as they are about the star (you'd have to go back to Adaptation to find a Meryl Streep flick with a true filmmaker's signature). If Kidman's Van Sant collaboration sparked her cinephilic awakening, Stanley Kubrick's Eyes Wide Shut grabbed her by the shoulders with a shake of artistic reassurance. Conventional wisdom understandably says that Kidman didn't bloom professionally until parting ways with Tom Cruise, but that disregards one of the screen queen's most unforgettable movies, a challenging drama that saw her star opposite her then husband, and seems to have planted a seed of undying directorial affection.
"I thought Stanley was normal," Kidman says of Kubrick. "I'm not sure what that says about me." She's sitting on the stage of a movie theater in Lincoln Center's Alice Tully Hall, dressed all in a deep red that matches her lipstick. Hundreds of fans fill the seats and hang on her every word, many of which involve praising the visionaries who dream up film art. She offers a disclaimer about studio heads hating her for what she's about to say, then proceeds to condemn the luxury of huge budgets, saying shoestring productions help to fuel the creative process.
"We lost a location on Eyes Wide Shut, and Stanley didn't care," she says. "He said, 'Don't worry about it. I'll figure it out. I'll make it better. Maybe I'll shoot the scene in a mirror or something.' The same thing happened while filming Portrait of a Lady, and Jane Campion decided to sub in a dream sequence filmed in black and white. Limitations like a lack of money are good for creativity—they're good for great directors."
For those who see Kidman as just another bankable headliner, hearing her speak in person would likely be jarring to the system. The championing of filmic audacity is without question the overarching theme of what she shares with guests, and she's remarkably frank about the professional turnoffs that conflict with the taste level she's honed alongside her craft.
"I'm drawn to obsessives," Kidman says proudly. "I admit I don't know a great deal about the technical side of filmmaking, but I do know a lot about work ethic. If you're going home at night, and you're unable to sleep because you need to be thinking about how you're going to get the next shot, I want to work with you. If you show up on the set unprepared, without even having read the script, that's when I know I'm in the wrong place and I've made the wrong choice. And I obviously can't name names, but I've certainly worked with those people."
Kidman grows more animated when returning to talk of productive director practices, like, say, the rigorous rehearsal processes enforced by Baz Luhrmann, whose Moulin Rouge! steered her to her first Oscar nomination, or the hilltop hikes hosted by Lars von Trier, whose Dogville was, upon its 2003 release, the actress's bravest work to date. Regarding those hikes, which von Trier sprung upon her after convincing her to work with him, Kidman doesn't divulge much. But she does declare that she knew she was "in for a ride" after tailing the provocateur through the Swedish hills, and remained unfazed by the publicized spat between von Trier and Dancer in the Dark star Björk.
"What can I say? I'm drawn to difficult people," Kidman says.
And difficult characters, too. You can easily spot the "paycheck" projects on Kidman's resume, like 2007's double-whammy of The Invasion and The Golden Compass, but you can also see an array of tough portraits of complex women, like Virginia Woolf (The Hours), Diane Arbus (Fur), and Anna, the tortured, misunderstood widow at the core of Jonathan Glazer's Birth. Kidman notes the hubbub that surrounded the latter's bathtub scene, in which she and young costar Cameron Bright both drop trou, and she's quick to dismiss it. True to form, she's hip to the adult artfulness of Glazer's creation, and she seems ready to go to bat against those who dis her masters. Indeed, "master" is the term Kidman uses to describe Park Chan-wook, the director of her forthcoming thriller Stoker, and she employs it when speaking of Kubrick again, saying the saddest day of her career was the day of his death. She had just seen Eyes Wide Shut the night before, was going to call Kubrick to offer kudos, but life rushed in, and she didn't.
"In my film life, that was the worst," she says. "It's also my biggest regret."
Does Kidman have many regrets? She doesn't come off as the type. And with the less-than-glowing reception of multiple projects failing to quell her drive (Fur, Birth, and Nine are among her more misunderstood busts), she's no slave to self-doubt either. Which brings the conversation to Lee Daniels's The Paperboy, a steamy, borderline-campy potboiler that inarguably features Kidman's nerviest work ever. The 45-year-old more than flaunts her ageless assets as Barbie-ish Charlotte Bless, a shockingly over-the-top and lustful death row groupie, who writes dirty letters to John Cusack's inmate when not showing up to give him telepathic orgasms. Kidman's performance is raw and unbound, and unlike anything she's achieved before.
"I'm always looking for things that stretch me," she says. "I want to be pushed into places I haven't been. You don't get to do a whole lot of that when you reach a certain stage of your career. And Lee [Daniels] pushes you. He doesn't rehearse, but he sort of imbues you with a confidence then asks you to jump off a cliff. He has an infectious, frenetic energy."
Kidman admits that even she was surprised that Daniels thought she was right for Charlotte, but the alarm proved another acting invigorator. The Paperboy is one divisive curio, robbing its story of weight with so much sensationalistic tumult, but Kidman has garnered little less than universal praise. If nothing else, the movie marks the balls-out peak of the actress's fascinating rebellion, which, ultimately, paints her as a patron saint of outre cinema.
"Great directors are difficult at times," she says. "Of course they're going to be difficult. I think we try to tame people, particularly artists, in the world today, and I think it's a real problem. I will always fight to not homogenize our art. I've never been in a film that's been uniformly lauded. Ever. So I do not know that feeling. But I know the feeling of polarizing films, and I know the feeling of films that make people angry, and I know the feeling of films that make people uncomfortable. And I'm very comfortable with that."