Back to selection
DOC NYC Previewed by Artistic Director Thom Powers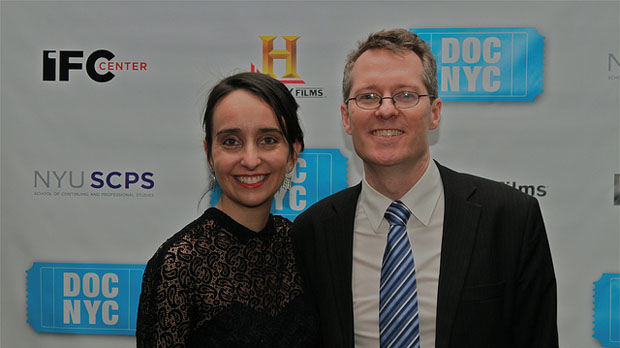 DOC NYC executive directors Raphaela Neihausen and artistic director Thom Powers at the festival's 2011 opening night.
With their Stranger than Fiction series at New York City's IFC Center, Thom Powers and Raphaela Neihausen have been curating, programming and advocating for documentary film going on eight years now. Their Tuesday-night events are typically packed, drawing audiences with not only great films but human interaction — Q&A's with directors, collaborators, and even the film's subjects. Three years ago, when Powers and Neihausen wondered why there wasn't a major, all-doc festival in New York, they realized that the challenge of launching one was a natural fit for them. The resulting DOC NYC is now in its third year (November 8 – 15), with a new, second theater and its largest program yet (115 events, 61 films and 22 panels and classes). Opening night November 8 features Bartholomew Cubbins' Artifact, about Jared Leto's band 30 Seconds to Mars and its legal battle with label EMI (Leto will be in attendance) and Venus and Serena, Michelle Major and Maiken Baird's look at the Williams sisters.
Elsewhere in the program are quite a few music docs; the New York premiere of Charles Atlas's Turning, presented by its subject, Antony Hegarty; 25 New Face Treva Wurmfeld's Shepard and Dark; Midnight Docs, including Mark Mori's Bettie Page Reveals All!; a Family Docs section, including Judd Erlich's Magic Camp, about Tannen's Magic Camp, complete with post-screening magic show; and Sundance Institute Presents, a 10th Anniversary celebration of the Sundance Documentary Program. Really, there's too much here to synopsize, so check out the schedule at their site.
Below I talk to DOC NYC Artistic Director Powers about the festival's beginnings, his start as a curator, and this year's hidden gems.
FILMMAKER: So Thom, this is the third year of DOC NYC. Before we talk about some of the films in the program, why don't you take us back to the first year and tell us why you thought New York needed a new documentary film festival?
POWERS: We started our Stranger Than Fiction Series in 2005 at IFC Center. That's a weekly series, more or less, that runs on Tuesday nights in different seasons. We've been doing it for several years and have had a really great response to it. And we weren't the only ones to notice that New York was lacking a kind of major documentary festival. Certainly, New York is blessed with all kinds of other great festivals that strongly represent documentary as well as in-house film series like MoMa's Documentary Fortnight. But, there seemed to be room for something that would pay attention to the field of documentary, [an event] we could see exponentially growing — something along the lines of Silver Docs, Full Frame or Hot Docs. So those were conversations that I had with John Vanco at the IFC Center, and after a couple of years of thinking about it, we finally launched it in 2010.
FILMMAKER: How has the festival changed and evolved over the years? What are you doing different this year than you did last year?
POWERS: Each year it's grown a little bit, and this year some of the growth can be felt in our use of a new venue, the SVA Theater in Chelsea. It is two new big theaters for us, a 470 seat theater and a 250 seat theater. That enables us this year to do more high-profile gala screenings on the weekend. We're showing the world premiere of Can't Stand Losing You, about The Police based on the memoir by Andy Summers, who will be there for [the premiere]. We're showing a concert documentary, Sing Me the Songs that Say I Love You, with Rufus Wainwright and Martha Wainwright, who will be there. That's a film based on a tribute concert they did to their mother, Kate McGarrigle. Another place where you're going to see growth this year is in our panels aimed at filmmakers and aspiring filmmakers. This year, we've rebranded those panels under the name Docathon. We're doing them over the course of five days at the IFC Center, and we've organized those days into themes. There's a day called "Get the Money," which is four panels all about different means of fundraising for documentaries. Then there's a day called "Shoot Your Doc" that includes master classes with directors, cinematographers and a conversation with Alex Gibney. [These programs] are an opportunity for us to really take advantage of New York City being home to so much of the documentary industry and to help people stay on top of new trends.
FILMMAKER: I remember being at the launch event for DOC NYC three years ago, and you talked about wanting to expand the concept of documentary beyond the film frame. I remember you talking about radio and other types of formats. Is there any aspect of that kind of programming in the festival this year?
POWERS: Yes. I think the highlight in this year's festival of that expression is our "Photography on Film" section. These are three events, all of them with film components that look at the overlap between still photography and filmmaking. So, one of those events, for instance, works with the VII Photo Agency, which started with seven members and has now grown to over 20, and includes some great photographers like James Nachtwey and Ron Haviv. And so, although VII Photo Agency is mainly known for its still photos, a lot of these photographers are now working more in video in the field. So we're going to be doing [a program] called "VII Uncommissioned." The title refers to the way in which these photographers are often picking up a video camera to do work that no one has given them a commission to do, unlike a lot of their photography work where someone says, "Here, go cover this." A lot of this work is self-motivated, and they hope to find the client for it later. That happens on Saturday November 10th, and I'm really looking forward to it.
FILMMAKER: Speak a little more generally about being a documentary programmer today. What are some of the issues — business, artistic, distribution — that you've had to deal with this year in terms of the selection process? And, what did your process reveal to you about the state of the industry today?
POWERS: Well, look, the number one headline is there are a lot of quality documentaries out there. There are more quality documentaries than really fit in the [current] distribution system — traditional theatrical distribution or the shrinking number of quality television slots. There's a whole lot more great films. At DOC NYC, we've upped the overall number of films that we've been showing, but we also recognize that even films that get some form of distribution often have a whole lot more audience left in them. So, this year we have a section called Short List, which looks back at some of the years' past best documentaries. We selected 10 for the Short List. The title is a cheeky play on the Oscars short list, and indeed, these are films that we think may be showing up in the awards season. You mentioned distribution. I think VOD is a critical and growing part of filmmakers' lives. One of our docathon panels — Thursday, November 15, on a day called "Find Your Audience" — is devoted to digital distribution. I've recently had a little bit of experience with the VOD world, curating a monthly doc club for Sundance Now. You can subscribe to it for $3.99 a month, and every month I curate eight films grouped under a theme. In November, the theme is going to be "Games People Play." Some of the films have obvious connections to the them, like Wordplay, about crossword puzzle lovers. But I've also programmed a film like Armadillo, the terrific Danish film that won the Critic's Week Prize at Cannes in 2010. As great as that film is, it had a very tough time in its very tiny theatrical release. I think a platform like Sundance Now gives audiences more access to it. If [readers] are reading this in November or after November, they can immediately go on SundanceNow.com and watch it. So, I think that's a great thing.
FILMMAKER: People get eight films for $4 a month?
POWERS: That's right. And not only do you get those eight films, but you also get access to the last eight months of archives with dozens and dozens of films that include some really hard-to-find things. All of Errol Morris' First Person TV series is part of that library.
FILMMAKER: You have a lot of films in the program this year that have high-profile subjects, whether they're musicians or celebrities or rock stars. As a programmer, how do you balance in your consideration of a film the appeal of the subject and the artistry of the film itself. Is a film about a very popular subject one that is more easily programmable? Or are you just as critical about the filmmaking as you would be with any other film?
POWERS: Any film we show has to meet some kind of filmmaking standard because I want people the brand of DOC NYC to be a place where you're going to see quality filmmaking. This year we're showing a little over 60 feature films, and within those 60 feature films, we're catering to a wide range of tastes. We have quite a few music films. In addition to the ones I mentioned before we have a film on Antony and the Johnsons called Turning. We have a film about David Bromberg, a kind of under recognized musician's musician who's collaborated with Bob Dylan and George Harrison, called David Bromberg Unsung Treasure. I think the audience taste for those may depend on what your appetite for the music is; they may have more niche appeal.
FILMMAKER: Where do you think DOC NYC fits in the ecosystem of documentary film festivals and documentary presentation? Have you given some thought to where it sits in the calendar and what you're doing that compliments or contrasts with what other people are doing?
POWERS: Well, definitely where it sits on the calendar was a conscious choice. Part of the thinking in putting it in November was that I felt there was a gap on the North American scene after Toronto. You'd have all these very strong documentaries launch at Toronto, and there are quite a few European documentary festivals that take place in the fall, like CPH:DOX and IDFA. But there wasn't anything really in North America. The main documentary festivals are kind of clustered in the spring with Full Frame, Hot Docs and, in June, Silver Docs. So it felt like an opportunity to us to fill that hole. Something else I think Doc NYC is able to do uniquely is just take advantage of New York City. You know, so many other festivals that are out of town are usually drawing from New York. People fly out to those places, and you can only get so many people there. At DOC NYC, we don't need someone to fly here for a couple of days to get them onto a panel. We're just asking for a couple of hours of their time. That's a valuable way to help people in the documentary film industry intersect with filmmakers. And not only people in the documentary industry — we also try to use the power of New York to connect to the wider media world. For example, one of the jurors on our Viewfinders Competition is Kahane Cooperman, who is an executive producer on The Daily Show. We think that's a wonderful opportunity to expose the world of The Daily Show to the films we're showing.
FILMMAKER: What are some films in the schedule, maybe some of the lesser known ones, you would specifically point out to our audience?
POWERS: One is a film I also showed at the Toronto Film Festival called Far Out Isn't Far Enough: The Tomi Ungerer Story. It's about the illustrator Tomi Ungerer, who is not a household name, although he may be familiar to some. In the 1950s he was a well known children's book illustrator. In fact, Maurice Sendak gives Tomi credit for opening the door to that whole generation of children's book illustrators. But he also had side careers drawing protest posters during the 1960s. He drew the poster for D.A. Pennebaker's film Monterey Pop. And, he had a kind of third career drawing books of erotica. In the early '70s, the American Library Association caught on that this children's book illustrator was also this pornographer, and effectively banned his children's books, bringing an end to that career and causing him to leave the United States. That film is just a terrific, terrific profile. And then there's another film, a smaller film, called Musicwood, which is about all the wood that goes into an acoustic guitar. It was a real learning experience for me to discover that seven different types of trees have to be harvested to build a quality acoustic guitar. And some of those woods are very endangered. So, in this film you see these great guitar makers try to save their access to these trees. And along the way, you get to hear from fantastic virtuoso guitar players.
FILMMAKER: Finally, how did you get into documentaries? What made documentary programming your field of interest?
POWERS: Prior to working in film, I worked in comic book publishing, for Robert Crumb's publisher, Fantagraphics Books. I guess that's partly why I have such an affinity for Tomi Ungerer's film. I did that for several years, but I was always interested in filmmaking. I I moved to New York in 1994 and started working at a small production company that did mainly documentaries. And at that time, I wasn't sure. Documentaries held a strong interest to me, and I was also a little bit interested in fiction films. But my experiences working on independent fiction films in the mid-'90s were not as satisfying as the experiences I had making documentaries. I mean, I felt when I was working on a documentary I had an engagement with the real world. Working on a fiction film was more of an engagement with the made-up world. Documentary was just more satisfying to me. So, I spent 10 years making films for HBO and PBS and other places. And then, I was a little burned out on that and looking to do something different. That's when I started the Stranger Than Fiction series at IFC Center the first year IFC Center opened in 2005. And, you know, as soon as I started curating documentaries I felt like I was much more at home than I ever had been making films. Making films was inherently more of a struggle, but I also felt less natural aptitude for it than I do in the kind of peculiar world of curating. It's kind of hard to explain exactly what that [curatorial] work is, except I think it does require a personality that likes bringing together work with audiences.