Back to selection
Checking Out Sony's New NEX-EA50H at Abel Cine Tech: Ergonomics and Low Cost Too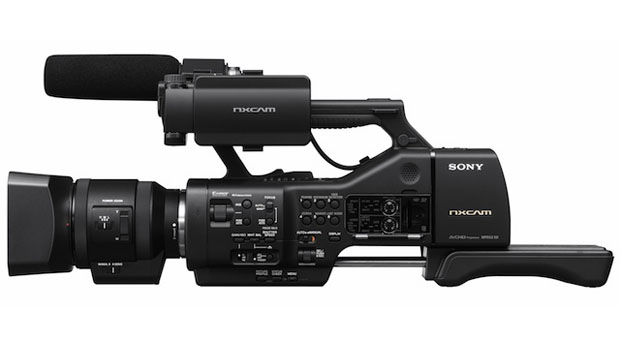 Sony NEX-EA50H
October 30 has come and gone, and with it Sony's splashy announcement of two 4K additions to their CineAlta "F" series of Super35 cameras — F3, F35, F65 — namely, the F5 and F55. At a moment when Sony's FS700 uses a Super35 4K sensor to capture low-cost AVCHD, it should have startled no one that Sony's October surprise would be all about expanding their 4K line-up.
But lost in the social media buildup to the F5/F55 announcement has been the recent introduction of another large-sensor Sony HD camcorder, the NEX-EA50H, a design that tackles, at last, the issue of hand-held ergonomics critical to vérité-style documentary filmmaking. (Call me fogey, but I'm sticking to "filmmaking.")
The inelegantly named EA50H (takes practice to remember…) is a mash-up of its NXCAM siblings, the FS100 and FS700. Like them, it features an interchangeable Sony e-Mount and records AVCHD to SD cards, Sony Memory Sticks, and Sony's FMU 128, a solid-state USB drive small as an iPhone that captures eleven hours of continuous HD recording. (I'm a big fan.)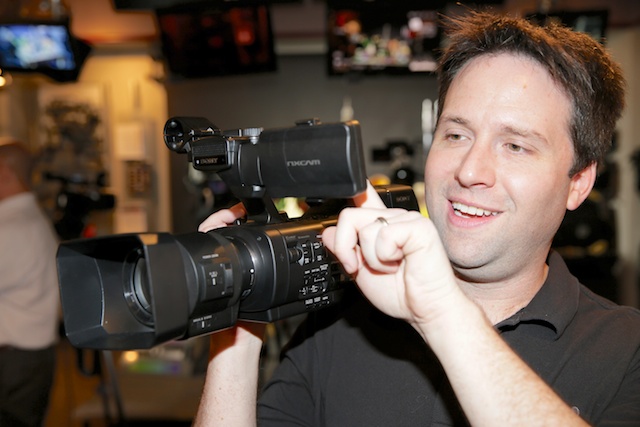 Controls similar to the FS100 and FS700 are rearranged to fit the EA50H's elongated shape, which, with its body-length handle and shoulder pad at the rear, resembles in profile and size JVC's popular GY-HD100 1/3-in. 3-CCD camcorder from 2005.
But unlike the GY-HD100 and its subsequent derivations, the EA50H drops the convention of a viewfinder and separate side-mounted LCD in favor of a high-res LCD hinged at the front of the handle that accepts a viewing tube (à la FS100 and FS700). To accommodate the added length of the viewing tube, the EA50H introduces an extensible shoulder pad that adjusts backwards by means of rods.
Skeptical? Me too. Until I picked one up week before last at Abel Cine Tech in New York. What looked positively gangly, with a big viewing tube dangling from the side, actually felt light and comfortable on the shoulder. It's only 3.8 lbs.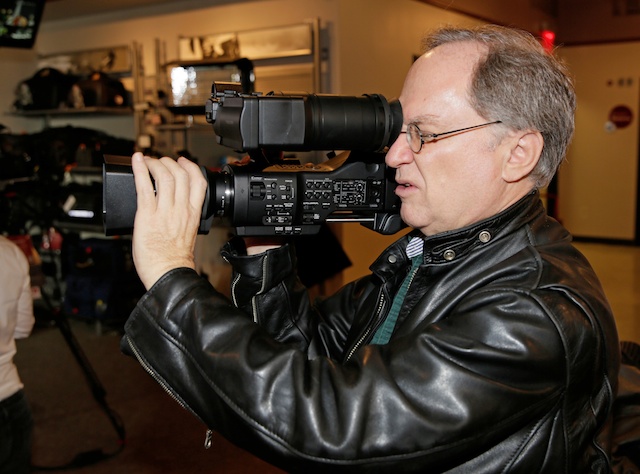 This ease-of-handling was equally due to the "kit" lens, a revamped Sony 18-200mm, optically the same silver zoom supplied with the FS100 and FS700, only now sporting a matte black finish, a proper rectangular matte box, and on the inside, a servo motor — in fact, the first e-Mount lens with a servo. Yet it's as compact and feather-weight as the silver original. And it still provides optical image stabilization, never a bad thing when hand-holding a long closeup.
It proved a joy to operate, too. A rocker switch built into the EA50H's handgrip drives the 18-200mm at three fixed zoom speeds: slow, slower, and snail's pace. Perfect for subtle pushes during interviews. A selector switch for the three speeds resides conveniently on the side of the lens. No menu diving required. (Uniquely, there's also a low-profile, spring-loaded slider switch on the barrel of the lens to operate the zoom on e-Mount cameras lacking handgrips with rocker switches.)
If you want to zoom faster, with more expression, switch the new 18-200mm to manual by means of a manual/servo switch. Again, no menu diving to disrupt your shooting rhythm.
While framing unsuspecting individuals in the Abel Cine Tech showroom and panning from person to person, I fell in love on the spot with manually zooming this lens, which felt smooth yet responsive to my touch.
This rare combo of sensible ergonomics, a friendly zoom, a light, large-sensor camera — what's not to like?
The EA50H won't be for everyone. Like the original, the redesigned 18-200mm "ramps" from f/3.5 to f/6.3 when zooming in. Without the wider f-stops of a faster lens, there's less of that popular narrow-focus look. Nor does the EA50H provide built-in NDs like the FS700 does
More significantly, unlike the FS100 or FS700, the EA50H's CMOS sensor is not Super35 tailored to 1920 x 1080 HD. Instead it's an APS-C sensor with 16.7 Mpixels, likely borrowed from a Sony Alpha still camera. While APS-C effectively matches Super35 in size, there are drawbacks.
The FS100's sensor, for comparison, has an effective pixel count of 2.1 Mpixels (1920 x 1080 pixels). These FS100 pixels are relatively large and therefore light-sensitive. But a sensor the same size with eight times as many pixels, like the EA50H's, must be made of much smaller pixels. Smaller pixels are always less light-sensitive. As a result, the EA50H appears to be about a stop and a half (9 dB) less sensitive than an FS100.
Finer pixels also typically mean more aliasing (jaggy edges), a chronic problem with DSLRs while capturing HD, although I didn't see any examples of this myself. I did detect rolling shutting (skewing) when panning fast. I suspect the EA50H compares, image-wise, for better or worse, to the Sony NEX-VG20, which contains an APS-C sensor with similar specs.
Lastly, while braced atop the shoulder, the EA50H is not truly balanced on the shoulder. There is no weight in back to counterbalance the camera body and lens up front. However I found that with a lightweight lens like the 18-200mm, the upfront load on my right arm was negligible. I didn't even notice it. I remember once feeling the same way about small DV and HDV camcorders held in the palm. If those were comfortable enough to hold in front of you, the EA50H will be too.
With so many pixels, the EA50H is able to offer a neat digital trick: a 2X "Lossless Digital Zoom" controlled by the camera's rocker switch, operable even when using a prime lens! You don't see any visible blow-up of pixels — it looks entirely like a natural zoom. Kind of amazing.
And since the EA50H is an e-Mount system, it can accommodate Sony's LA-EA2 lens adapter for Sony Alpha lenses. With its pellicle beam-splitter, the LA-EA2 enables an impressive new type of autofocus using Phase Detection, with no hunting and pecking, useful for tracking moving subjects in a documentary situation. If you have a few minutes, watch this demonstration of Phase Detection autofocus I shot earlier this year with an FS700.
Sony probably conceived the EA50H for the wedding and event marketplace. There's no slow-mo or timelapse, just bare-minimum features like built-in XLRs, HDMI, and component out. Perhaps that's why B&H's posted price is a basement $3,599, zoom included. Abel Cine Tech's too — they often sell Sony cameras at the same price as B&H, no extra charge for the additional expertise they offer. (Shhh… trade secret.) EA50H availability is mid-November.
Sure, I'd love to see an FS100 with the ergonomics of the EA50H. In other words, I'd happily give back the 2x digital zoom for the FS100's high sensitivity and near-zero jello effect. But until then, I look forward to shooting an actual project hand-held with an EA50H. Can't wait to get back to the intimate documentary flow of a shoulder-mounted viewfinder camera controlled by a single hand — without having to wear an Erector Set next to my head.