Back to selection
AFI Fest 2012: A Hijacking and Paradise: Faith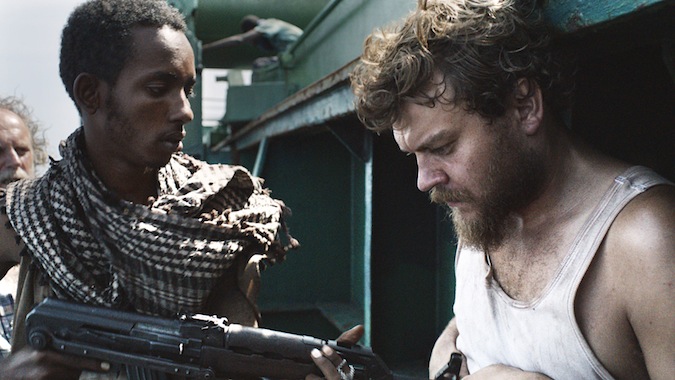 Between A Royal Affair, The Hunt, Eat Sleep Die, and now A Hijacking, it might be wise to start thinking of 2012 as something of a banner year for Scandinavian film—Denmark in particular. (Let's call Klown the exception that proves the rule and leave it at that.) An impressively restrained thriller about a cargo ship commandeered by Somali pirates, Tobias Lindholm's second feature has the kind of ripped-from-headlines premise one would expect Hollywood to have capitalized on by now. In an early sign of his rather un-Hollywood approach, however, the frequent Thomas Vinterberg collaborator shows us extremely little of the eponymous event. Lindholm displays the utmost restraint throughout, a technique that most often makes A Hijacking more engaging rather than less. The narrative remove that results from this can at times feel too cold, but it also underscores the extent to which such matters as these are necessarily logistical, financial, and even bureaucratic before they're emotional. Negotiators are brought in, initial offers are rejected, and brinkmanship abounds. Call it the banality of business, only here the product is hostages rather than stocks and bonds.
Still, Lindholm's tendency to deemphasize the emotional in favor of the transactional occasionally detracts from our connection to the characters, giving us a stronger sense of the situation as a whole than the parties operating within it. But he also demonstrates near-total control over the conflicting agendas propelling his narrative, accentuating the tension between them in an exceptionally evenhanded fashion. Not unlike The Girlfriend Experience, the film aims to show the ways in which anything and everything can be reduced to a transaction—for Soderbergh it was sex and romance, for Lindholm it's people's lives. (In its close-quarters depiction of manipulation-by-phone, the film is also analogous to a more artfully executed version of Compliance: how power is wielded, and toward what ends.)
Even in the relatively limited time he spends on them, Lindholm shies away from vilifying the pirates; we've never any doubt that they're more desperate than malicious, not to mention just as eager to get off this boat as their hostages. The months-long back and forth between their negotiator and the Danish CEO on the other end of the phone could be read a number of ways, and it's to the film's credit that it both invites and bucks a number of interpretations. The result is as engaging as it is docu-realistic, a triumph of both suspense and restraint. There's little room for comfort even at the end: the event itself may be over, but its aftereffects have yet to take hold.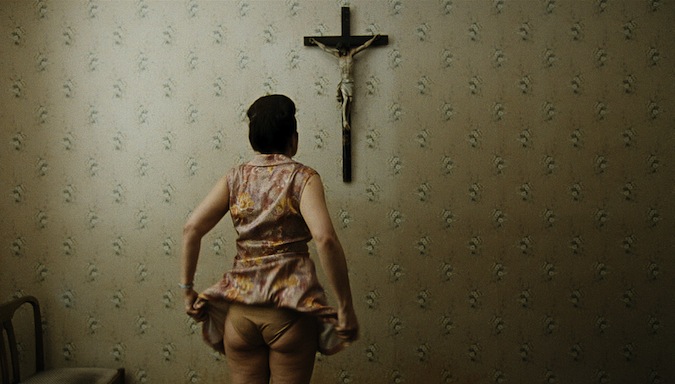 Ulrich Seidl's Paradise: Faith isn't as thematically complete as its predecessor, but it more than confirms the Paradise trilogy as one to remain excited about. Centering on the bible-thumping sister of Love's sex-tourist of a protagonist, the film might best be described as a (very) dark comedy whose jokes are most often directed at its own heroine. An X-ray technician who spends her vacation time attempting to convert impoverished emigres, Anna is fanatical, even comical, in her devotion; several scenes find her so enthralled by so little that we're clearly meant to laugh at her. Just as important, she also appears to be a closeted sex addict whose every ounce of self-control is spent resisting her carnal longing. These two impulses are very much linked, with Anna often using her faith as a means of keeping her desires – which she interprets as a test from the almighty – at bay.
This struggle often proves quite funny, but rarely in a way that feels entirely fair to Anna—during one bout of proselytizing-turned-shouting match involving two elderly skeptics, for instance, it's clear that the Austrian auteur is poking fun at his protagonist and siding with her would-be converts. Anna is dogmatic, repressed, and more than a little sad; only near the end, however, is she also a three-dimensional character. (Compare Seidl's film to Jessica Hausner's Lourdes to see what I mean about giving one's conflicted-but-faithful protagonist a fair shake throughout.) Disagreeable though the content may sometimes be, Seidl's control over it is rarely less than masterful. Every composition is arresting, every bit of dialogue just revealing enough to pique our curiosity without fully satisfying it. This is the work of a filmmaker who knows that, even at our most disturbed, we can't help but wonder what he'll do next—both in this film and the one that's soon to follow.
Follow Michael on Twitter: @slowbeard