Back to selection
Five Questions with Magic Camp Director Judd Ehrlich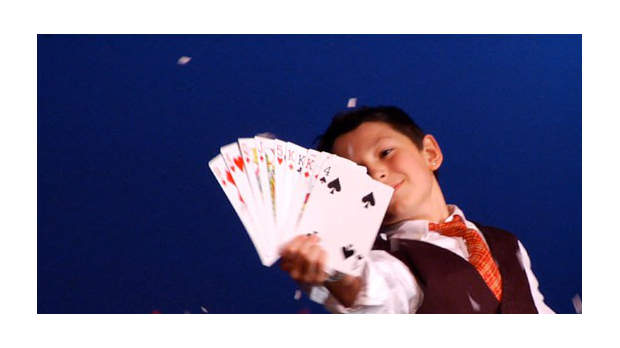 Competition in the performing arts is a staple of non-fiction television and documentary at the moment, but few works step back from the American Idol-style face-off to depict the literal beginnings of their performer subjects. One film that does is Judd Ehrlich's Magic Camp, a documentary about Tannen's Magic Camp, a week-long event for budding young magicians where kids learn both stagecraft and sleight-of-hand from an illustrious group of visiting professionals. Ehrlich attended Magic Camp when he was young, and when he became a documentary filmmaker — his previous credits include Mayor of the West Side and Run for Your Life — he knew he had to return to capture that experience. Magic Camp receives its New York premiere at DOC NYC on Saturday, November 10, and some of the film's young magicians will perform at the screening.
What were the reasons you wanted to make a film set at Tannen's Magic Camp? I read from your bio that you did magic as a kid, but I'm also noting that your three documentaries so far seem to deal with competition and triumph over adversity.
I grew up by the Flatiron Building a few blocks from Tannen's Magic — the oldest magic shop in NYC. Lower Broadway was very different in the '70s and '80s. Along with Tannen's, there were dozens of novelty and joke shops. I was a regular at most of them. When I learned Tannen's ran a camp I signed up. I discovered a place where kids from across the country came to share their passion. There were also fellow New Yorkers like David Blaine and Adrien Brody — who went by "Amazing Adrien" back then. Even at the time, I realized that there was something special going on and when I started getting into documentary, I knew I'd return to camp. For a lot of kids, magic is an escape. Magic Camp, like my other films, explores how people react when confronted with challenges and adversity.
What were the challenges in the production of the documentary? Was the revealing of magic secrets an issue? And what were the challenges in making a doc with young subjects in terms of parents, releases, etc?
Because of my history with magic and the camp I was given total access. That's so important when you're making a documentary. Tannen's had been approached before to do reality shows and other projects and they never felt comfortable. It wasn't just about not revealing secrets, they trusted me to understand the camp and these kids. So getting campers and parents on board wasn't difficult because they knew I was on their side.
One of the many amazing things about the camp is that there are no secrets — the magicians code is suspended when you're there. So a kid can walk over to a well-known magician who just performed and discuss how he pulled off an illusion. This suspension of the code extends beyond magic. There are few secrets about who you are as a person. The camp is a safe place to talk about your problems and there's an openness and honesty among the campers and the all-volunteer staff that's rare.
Speaking of doing magic as a kid, how was the field changed since you were young?
I think the internet is the biggest change. Magic requires apprenticeship — learning from other magicians. Now kids will teach themselves a sleight on YouTube and feel that they've mastered the art. The focus of the camp is not so much about technique — intense practicing is a given — but rather finding out who you are and what makes you different and unique. That's what makes you a great performer. It's something you can't do alone with your computer. You need other people.
What have you done — and what will you do — to build an audience for your documentary? How do you think most people will watch it, and how are you planning to monetize it?
Magic Camp is having a great run on the festival circuit and I'm excited to play DOC NYC in my home town on Saturday. We just got invited by TIFF to screen in Toronto in their new Bell Lightbox Theater. When we do a screening we just don't have a Q&A — it's an event with kids performing live magic. We're also screening at places like Hollywood's Magic Castle and engaging the magic community every step of the way. It's so important to have your core audience on board. We have a lot of interest from distributors, especially digital and television. So much of documentary is moving to online and to the small screen and I'm confident this film will do well there.
Tell me about the editorial process of the film. What types of decisions regarding content and structure did you have to make in editing in order to complete the film?
Since camp is only a week long, shooting was intensive. We were two crews going around the clock and we amassed hundreds of hours of footage. Going in I had an idea of the structure and what I wanted to capture but we had to find our characters and story in the editing room. As with most documentaries, the film gets made in post. I got my start in docs editing on flatbeds and I love the process but it can be painful to have to lose those great moments. Sometimes you just can't make them work with the film as a whole. Editing took longer than we expected but you have to keep going until it's right.