Back to selection
"FANTASTIC MR. FOX"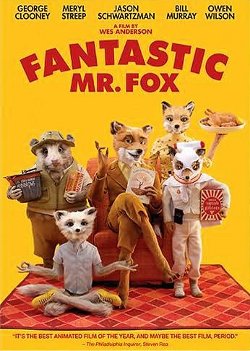 Not often does a director with an indie pedigree seamlessly segue into subject matter like… children's literature.
But in many ways Wes Anderson has been training for the moment to use his hyper-stylized, extremely detailed storytelling to make a film like Fantastic Mr. Fox. Based on the Roald Dohl classic, Anderson (and co-writer, Noah Baumbach) use the book's premise of a sly fox who outwits his farmer neighbors to steal their food to create a film that dazzles children and adults alike with it's Andersonesque storytelling and stop-motion animation.
When we meet Fox — voiced by George Clooney with motormouth charm (similar to his character Everett in O, Brother Where Art Thou?) — his life is about to change as he learns he's going to become a father and swears to his wife (Meryl Streep) that he will give up robbing chickens from coops and other dangerous stunts, though it's obvious he still has a love for it.
Years pass and Fox — dressed in an Anderson staple: a tweed jacket — is going through a mid-life crisis. Unsatisfied as a columnist for the local paper, he's obsessed to live in the big tree on a hill and his itch to rob the local farmers, Boggis, Bunce and Bean is becoming unbearable.
With his loyal friend/superintendent Kyle (Wallace Wolodarsky), an opossum, by his side, the two head out to rob the farmers. While back home, Fox's son Ash (Jason Schwartzman) has to deal with being less fantastic as his father, and it things get worse when his much more athletically gifted and better looking cousin Kristofferson (Eric Anderson) moves in with them. As Fox continues to have a blast robbing the farmers, things get serious when Boggis, Bunce and Bean set a trap to kill Fox, but are only able to shoot off his tale. Family squabbles are put aside as the Fox's home gets destroyed by the farmers over the music of the Rolling Stones' "Street Fighting Man" and the Fox's and their friends (including Bill Murry as their attorney Badger) dig to find safety, and plan a way to get Fox's tail back.
Oscar-nominated for Best Animated Feature and Best Sore at this year's Oscars, the film has all of the Anderson trademarks, but done in stop-motion, his imagination of how sets and shots should look are heightened. Repeated viewing is certainly recommended.
Fox Searchlight releases the disc today. Feature includes an inside look on how the stop-animation was achieved.
[AMAZONPRODUCT=B001QOGYBI]
[AMAZONPRODUCT=B0035G5IOE]
[AMAZONPRODUCT=B00378VGGO]