Back to selection
The Yes Men Are Revolting… and Crowdfunding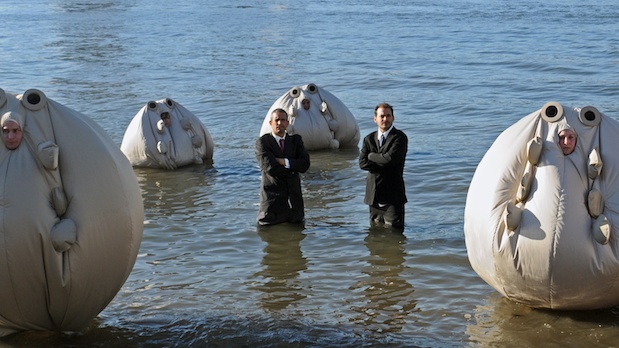 We're making a new movie called The Yes Men Are Revolting – and we're crowdfunding it on Kickstarter. We hit our initial goal of $100,000, but now we're trying to double that. Why the new goal? Because we're enacting a super-ambitious transmedia distribution plan that will take advantage of everything we learned so far about filmmaking and making a difference.
Releasing our last movie on a shoestring budget was such a monumental task that we swore we would never do it again. But now is never. We endured the aftermath of Hurricane Sandy in New York, and now we have a taste of what our future will look like if we don't do something to change it. The entire planet is on the brink of ruin, smacked-down by climate change. Governments are in a fossil fuel industry choke-hold, unable to act reasonably to preserve our future. Obama's hands are tied–in fact, he's even authorized the criminally insane plan to drill the Arctic. If we want to fix climate change, we've got to fix democracy. If we want to fix democracy, we need a revolution. But how?
For our part, the new film will play a role. We're going to make the case for non-violent revolution to fix the planet in the most entertaining and compelling way that we know how. If you've seen our last films, it will feature the same kind of risky business we're known for, but it will also have a more personal side. To get your head around it, think about adding a dash of Some Kind of Monster to our previous films. We've already shot most of the movie, including lots of exciting actions, and some key interviews with the likes of Julian Assange and Greenpeace's Kumi Nadoo.
We're filmmakers, but first and foremost we're troublemakers. Our anti-corporate hijinks are a thorn in the side of many a corrupt corporation (don't take our word for it – take theirs). But today, getting bad press for the bad guys is not enough. Our actions hurt them, but they don't build a revolution–and that is what we need now.
Our films, on the other hand, are great tools for organizing: they stick with people, and vast numbers of viewers want to get involved. With the last two films we had lots of inspired viewers, but no infrastructure for getting them to join us.
That's why this time around, we're not just making a film. We're also launching an "Action Switchboard" that will be a human-moderated social network for generating actions and movement-building. It's our contribution to the coming revolution – the one that must restore sanity to our political system before it's too late.
But we need more resources for that. We want to raise way more than our initial Kickstarter goal. To get our film into the world and to launch a truly influential platform for action, we've set what seems like an impossible goal: double our money in the final week. That can still happen… if everyone who sets eyes on this article decides to contribute just a small amount. Can you pledge to be revolting?