Back to selection
Five Questions with The Fitzgerald Family Christmas Director Edward Burns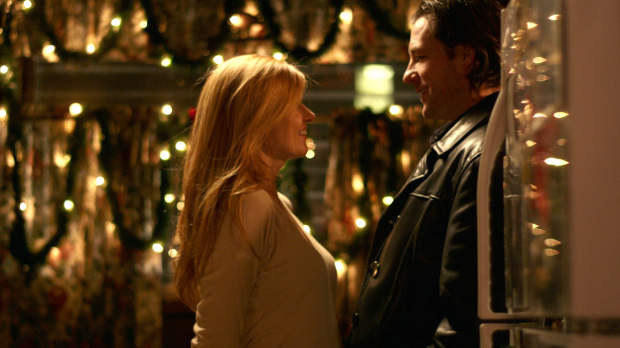 Fifteen years after winning the 1995 Sundance Grand Jury Prize for The Brothers McMullen, Edward Burns proves with The Fitzgerald Family Christmas that you can always return home. In his newest feature film, the Long Island native revisits the joys and trials of an Irish-American working-class family — fertile ground that helped him to stand out as a director and writer of independent film all those years ago. At first, Burns was hesitant to dip again into the well, but The Fitzgerald Family Christmas stands on its own.
Two generations of actors with ties to Burns over his 15 years in film reunite in Fitzgerald Family. This time around, Burns examines the complicated relationships between siblings and parents during the holiday season. While other families practice merriment and good cheer during the yuletide season, the Fitzgeralds are rocked by the return of their ill father, who abandoned them more than 20 years ago and now wants to spend the holidays with his divided family. Gerry (Burns) faces the daunting task of bridging two generations of siblings — and a strong-willed mother — together for an atypical Christmas celebration. The Fitzgerald Family Christmas offers an intimate look into a dysfunctional family reunion. Filmmaker spoke with Edward Burns about his humble beginnings at Hunter College and the development of his new film, which is out on December 7.
Filmmaker: What did you learn at Hunter College about the kind of films you wanted to make?
Burns: It was at Hunter when you first start writing your short screenplays and then making your short films. It was probably near the end of my run at Hunter that the notion of trying to be some kind of Irish-American Long Island Woody Allen was born. That probably came from the budget levels I thought I could play with. I was like, "Alright, I can get a small talking movie made. I can't get a gangster shoot-em-up movie made." It was lucky that I preferred the Woody Allen movies to the gangster movies.
Filmmaker: What was it like to dive back in after 15 years, to explore the same thematic elements that worked for The Brothers McMullen? You must have had a new perspective.
Burns: I think, you know, I was a little hesitant over the years to go back, because I think part of it was, "Alright, I don't want to repeat myself," and the other thing was that my life has dramatically changed since growing up in that town. I thought, "Can I still write about it with any honesty? Do I still know it?" The great thing is, is that you never forget that stuff. The minute I started writing, everything flowed out of me, and it's because I knew every detail so well.
I called up my mother and I said, "Who still lives in our neighborhood that you think would open up their doors to the Fitzgeralds?" And she called up her friend Tina Costella, and Tina said, "Absolutely." So, the house that the Fitzgeralds live in is six doors down from my house that I grew up in. The kitchen that they're all jammed into with their PJs — I remember eating lunch there in the third grade. The living room where Rosie [Anita Gillette] is sitting on the couch — I sat on that couch watching the Cowboys-Steelers Super Bowl in 1978. It looked lived in. A buddy of mine, when I told him what I was doing, he said, "Well you have to shoot in my mother-in-law's house. She raised ten kids in a two-bedroom house." So we scouted the house, and that's the house where Connie Britton is taking care of the old woman.
Filmmaker: The different relationships between the siblings felt organic — the diverging points of view on what it meant to grow up in that house, and the separate bonds formed between the older siblings and between the younger siblings. Since you were using a mostly recurring cast, did you have these roles in mind for your actors?
Burns: Two things. One is that I grew up with a bunch of families that were huge. They were always telling me that the three older siblings don't even know the three babies, and if they do know them, they resent them because they had to change their diapers, and by the time they were teenagers, the parents were done parenting. I thought that was really fascinating stuff to play with. I also loved the middle sibling, Erin, because I have a friend that doesn't talk to any of her siblings. She is the outsider within the family. All of these people that I know, you just pull little slices of their situations and put them in the script.
Two, as far as the casting goes, as I was writing it, I was thinking about Kerry [Bishé] and Caitlin [Fitzgerald] who play the two younger sisters. I knew I wanted them to be either of those two young sisters. I knew pretty early on that I was going to write the part of Quinn for Mike McGlone who I had worked with. I kind of had two generations of my filmmaking career represented here. Then we came up with the idea of, "Let's look at all ten films. Let's look at casting. Let's pull an actor from each one." The minute we did it, it was so much fun because these people are all friends of mine, and they all knew each other. That's why, I think, when they're on screen, you actually buy that they're a family. Anita Gillette and Mike McGlone, they've known each other since She's The One. It really helped me visualize them as a family from the minute we put them all together. They were just bullshitting in between takes and we said, "We can just roll on this and it would feel authentic." When you find actors that work well with you, you really have to hold on to them and keep them close.
Filmmaker: With independent film, you really can't fake the chemistry on the screen. Like you said, it felt like you're peeking in on a real family. Did you allow your actors to stray from the script?
Burns: Yes, a lot. Everyone kind of knows what the scene should be about, but in order to give it a real lived-in feel, I said, "Stick with the lines that you like, and anything you want to change, change." Then there's also scenes like the one where Caitlin comes over to Dot's house after the husband has just hit her. I had a version of that scripted somewhat similar to what was in the finished film. I was like, "You as the older sister — how are you really going to address this with her?" I probably had a little less pointed point of view for Dot. That's why we kind of shot it in one take. There's no cut in it so when they found the right one I knew that's the one I could just use.
Filmmaker: You often speak a lot about releasing films through VOD. What do you think those advantages are, especially for start-up production companies?
Burns: It's simple. I talk to you, your article gets published, and someone reads it. On the day that they read it, traditionally only people in New York City and Los Angeles can see it on the Friday that the movie opens. Maybe a week later or two weeks later when it expands to Chicago, Atlanta, San Francisco, Boston, people in six more cities can see it. If you live in the suburbs, even out on Stony Brook, Long Island, you're not going to be able to see this movie if it was only released theatrically. Now with VOD, anywhere you are, if you're in the deep boonies, you can go on to On Demand and buy it, or buy it on iTunes or go on to Amazon. That's a game changer because the audiences want whatever they want, when they want it. They hear about it, and if you don't capture them in that moment, you lose them because there's so many other things distracting us that are fighting for our attention now, then had been when Brothers McMullen came out. So, really, it's strictly financial. We can reach a bigger audience, which means we can make more money, and the marketing costs are almost nothing when compared to the money cost of trying to release a film theatrically.
Look, if you want to make movies you have to just keep making movies. I am super aggressive on Twitter and Facebook, on shamelessly promoting and pushing and begging for kindness and eyeballs. It's not just for filmmakers; it's for anyone who wants to do this, whether you're an indie rock band or publishing your first e-book. You have to do it. It is a long uphill battle, but you actually do see results. That said you're not going to become a millionaire. Those days for the most part are over. You might just make enough where you feel good enough about making another movie. Look at The Black Keys. Six albums in and then they're huge, and they were making their albums in their basement. We have to look to them as like, if you're that new kid starting out, say, "Alright my fifth feature is the one. That's where I'll make my mark."