Back to selection
Watch Kenton Bartlett's Missing Pieces for Free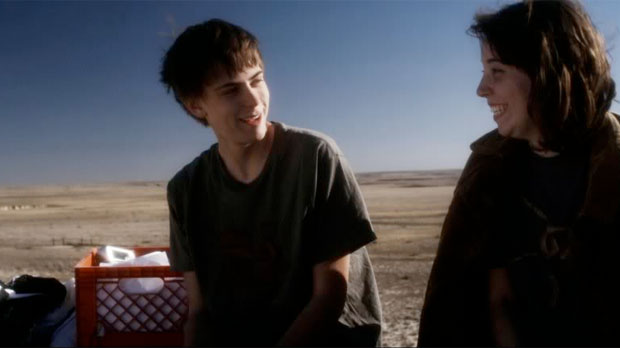 Missing Pieces
Here's a good way to get the weekend started: download or stream for free Kenton Bartlett's wonderfully original and inventive Missing Pieces, starring Melora Walters and Mark Boone Jr. The film, which the 24-year-old Bartlett began work on at the age of 19, was made on a shoestring budget but brilliantly used its meager resources to fashion a compelling and unique narrative. Birmingham, Alabama-based Bartlett cites filmmakers like Christopher Nolan as inspirations, and indeed Missing Pieces has much of the ambition and canny creativity of Nolan's early works such as Following and Memento, though it has more heart than those movies.
Here's the film's synopsis:
Written and directed by Kenton Bartlett, Missing Pieces tells the story of a man who has lost everything and his misguided attempts to reassemble his life. It is an emotional enigma about love, loneliness… and a bizarre kidnapping.

David (played by Mark Boone Jr.) tries repeatedly to win back the love of his life, Delia (played by Melora Walters).

When the situation seems hopeless, David concocts a scheme he believes will surely win her back and ultimately turn his life around.

Through interwoven, poignant vignettes, this multi-plot tale unfolds and untangles into a truly unique and heartfelt love story about finding hope when all is lost.
A few years ago the film played smaller festivals, receiving excellent reviews, but has not seen the light of day since due to music rights issues. Now, however, Bartlett has resolved those issues and has opted to give away the movie for free. A statement from the Missing Pieces team explains, "This is not just a movie but a testament to what a community of film-lovers can create by working together. We hope the for-free approach becomes a tool for sharing and connecting with others in the spirit of how our film was made."
Both Filmmaker's associate editor Dan Schoenbrun and I are big fans of this movie, and I believe that Bartlett is a force to be reckoned with — especially if given a substantial budget. One note of caution: the first 20 or so minutes of the film are a little slow and abstract, but stick with and you'll reap the rewards!
Go here for more information.