Back to selection
Latest Round of SFFS/KRF Filmmaking Grant Finalists Announced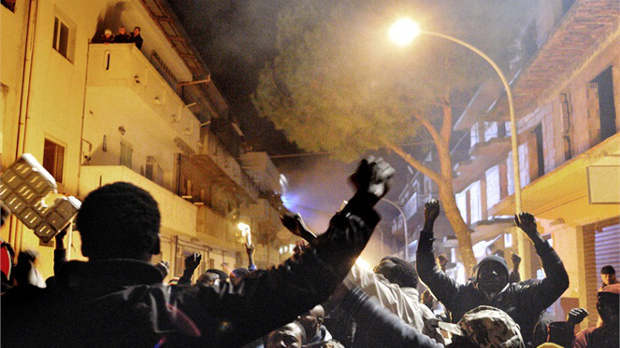 A Chjana
The San Francisco Film Society does a fine job supporting emerging  talent through their Filmmaker360 program, and most notably the Kenneth Rainin Foundation grants. For success stories, you don't have to look far: Destin Daniel Cretton's Short Term 12, which was a recent KRF grant winner, just won SXSW, and the Oscar-nominated Beasts of the Southern Wild received multiple grants from Filmmaker360. (Cretton was recently profiled by the SFFS, which you can view here.)
The latest group of KRF finalists have now been announced, and it includes Jonas Carpignano for his feature version of A Chjana, the stunning short that last year got him selected for our "25 New Faces."
As we have done previously on the Filmmaker website, we will be profiling all of the finalists in the buildup to the announcement of the winners in mid April.
Here are the 12 projects that are in contention:
Rod Blackhurst, director and Josh Murphy, producer – North (production)
Rack is a 38-year-old recently released ex-convict, struggling with his return to a neglectful society. Emotionally discarded by his family and caught in a flawed parole system, he embarks on a bicycle journey to northern California to find Rebecca, the girl he left behind. With his criminal past threatening to resurface at every turn, Rack discovers what it means to be truly free and how fragile his newly gained freedom can be.
Jonas Carpignano, writer/director – A Chjana (preproduction)
After leaving his native Burkina Faso, Ayiva makes the perilous journey across the Sahara and Mediterranean in search of a better life in Europe. Once in Italy, he must balance his desire to provide for his family in Africa with the intolerance and harsh working conditions he finds in his newly claimed home.
Grainger David, writer/director – Nocturne (working title) (screenwriting)
Nocturne is the story of a white South Carolina cop on the verge of retirement who accidentally kills a young black teenager he suspects of a recent robbery and murder. In a moment of extreme weakness, he hides the boy's body in a woodshed-only to return a day later to discover it has disappeared.
Ian Hendrie and Jyson McLean, co-writers/directors/producers – Mercy Road (development)
Based on true events, Mercy Road traces the political and spiritual odyssey of a small town housewife as she turns from a peaceful pro-life activist to an underground militant willing to commit violence and murder in the name of God.
Dan Kern, writer/director and Jay Van Hoy, producer – Relapse (screenwriting)
Relapse is a sci-fi thriller about an amnesia patient accused of murder who goes on the run in an attempt to prove his innocence and save the woman he loves.
Maryam Keshavarz and Paolo Marinou-Blanco, cowriters – The Last Harem (screenwriting)
The Last Harem follows the battle between Jayran, a young musician girl, and Malik Jahan, the mother of the newly-ascended boy-king, for the affection of the new monarch and control of the palace's extensive harem. Whoever wins becomes the most powerful woman in the Persian empire…
Richard Levien, writer/director and Chad Burris, producer – La Migra(development)
Twelve-year-old Itan's life in San Francisco is turned upside down when she comes home from school to find her apartment ransacked and her mother missing. Suddenly she must rely on her estranged uncle Eevencio, who she suspects is a criminal. They cross the country in Eevencio's dilapidated truck, through the labyrinth of immigration detention, trying to find Itan's mother and prevent her from being deported.
Zeresenay Mehari, writer/director and Leelai Demoz, producer – Dare(postproduction)
Dare is the story of a young lawyer who operates under the government's radar until one young girl's legal case exposes everything and threatens the survival of her work and life.
Tommy Oliver, writer/director/producer – 1982 (postproduction)
Semi-autobiographical and inspired by true events, 1982 tells the story of a black father whose wife succumbs to a crack cocaine addiction and his efforts to shield his young daughter from the ill effects of having a drug-addicted mother. Set at the very onset of the crack epidemic, the film is about a father doing whatever he can to protect his family.
Vendela Vida, cowriter and Eva Weber, cowriter/director – Let the Northern Lights Erase Your Name (screenwriting)
28-year-old Clarissa discovers on the day of her father's funeral that everything she believed about her life was a lie. She flees New York and travels to the Artic Circle to find her real father, but instead is reunited with her mother who abandoned her when Clarissa was only 14.
Caroline von Kuhn, producer – The Fixer (development)
An Afghan journalist is exiled from his war-torn country to a small bohemian community in Northern California. When he attempts to turn his menial job on the local police blotter into "Afghan-style" coverage of local crime, he gets drawn into the backwoods of this small town — a shadow Northern California where sex is casual, true friendship is hard to come by and an unfamiliar form of violence emerges all around him.
Josef Wladyka, cowriter/director – Manos Sucias (production)
A desperate fisherman and a naive young man embark on a dangerous journey trafficking drugs up the Pacific coast of Colombia. Hidden beneath the waves, they tow a narco-torpedo filled with millions of dollars worth of cocaine. Together they must brave the war-torn region while navigating the growing tension between them.