Back to selection
Secrets of the Glam Squad: Inside the World of Film Hair and Makeup Departments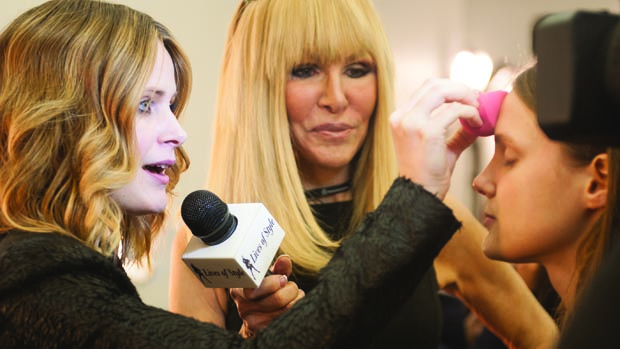 You're the producer of a low-budget movie, and, as usual, there isn't enough money. Each department is straining against their budgets, and you don't want the production value of the film to falter. So you are forced to prioritize. More lights? Well, that's hard to argue with — the movie has to look good. Another van? No way around that; you have to get people to the next location in time. But makeup and hair needs a space heater? Um … can't they just put on sweaters?
"If the electric department says they need two hours, no one questions it," says producer Carly Hugo, who has worked with non-actors on microbudgets (Mother of George) and movie stars on union films (Bachlorette). "But makeup and hair are usually the first to get rushed," she says, even though the actors' faces make up the majority of each frame of the film. Her rule: never gloss over the vanities.
IN THE TRENCHES
For professional film hair and makeup artists, most aspects of the job are not on the syllabus at beauty school. "Besides just doing the makeup, you're planning the looks of the actors for the next day, keeping track of continuity, dealing with budget, schedule, ordering supplies," says Rondi Scott, a makeup artist whose credits include Craig Zobel's Compliance, Todd Solondz's Dark Horse and upcoming films with Samantha Morton, Jessica Chastain, Susan Sarandon and Jennifer Aniston. Then, she says, there are the practical realities of filming: learning how to handle sweat in a cramped apartment in the summer when the sound department forces you to turn the air conditioning off ("Paper towels and fans," Scott says. "Never put makeup on top of sweat."), or learning how to properly prep skin to last through 12 hours of filming ("Primer."). Another important element is preparation — a phone call with the actors before filming is recommended to check on their preferences, allergies and creative ideas. A makeup test to establish a character's look in a relaxed environment, away from the ticking clock of Shoot Day One, is essential.
There's one other thing they don't teach in Cosmetology 101: psychology.
PAINTBRUSH POLITICS
"One thing I was surprised by when I started is how different each actor's process is," says Scott. "The trailer is a sanctuary, and each actor uses it in a different way. Some come in to decompress and talk, others need quiet time to focus and go into their lines." The vibe in the trailer can change drastically depending on the day, and depending on the type of scene that's being filmed. "If there's a difficult scene up that morning, you don't throw on party music.
"It's an extremely personal relationship between actors and our department," Scott continues. "The best moments — and I think this applies to costume and art departments, too — are when you're really helping to develop the character, incorporating the director's vision and the actor's ideas and your own ideas. You have to figure out who this person is, how they present themselves and how they take care of themselves."
A CAVE OF SECRETS
The hair and makeup trailer is notorious as Ground Zero for set gossip, and every actor knows it. Says Scott, "Especially on the first day, I'll never name names when I tell stories. I hardly even bring up examples of other people I've worked with. [Actors] pick up on the fact that you respect privacy in general. Then they start to trust that you're going to respect their privacy."
"Everything is about trust," says Leo Won, whose credits include Half Nelson, Me and You and Everyone We Know and The Place Beyond the Pines. "If they don't trust you immediately, they're not going to want to be touched or looked at by you. And that problem will get worse and worse."
"An actor can't do their best work when they don't feel confident," says Hugo. "And so much of that confidence is about their look being right."
"Look the part," advises Gina Bettelli, a MAC Cosmetics senior makeup artist who often arrives on a celebrity assignment with no prep whatsoever. "If you wear makeup yourself, make sure it's clean and beautiful. Ask open-ended questions ('What are your makeup staples?'), use open, positive body language and don't cross your arms. You can tell if [actors] are uncomfortable from their body language, like if they're backing away from you, or closing their eyes when you get near them. And always show them their whole look in a big mirror so they can follow what you're doing."
With hours and hours spent staring into each others' faces, it is not uncommon — in fact, it's more than likely — that actors will use the hair/makeup department as a sounding board for their fears, secrets and complaints. That can create friction between the glam squad and above the line. "If an actor is unhappy, the vanities are often the first to know it," says Hugo. "They can help make sure something doesn't escalate — not in a tattle-tale way, but just by letting us know."
"We're spending so much time together, sometimes more than the director or producers are able to spend with them," says Scott, who has witnessed conflict more than once. "I just try to make it known that I won't pick sides."
"We hear everything," Won says. "So we play good cop/bad cop, trying to make sure both parties are happy." Hair stylist Sarah Hindsgaul (Sleepwalk with Me, Almost Christmas) points out that, over the course of dozens of movies, she often develops long-term relationship with actors, whereas the directors are meeting them for the first time. "If I've worked with them before, and they don't want the same look that the director wants, I can try to explain what the director is going for. But in the end, if they don't like it, they'll just stay in the trailer and refuse to go on."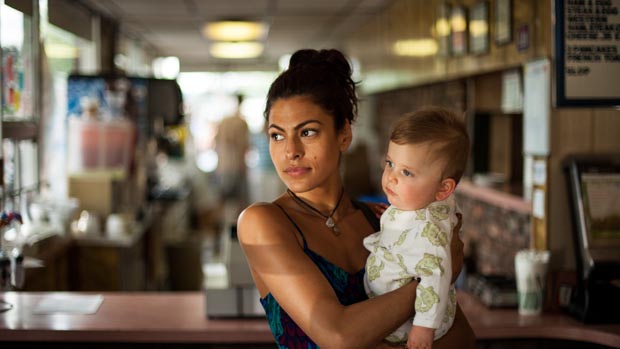 THE HD REVOLUTION
The resolution keeps getting higher, and the lighting packages keep getting slimmer — but the actors' pores stay the same size. Most makeup artists say that the flood of HD-specific formulas (MAKE UP FOR EVER and Smashbox Cosmetics are two brands that market such lines to both pros and consumers) aren't much different than any other "luminous" or "light-reflecting" foundations. "The thing with HD is you see everything," Won says. Won uses specialty makeup (he prefers  MAKE UP FOR EVER's HD formulas) and has learned to sheer down makeup in general.
"I'm not sure whether makeup really looks different on HD or film, but actors certainly believe that it does," Hugo says. "They feel more exposed, they think HD exposes to them to risks and that film is more forgiving. So they'll sometimes want the makeup department to have more time."
"Makeup artists' best friends should be the d.p. and the lighting person," Won says. "I've learned to always look at the monitor, and if there's a problem, I ask the d.p. if they can do some kind of special lighting without letting the actors know. "Discretion is vital: if an actor suddenly becomes aware that the whole crew is "dealing" with their under-eye bags, under-eye bag paranoia will dominate every set up they're in for the rest of the shoot. (On the other hand, some "seasoned" actors will demand "glamour lighting" or certain flattering angles.)
GREAT EXPECTATIONS
Congratulations, you got a celebrity to agree to act in your dark and personal microbudget film project! But if you think you can shove them into the corner of a church basement and do their makeup on a few folding chairs, think again. A celebrity who is already worried about the integrity of the production will become catastrophically more nervous if the makeup chair is wobbly.
"The makeup and hair area is your chance to make a first impression with an actor," Hugo says. She says that when hiring, she examines personalities as carefully as portfolios. "You want to set a tone that reflects how you plan to run the whole movie."
Every film should make sure that the hair/makeup department works in a quiet, private area, one with, depending on the season, heating or air-conditioning. It should be well lit and outfitted with high-backed directors chairs, a table, mirror and powder and makeup supplies. There should be coffee, water and access to craft service. Fresh flowers and an iPod stereo are always nice.
"If the set up doesn't look right, actors get very suspicious," says Hindsgaul. A big actor is risking a lot when they do an indie — they're worried that the movie isn't going to be good, they're worried that no one knows what they're doing. "You have to sort of wrap them in a welcome blanket," Scott says. "If they walk onto a set that isn't running efficiently, they're thrown for a huge loop. But if the hair and makeup is run properly, at least they feel a little grounded."
What to Do If…
There's a closed set. Sometimes the director wants to shoot a 20-minute take behind closed doors; sometimes the actors disappear in a car for an hour for driving work. What to do? "If it's a closed set, or a moving car or something where they're not going to stop for touch ups, I send the actors in with a little to-go bag. It should have fans, tissues, some blotting powder, maybe some lip stuff for the girls." — Leo Won
The actor shows up with a hangover.  "I tell them to drink water, not coffee. They have to hydrate. Then use cucumber pads or a cold spoon on the eyes to reduce swelling." — Leo Won
"Use a cold spoon or a washcloth soaked in ice water to get the swelling down. Their skin will be dull, so lots of illuminator." — Rondi Scott
"Eye drops, an aspirin, eye cream under eyes and all over the face … It reduces inflammation and makes the skin silky. If color is needed, brighter tones in peach and pink warm up the face to look healthy and rested." — Gina Bettelli
There are crying scenes. "If someone needs help looking like they're crying, I just tell them they have bad skin. Just kidding! [Use] menthol sticks [available at pro makeup shops]." — Rondi Scott
"Kryolan tear sticks." — Leo Won
To treat red eyes."It helps to run a skin-toned pencil in the water line; an old TV trick is to use navy eye pencil instead of black, to make the eyes look whiter."  — Gina Bettelli
If the A/C goes off. What about that old rumor, that you can apply underarm antiperspirant to someone's face? "That only works for a minute," Won says. "You just have to use a lot of paper towels and fans."
Product Recommends
Skin care
Nardo's Natural (Won)
Highlighter for dark circles
Yves Saint Laurent Touche Éclat (Scott)
Mascara for tired eyes
MAC Extended Play Lash Mascara (Bettelli)
Eye cream for inflammation
MAC Fast Response Eye Cream (Bettelli)
Primer for long shoots
NARS Pore Refining Primer (Won)
Concealer for zits
Laura Mercier Secret Camouflage (Scott)
Shine blot for bald heads
Mally Beauty Evercolor Poreless
Face Defender (Won)
To cover bald spots
Toppik keratin fibers (Hindsgaul)
Dry shampoo
Bumble and Bumble Color Hair Powders, Klorane Dry Shampoo (Hindsgaul)
To tame on-set frizz
Tancho Tique styling stick (Hindsgaul)
Temporary color for day players
Roux Color mousse (Hindsgaul)