Back to selection
Frances Ha — A Hammer To Nail Review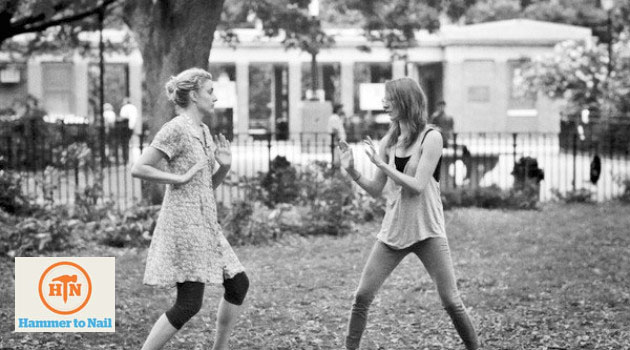 Frances Ha world premiered at the 2012 Toronto International Film Festival. It is being distributed by IFC Films and opens theatrically on Friday, May 17, 2013. Visit the film's official website to learn more.
Just when it seems oh so skull-poundingly clear that the world really, really, really does not need yet another portrait of confused Caucasian 20-somethings who are fumbling and bumbling their way through the posh shopping mall that is 21st century New York City, along comes a cinematic delight like Frances Ha to soothe ones agitated nerves like a tingly pill of Vicodin. And though the fact remains that this under-the-radar, low-budget affair was directed by industry veteran Noah Baumbach, it's the contribution of co-writer and star Greta Gerwig that makes Frances Ha stand out from the pack.
Frances (Gerwig) has been out of college for several years, but this 27-year-old still has pretty much everything to figure out. While she loves to dance and works as a paid apprentice at a dance company, at the moment, commuting to work without losing one of her shoes requires her full-time energy, while she should instead be doing something productive like choreographing a show of her very own. When her best friend Sophie (Mickey Sumner) decides she's going to move out of their Brooklyn (Clinton Hill) apartment to live with another friend, Frances can't believe it. She ends up crashing in a Chinatown loft with two guys, Benji (Michael Zegen) and Lev (Adam Driver), who are well off and hip and know how to navigate the city's complex wiring. Meanwhile, Frances' quest for any semblance of stability continues.
Frances Ha begins pleasantly enough, but it isn't until our scattershot heroine sets out on a hilarious, borderline slapstick quest for an ATM machine while in the midst of a platonic dinner date that it really takes off. From there, the picture begins to blossom like a multicolored flower (all the more impressive considering Frances is living in a black-and-white world). Frances is both sloppy and adorable, annoying and endearing. At 27, she's technically an adult, yet she nonetheless comes across as the gawky adolescent sister you trust will one day figure things out, though that day won't come for a long time. Because of this, the noticeable lack of sexual content — this movie is about modern 20-somethings in NYC, after all, and yet we see nary a kiss from Frances — doesn't feel like an omission; considering the protagonist, it feels somehow appropriate.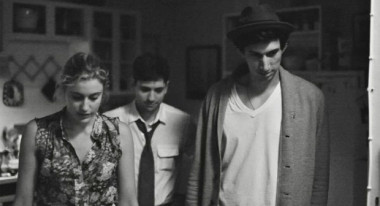 While at a dinner party one night (featuring amusingly aware performances by Josh Hamilton and musicians Dean Wareham and Britta Phillips), Frances spontaneously, stubbornly surprises her host by telling him that she's flying to Paris that coming weekend and would love to take him up on his offer to crash at his apartment there. Days later, she is indeed in France, but that is about all she has to show for herself. She doesn't talk to anyone. She doesn't really do anything. But she's in France, so that's… something? This utterly pointless trip is edited together with docu-deadpan briskness by Baumbach and Jennifer Lame. Though on paper this might sound like a preposterous turn for the narrative to take, for anyone who has ever made an egregiously unwise decision in their 20s, or who has traveled ineptly at any age, there will be pangs of recognition. (This sidetrack also proves that by working with a much tinier crew than he's used to having, Baumbach had the freedom to literally take his characters to places that would normally get excised from a script during the pre-production rewriting phase.)
Frances also goes on another plane journey, this time heading to Sacramento to spend the holiday with her family. Whether or not viewers will consciously realize that Frances' parents are played by Gerwig's actual parents (Gordon and Christine Gerwig), these scenes unfold with naturalistic, bracing intimacy. At the end of her brief trip, as Frances climbs higher and higher on an airport escalator in order to return to her confused life in NYC and she watches her parents' loving smiles recede, Gerwig delivers a look that is great acting and honest living at the very same time. It's an indelible moment.
Baumbach is a male in his early 40s whose previous three films — Greenberg, Margot at the Wedding, The Squid and the Whale — conveyed a scathingly comedic worldview. So while the tendency would be to credit Gerwig for injecting actual buoyancy into Baumbach's vision, the fact remains that even though it moves at an easy-breezy pace, Frances Ha is by no means lighthearted. What makes it so pleasurable is how it rides a line between hope and despair with such sprightly effervescence. By the time the credits are rolling and David Bowie's "Modern Love" fills the speakers once again, you might need to suppress the urge to start dancing in your seat.
Speaking of that closing credits number, it always stuns me when a director throws caution to the wind and unleashes a screamingly blatant steal from another movie. Long before those credits have rolled, the opening beat of "Modern Love" kicks in for a first time. As a delirious Frances bounds down a New York City street, running and dancing in one unbroken take, there can be no denying it: the filmmakers of Frances Ha have seen Leos Carax's Mauvais Sang. Surprisingly, this direct lift didn't offend me the way I expected it to (and, frankly, probably should have).
Baumbach and Gerwig's film is a deeply personal one, which makes me feel like it's okay to conclude this review on a personal note. I have never been more frustrated in my life than when I was a 27-through-29-year-old living in New York City. I knew I had potential. I knew I had things to say. I knew I had things to do. I knew I'd find the right life partner. I knew my day would come. Which only made it worse. Because it wasn't happening then. Frances Ha is about those maddening late-20-something days when you know it's time to grow up but the world won't let you get there yet. But you will. Even Frances does.
Filmmaker has partnered with our friends at Hammer to Nail for a weekly "Pick of the Week" post that will be exclusive to our newsletter and blog for a long weekend, at which point it will go live over at Hammer to Nail as well. In the meantime, be sure to visit www.hammertonail.com for more reviews and lots of other great editorial.