Back to selection
Julianne Moore: Cinema's Modest Chameleon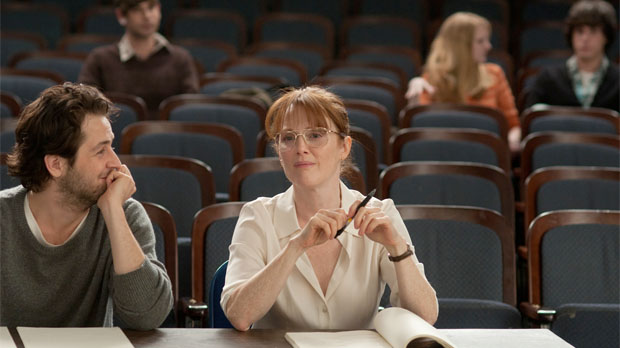 The English Teacher
Julianne Moore makes it terribly easy to like her. Her remarkable consistency has helped her remain a stellar screen presence for more than two decades. Her transformative abilities have morphed her into everything from a troubled hypochondriac (Safe) and a maternal porn star (Boogie Nights) to a 1950s housewife (Far From Heaven) and one half of a loving lesbian couple (The Kids Are All Right). And her singular, nature-defying beauty has continued to land her fashion cover shoots at the age of 52.
All of this springs to mind when Moore greets an eager parade of press while promoting her new film What Maisie Knew, a modern take on Henry James's novel that continues its national rollout today. "I'm Juli," the actress says with a big, toothy grin, following it with a familiar high-pitched laugh — her endearingly subtle way of saying, "but you already knew that." What Moore vents off in person is directly tied to what makes her acting ceaselessly appealing: She's a movie star, and a surefire household name, but unlike a boatload of other A-Listers, she's never lost that specific aura of a "working actor." The persona comprises a humility and daring that's kept things interesting for both Moore and her viewers, and it's enabled her to work with a plethora of filmmakers.
"Listen," she says tersely, cocking her head, "it's fun to get dressed up and go to a premiere and do those things. Those are all perks of the job. But first and foremost, you are always a working actor. You can't count on anything in a job in the arts. At the end of the day, we're all kind of self-employed, going from one job to the next. I think that unless you treat it properly and treat it with a certain humility, it can go away — it does go away. It's not a sure thing. For me, the greatest pleasure has always been in the actual work."
Moore's other new film, the screwball dramedy The English Teacher, opens today, and her director, TV vet Craig Zisk, called in to share his thoughts on her dedication, no matter how small the role.
"I always respected her for her choices of characters," Zisk says. "She makes all these great, often independent, movies, sometimes as the fifth lead, because it's just a great part. I mean look at The Big Lebowski: She's not a huge part of the movie, but she's just so specific and interesting. Whether she's the lead, or the co-lead, or playing one of the supporting characters, she's able to transform herself in a way that, you're not watching Julianne Moore anymore. And that was really important for me."
Zisk's comments conjure memories of Moore's contribution to, say, Alfonso Cuarón's Children of Men. On that project, Moore was second-billed, behind Clive Owen, and yet her character (spoiler alert) is killed before the film even gets to the meat of its story. Some viewers might have felt it odd that someone as "big" as Moore would have taken a part so small, but it's a great testament to her belief in strong productions, her interest in variety, and her attraction to visionaries of all types. Moore has worked with Steven Spielberg, Ridley Scott, Paul Thomas Anderson, and, of course, Todd Haynes. She's also played muse to first-time filmmakers like Tom Ford, who directed her in A Single Man, and Joseph Gordon-Levitt, whose directorial debut, Don Jon (which features Moore), hits theaters soon.
"I'd feel good about being anybody's muse," Moore says. "If you're in a position to inspire somebody, I mean, how fantastic. I think there's nothing more flattering. When Todd Haynes wrote Far From Heaven for me, and called me up and said, 'I wrote something for you and I'd like you to read it,' it was one of the happiest days of my life. I was so flattered and delighted. And with people like Tom [Ford] and Joe [Gordon-Levitt], they, like so many other filmmakers I've worked with, knew exactly what they wanted all the time. They had real acute visions of what they wanted, and how to attain it, and that's a pleasure. That's what you want as an actor — you want someone with a vision, so you're able to deliver the performance that they need."
Interestingly, What Maisie Knew co-directors Scott McGehee and David Siegel, who also sat down for a chat during their film's junket, stated that their responsibility as filmmakers is to try to figure out what their actors want. "We haven't made too many films, but we've done it enough to see that every actor has a process that's pretty unique," McGehee says. "We want to know whether or not they like to rehearse, what kind of conversations they like to have on set, when and how they're going to peak during a scene. What environment do they need? What kind of relationship with us do they crave? We try to give them the best versions of ourselves."
Zisk, McGehee, and Siegel are all quick to note how remarkably well Moore is able to foster that collaborative process. McGehee and Siegel's second film was 2001's The Deep End, which saw them direct another powerhouse actress, Tilda Swinton, whom they describe as being "intensely cerebral." Moore, by comparison, is "super-intuitive," they say, and "trusts herself in terms of her initial responses and her gut." In What Maisie Knew, Moore plays Joanna, a self-obsessed rock star who, despite her love for her young daughter (newcomer Onata Aprile), can't be bothered to be a good mom. The directors say Moore was essential in creating a "safe onset environment," especially given the involvement of a child actress, and that was after Moore had to roll in and hit the ground running.
"Julianne came onto this movie three or four weeks after we had already begun to shoot," Siegel says, "so there was already a kind of oiled machine going before she came into it. I think that can be hard for an actor, and she stepped into it pretty seamlessly. I think because she's worked with so many people, she was just immediately very open to how we were going about making it."
Though he's worked on small-screen projects with revered leading ladies like Laura Linney (The Big C) and Mary-Louise Parker (Weeds), Zisk knows full well how fortunate he was to land Moore for his feature directorial debut, and one can practically hear him beaming while discussing a similar, first-hand experience with the actress's taste for collaboration.
"When you're doing a movie like The English Teacher or What Maisie Knew, you're doing it for passion," Zisk says. "From my experience, that's what motivates you and keeps you going. Julianne's a risk-taker and that's what makes her great. She was at the top of my list for casting. I flew to New York and had lunch with her. We discussed the movie, and our points of view on it, and I started pitching her ideas. And we really saw eye to eye instantly."
All three filmmakers concur that Moore, as has been previously reported, does not rehearse, an approach that requires a lot of trust on the part of a director. But what about crafting a character? According to the actress, she's "very material-driven," and "can't do anything that's not already in the script," as "it's very, very difficult to create a character out of thin air." Her directors, however, don't quite agree, as they all say Moore, while an unfailing team player, had plenty of her own touches to bring to the table. McGehee and Siegel remark on how she had a lot of ideas for Susanna, and worked more closely with the costume department than any other actor they've directed. Zisk says Moore's ideas are the sort that "separate a good actor from a great actor," and he offers an anecdote about how she pitched in to bring her reclusive schoolmarm in The English Teacher to life.
"It was her idea to wear glasses," Zisk says. "She bought the ones she wanted to wear and brought them to the wardrobe fitting. I wasn't sure, and she said, 'Hey, I know all directors hate when actors wear glasses, because it's going to cover my eyes and block the character. I promise you, it won't.' And she was right. Every detail was thought out."
It would seem, again, that Moore is being modest — not falsely so, but almost instinctively. Talk of What Maisie Knew inevitably prompts discussion of the actress's own life as a mother. With husband Bart Freundlich, she has two children: Caleb, 15, and Liv, 11. The family lives in Greenwich Village. In a rather impromptu, "Stars — they're just like us!" moment, Moore goes on a mini-tirade about an April 30 article she read in The New York Times, wherein writers Michael Pollan and Michael Moss took on the challenge of visiting a mainstream supermarket, and buying ingredients to cook a nutritious lunch free of additives.
Moore assures that she generally admires Pollan's writing in particular, but goes on to say, "They published the recipe and said, 'See, cooking's not that hard — we need to value cooking.' What they didn't say was that they shopped in the middle of the day, leisurely, then came home in the middle of the day and made a leisurely lunch that only took them an hour. They didn't count the shopping time, they didn't have any children in the kitchen, and they hadn't been working, ya know, for 12 hours. I was thinking, 'Guys, I can't listen to this! You're talking about getting people to cook again and eat healthy, but you've got women who are working all day long, and have taken their kids to school at seven in the morning, and then they come home at six. And not only do they have to make dinner, but they haven't had time to go shopping.' That's the sort of stuff that makes me crazy — that people don't really talk about the pressures on working women, and the lack of support. It's no fun to have to come home, and make dinner, and do the laundry, and put your three kids to bed."
Presumably, Moore certainly has some support within her home in the Village, i.e. folks who help her and her husband maintain the household and balance life and career. And she freely expresses her gratitude for having a job that, often, allows her large blocks of time to spend with her family. But of everything Moore has to say, about acting and filmmaking and working with directors, this passage emerges as the most telling and characteristic. These are the fervent words of a working mother — a working actress.
Recently, Moore has shown an increased interest in challenging herself with transformations, and furthering her trademark practice of playing women who are stocked full with flaws. The most popular example is her 2012 turn as Sarah Palin in HBO's Game Change, a film that, however imperfect, was a godsend for Moore devotees, as it finally allowed them to see her approach podiums and collect (what became an armful of) awards. With four Oscar nominations but no wins, Moore at last graced audiences with acceptance speeches, nabbing an Emmy, a Golden Globe, and more while name-checking a host of folks with whom she dug into that collaborative process. The title of the movie inspires all sorts of easy, punchy Moore puns, such as how she's "changed the game" as an actress, and how she continues to "switch it up" with her performances. But despite her chameleonic talents, what it should draw attention to is how, where it counts, in her life and her work, Moore doesn't seem to have changed much at all.