Back to selection
Apple Announces New Mac Pro with Upgraded Editing Capabilities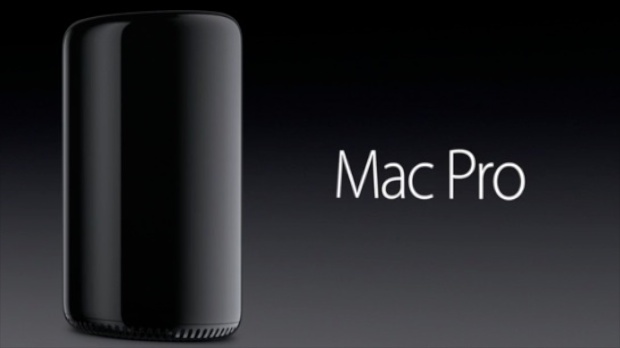 Alongside a Jony Ive-helmed refresh of its iOS mobile software, a long-awaited update of Apple's Mac Pro line was finally announced at today's WWDC. Replacing the large cheesegrater floor model is a computer one-eighth the size that resembles the classic Braun KF 20 coffeemaker.
The new Mac Pro will be one-eighth the size of the old 40-pound Mac Pro. The new desktop, which stands 9.9-inches tall and 6.6-inches wide, will ship this fall. When it does, it'll feature a blacked-out aluminum exterior and be small enough that it can sit on most desks. Inside, it will make use of Intel's next-generation Xeon E5 processors, which can be configured with up to 12 cores, as well as dual AMD GPUs, one HMDI 1.4 port, six Thunderbolt 2 ports, two gigabit ethernet ports, four USB 3 ports, full flash storage, and support for 4K displays. In all, Apple said the new Mac Pro will be twice as fast as the previous generation, pushing a total of up to 7 teraflops of computing power. It appears the new machine has no built-in optical drive — though Apple does still sell its USB SuperDrive for those who want to play or burn a DVD or CD.
For editors and filmmakers, Apple's newly-launched page for the Mac Pro offers:
"You'll be able to do things like seamlessly edit full-resolution 4K video while simultaneously rendering effects in the background — and still have enough power to connect up to three high-resolution 4K displays."
A new edition of FCP X optimized for the new hardware is expected in the Fall.
UPDATE: Peter Cohen at iMore is first out of the gate with a detailed consideration of the machine. He notes:
This move to an Ivy Bridge-EP-based Xeon microprocessor finally allows the Mac Pro to have USB 3.0 and faster a PCIe bus, which Apple is using specifically for Solid State Drive (SSD) storage, eschewing the internal SATA interface used in previous Mac Pros all together. That PCIe-based flash storage is more than twice as fast as a SATA-based SSD and up to 10 times faster than a SATA-based hard drive, according to Apple.

This is liable to disappoint some Mac Pro enthusiasts who enjoy the internal expandability of today's model, but Apple says all expandability on this new machine is external. That's because in addition to four USB 3.0 ports, the new Mac Pro has a total of six Thunderbolt 2 ports.
A user named Applemaximus who identifies himself as an editor has a negative take in the iMore comments, criticizing the lack of expandability. He also questions, as do other commenters, the emphasis placed by Apple on the Pro's small form factor.
As a video and film editor, and once G4 Cube owner, I find this a step backwards.

Rather like dropping the Xsan and making the XFinalCut(non)Pro.

This is 'looks over functionality/upgradeability'.
I love my iPad and iPhone; simplicity and "it just works" is great for my home and home-office use.

But IMHO a 'MacPro' should be a grunt machine that is modular and industrial.

It is the true modular aspect of professional machines that define them.

I have added new video cards, HD capture cards, USB3 and more to very old MacPros; making them live for well past 10 years of full service. A G4 cube lasted about two years full service, then become a nightmare of compromises and cable hell!

This new MacPro will have more cables running out of it then any before; SAS adapters, SATA Adapters, Firewire Adapters, USB Hubs…. argghh

This MacPro will be great for lots of Professional work I am sure.

And may well sell many units.

But it just reminds me of the G4 Cube; a beautiful machine that was not well recieved.

The new Mac Pro tells me that I will be working on PCs again in edit suites in the future.

Apple is aiming for mass market, and seems to be not interested in the upper end of Professional users; which I imagine is good for their bottom line, but sad for me.
What do you think of Apple's new Mac Pro? You can leave your thoughts in the comments below.
2ND UPDATE: Filmmaker's David Leitner emailed the following response to the new Mac Pro:
Today's sneak peek at the upcoming Mac Pro left me aghast and agog at the same time. Apple has never lacked for audacity, but no one was expecting this! A friend by phone called it a tall ashtray, which drew a sharp laugh from me. But as I've said before, great design often seems strange at first (like great music at first listen). What's indisputable is Apple's track record of innovation and design over three decades: second to none. Time will tell if this radical new Mac Pro is insane, great, or merely insanely great. But I'd bet money right now that this Mac Pro combined with FCP X will be a future 4K workhorse. As I glance over at my two Mac Pro towers, they already look like relics.