Back to selection
Five Questions with Man from Reno Director Dave Boyle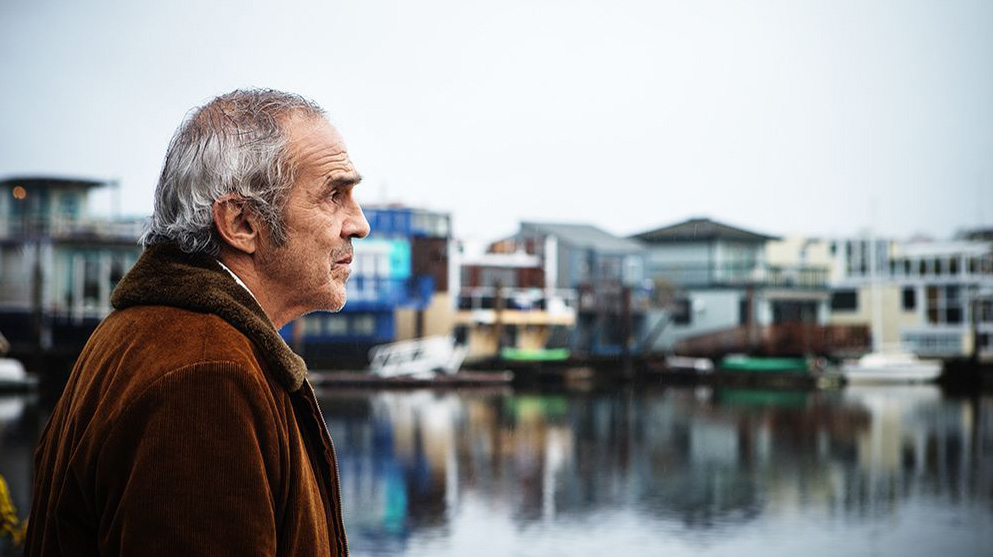 Since his 2006 debut, director and multi-hyphenate Dave Boyle has arguably carved out the most unique niche in independent film. That film, Big Dreams Little Tokyo, and his subsequent pictures White on Rice (2009), Surrogate Valentine (2011), and Daylight Savings (2012) have featured a mix of Japanese and Japanese-American characters in polyglot films that combine quirky comedy with high-strung drama. The latter two films added a semi-documentary element as musician Goh Nakamura plays a fictionalized version of himself. Now with Man from Reno Boyle retains several of his signature traits but moves in the new direction of a thriller. The film tells the story of a Japanese mystery novelist (Ayako Fujitani) who comes to America, meets a man who subsequently disappears, and thus gets pulled into a threatening missing person case conducted by a small town sheriff (Pepe Serna, above). With the film in postproduction, Boyle is conducting a Kickstarter campaign for finishing costs. He spoke with Filmmaker about his creative process and how this project differs from his earlier work.
Filmmaker: This is a new genre for you. Why a mystery?
Boyle: As a lifelong mystery buff, I've been itching to do this for a long time. There are ideas, themes and textures that are more interesting to explore in the context of a mystery, so it's been fun branching out and getting out of my comfort zone. It feels like being a first-time filmmaker again.
Filmmaker: Your films have a unique style which works quite well with quirky comedies in Japanese. Man from Reno seems a little less lighthearted. How was writing and directing this different for you?
Boyle: The writing portion was a new experience in that I was learning how to weave a labyrinthine plot that still makes sense and thematically hits the right notes. Also, it's my first Japan-US co-production (though not my first bilingual feature) so it was important for me and my co-writers Joel Clark and Michael Lerman that the movie feels culturally authentic.
While I surely flexed different muscles directing this movie, it's not like the movie doesn't have a sense of humor. In fact, I think after making Man from Reno that my sense of humor probably works better in a context where it's not the only attraction. It's almost like the freedom of not having to constantly try to make people laugh freed me up to find new comedic notes.
Filmmaker: You've worked with some of your actors before, but never in the featured roles. What was it like casting and then working with performers like Ayako Fujitani and Pepe Serna? That's a pairing the rest of us might never have thought of.
Boyle: Part of the attraction of this story was to come up with a pairing people would not expect. The intersecting stories will hopefully surprise people and confound their expectations.
Pepe is a longtime friend and collaborator, and cameo'd in my first two movies when I was just getting my start. We talked about doing more together, but a lot of my plans for bigger budget movies fizzled at the time so I started over and made Surrogate Valentine and Daylight Savings on a shoestring. Once the opportunity for Man from Reno came my way, I decided to tailor it for Pepe and luckily it worked out.
Ayako and I worked together on Daylight Savings and luckily she didn't seem to regret the experience. We kept her in mind as we wrote the script, and as with Pepe's case it all came together in the end.
Filmmaker: You also have some regular collaborators but have brought in new talent like cinematographer Richard Wong. What has the production process been like on this film?
Boyle: We had a pretty long development period, and when Kazuki Kitamura came on board suddenly we had a very short window of time to get the movie up and going. A script this ambitious for a small indie is never easy on the crew and it was definitely challenging. Fortunately, everyone knew that going in so we weren't taken by surprise.
Rich Wong, a longtime friend, actually helped me come up with the original idea for the movie and was instrumental in making the project even happen. He and Katy Porter, the production designer, worked really well together on finding visuals and textures that were unique for our film.  There weren't a lot of movie references being tossed around on set which was good; everyone was working on making Man from Reno rather than on trying to recreate other movies.
While the initial production funding came from Japan and a handful of stateside investors, we're Kickstarting post-production now and giving people a sneak peek at some footage.
Filmmaker: You starred in your first film Big Dreams Little Tokyo. Any chance you'll ever get back in front of the camera again?
Boyle: As you'll see in my post-production Kickstarter pitch video, I have no business being in front of the camera.