Back to selection
SUNDANCE DIRECTOR/SCREENWRITING LABS ANNOUNCED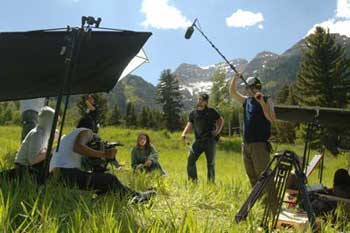 Today the Sundance Institute announced the 13 projects selected for this year's Director and Screenwriting Labs. Talking place in Park City, Utah June 1-25, the Labs will be filled with many familiar names to Filmmaker readers.
2008 25 New Faces alum Myna Joseph will be attending; as will Ondi Timoner, whose doc We Live In Public won the doc Grand Prize at Sundance in 2009; Ry Russo-Young, who was awarded our Best Film Not Playing at a Theater Near You award for You Wont Miss Me at last year's Gothams, will be attending with her latest screenplay; and '09 25 New Face Steph Green.
Read the full list of projects below.
Director Labs:
40 Days of Silence by Saodat Ismailova (writer/director), Uzbekistan: Four generations of women under one roof in Uzbekistan look to each other for comfort as they try to overcome their destinies.
Bluebird by Lance Edmands (writer/director), USA: In the frozen woods of an isolated Maine logging town, one woman's tragic mistake leads to unexpected consequences, shattering the delicate balance of her community.
Drunktown's Finest by Sydney Freeland (writer/director), USA: Three Native Americans – a rebellious father-to-be, a devout Christian, and a promiscuous transsexual – find their self-images challenged, and ultimately strengthened, as they come of age on an Indian reservation.
Martha Marcy May Marlene by Sean Durkin (writer/director), USA: Haunted by painful memories and increasing paranoia, a damaged woman struggles to reassimilate with her family after fleeing an abusive cult.
My Favorite Nightmare by Myna Joseph (writer/director), USA: A willful teenager, pregnant with her cousin's child, travels to New York for an abortion, only to discover that her unpredictable father has followed her.
The Perfect Moment by Ondi Timoner (director) and Bruce Goodrich (writer), USA: A compelling look at the life of notorious New York photographer Robert Mapplethorpe, "The Perfect Moment" chronicles his extraordinary relationship with singer/songwriter Patti Smith, his complex, tortured sexuality, and illuminates the impact his singular art made on our culture.
The Ruined Cast by Dash Shaw (writer/director), USA: Told with hand-drawn animation, a disconnected family is thrown into chaos when the scientist father loses the test subject of his experiment with appearance-altering technology.
Shelter by Kasem Kharsa (writer/director), Egypt/USA: When an Iraqi refugee is wrongfully accused of war crimes, he must piece together his muddled memories in order to save himself, unaware that one of his victims, a Gypsy orphan, is slowly hunting him down.
Screenwriting Lab:
Aqui Y Alli (Here and There) by Antonio Méndez Esparza (writer/director), Spain/USA: In this unexpected take on the traditional immigrant story, a man returns home to his small village in Mexico, hoping desperately to make enough of a living there to support his family and avoid an uncertain future back in the United States.
Nobody Walks by Ry Russo-Young (co-writer/director) and Lena Dunham (co-writer), USA: When a driven young artist invades the home and family of a Hollywood sound designer helping her finish her first film, their professional connection triggers a sexual and emotional entanglement that lays bare the needs, narcissism, and questionable morality of everyone involved.
Run and Jump by Steph Green (co-writer/director) and Alibhe Keogan (co-writer): When her husband returns home after suffering a stroke that has left his personality fundamentally changed, a spirited Irish woman struggles to rebuild her family while finding comfort in an American ethnographer sent to document the recovery process.
Wolf by Bogdan Mustata (writer/director), Romania: In this surreal tale, a young boy's dearest wish is realized when his absent father is quite literally reborn and joins the family once again.
Zero Motivation by Talya Lavie (writer/director), Israel: A sometimes comic, often dramatic look at the power struggles of three female clerks over one year in an administrative office at a remote army base in the Israeli desert.