Back to selection
The POV Conversation: Josh Aronson and Adam Larsen on Getting into Documentaries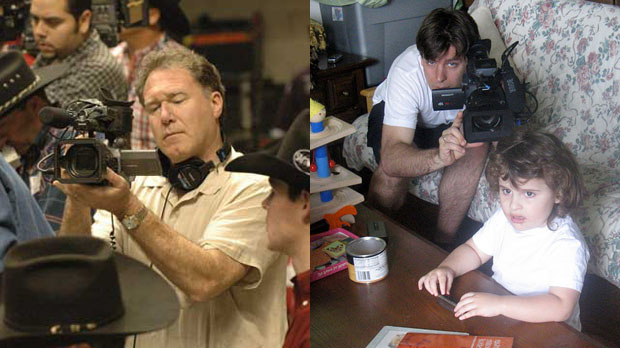 Josh Aronson and Adam Larsen
Last year, to celebrate POV's 25th anniversary, Filmmaker organized a series of conversations between documentary directors whose work had been featured on the PBS non-fiction showcase. Last month we continued this series with a fascinating discussion between filmmakers Stephen Maing and Lixin Fan. This week we will be following a conversation between Adam Larsen, whose first feature length documentary film Neurotypical is currently streaming on the POV website, and Josh Aronson, director of the Oscar-nominated documentary on deafness Sound and Fury, also a POV alum. Here the two discuss how they found their way to making documentary features.
Click here to watch Larsen's Neurotypical, an exploration into living with autism and how it reflects on what it means to be "normal", streaming for free from the PBS website until August 28.
Larsen: I studied cinematography at the North Carolina School of the Arts and really enjoyed my experience learning about film. I grew up in a house without television, so school was really my first experience and foray and entry into film, and I grew to really love it. I did some independent projects for a bit and then gravitated towards  projection design for live performance, so for the past 12 years I've really been working as a video projection designer [for] live performance and utilizing my film skills for operas and ballets and theater projects. My father has worked with autistic individuals for 20-plus years and we would host social group gatherings at my house growing up. From a very early age, I'd be surrounded by these very interesting people, and since I had my film background and this kind of entry into this group of individuals who I thought were very interesting and maybe misrepresented or misunderstood, for a very long time I wanted to make a documentary on it. I wanted to be a projection designer, but I was always thinking, "I really feel like I could tell the story with these individuals," and so I finally decided that I was not going to have any excuses about which camera to shoot on and which this and which that, so I just started filming interviews. That got the ball rolling, and it was a four-year process making Neurotypical. [Ultimately,] I utilized a lot of my skills in that world [which] I bring back into the documentary.
Aronson: That's so interesting. I think it will be much more interesting to talk about your film than how I got into documentaries and I hope we do that in a second. I've been very interested in the subject of an explorative film on the autism spectrum myself for some time, but then I dropped it for reasons I'll explain later. The film that I'm working on now will involve an autistic child and the family, so I'm very attuned to what you're doing and applaud you. I can't wait to see the film. It came from just the right place for documentary films – a place where I only want to make films that come up for me and vibrate for me organically from a place where you just described. So that's fantastic. I came to documentary in a totally different way. At first I was making industrial films right out of college. I majored in English and music, nothing to do with film, but I'd been a still photographer my entire life. In college I made a film, and just got hooked and left the idea of being a photographer. I ended up doing television commercials and I directed commercials for many many years, which was my real education. I got my technical chops there and learned how to tell a story in 30 seconds, and then did rock videos for a number of years, which was interesting, to say the least, coming from mostly a classical music background. I was sort of thrown into the rock world, which teaches you a lot about working with people. And then finally, after many years directing commercials, I wanted to go back to my initial dreams and see if I had anything to say. After some frustration with how long it takes to get into narrative filmmaking in California, where I was living, I decided just to find a documentary subject. I looked for a year while I was in between commercial projects. I had made a big commercial in Europe and had made a lot of money, so I took the money and put it in a bank account and said, "That's going to be my first documentary film." Then I just ran into the story that became my first film [Sound and Fury] – it just hit me like a locomotive. It was the story for the first film that sort of launched me as a filmmaker, and I've [continued making films] ever since.
Read Part 2