Back to selection
Kickstarter: Cheryl Dunye Takes Off Her Cool with Black is Blue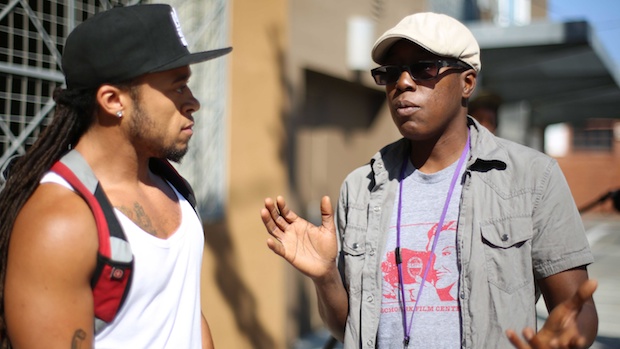 Cheryl Dunye on the set of Black is Blue. Photo: Elizabeth Strong.
Filmmaker Cheryl Dunye recently launched a Kickstarter campaign for the post-production of her latest short, Black is Blue. In this guest post, Isis Asare of Sistah Sinema, the film's community sponsor, talks with Dunye about this latest phase of her work.
In one of the most moving scenes of Black is Blue, tears roll down Black's – the film's title character – cheeks after he makes a shocking discovery about a former lover. His emotional fragility is placed in sharp contrast with his sheer physical strength. In that moment, the viewer peers past Black's masculinity, darkness, and confidence. The viewer connects with a person that is fighting for power in a world that would prefer to leave him powerless as a Black (trans) man.
Dubbed the "Lesbian Spike Lee" by Newsday, Cheryl Dunye broke boundaries with the production of The Watermelon Woman (1996), the first feature-length African American lesbian film. For the past two decades, Dunye has explored the intersection of race, class and sexuality through the power of independent filmmaking. Her other works have premiered at film festivals and museums worldwide. Her second feature, HBO Films' Stranger Inside (2001), garnered her an Independent Spirit award nomination for best director. Her third feature film, Miramax's My Baby's Daddy (2004), was a box-office success.
Like many of Dunye's works, Black is Blue is semi-autobiographical. However, students of Dunye's previous works such as The Potluck and The Passion, The Watermelon Woman, or Stranger Inside will notice a marked difference in this piece. Black does not present the easy-going quirkiness of the lead of The Watermelon Woman, the street-wise cunning of Stranger Inside, or the passive control of The OWLS' central character. Through the character of Black, Dunye bears her own vulnerability as a masculine of center, Black queer woman.
Isis Asare: Let's start with the obvious question. Why did you decide to make Black is Blue?
Cheryl Dunye: I feel a deep political connection with transmen of color. This is for two reasons. First, I see their struggle to gain accurate and credible portrayals in media as very similar to the struggle I faced when I produced The Watermelon Woman. When I produced The Watermelon Woman, woman of color were almost invisible in lesbian cinema. I see a very similar trend in media about transgender people.
Secondly, as I age, I am more often read as male. While being perceived as male does not make me transgender, those experiences served as a motivation for the Black is Blue script.
My hope is that Black is Blue builds on past work focusing on the oftentimes overlooked transmen of color experience – such as Still Black: Portraits of Black Transmen, Performing Girl, and It Gets Messy Here – while widen the pathway for future work in this space.
Asare: Besides financing, what has been the hardest part of making Black is Blue?
Dunye: The hardest part in making Black is Blue was finding a producer. I found many supporters, and I have an amazing crew. I coerced my amazing partner Anya de Montigny to serve as casting director and producer, and roped in my colleague Yvie Raj to be producer and assistant director. In the past, I worked with Effie T. Brown for Stranger Inside, and she definitely got me. I miss that type of collaboration. I am a director that likes to work with development and creative teams that look like me; that feel like me. If we look nationally, we lament about the lack of queer women of color directors, but what about the producers?
Asare: What are two things you are hoping to accomplish with Black is Blue that you haven't accomplished with some of your past work?
Dunye: I hope to experiment with cinema and form. The one thing the first two days of shooting Black is Blue has allowed me to do is play with the script, the page, the actors, and the cast/crew. Short filmmaking is a wonderful place to experiment and bring in and try out new forms and ideas. This experimentation will be the primary use of the funds raised from the Kickstarter campaign. There will be the signature Cheryl Dunye-mentary – which is the talking heads – quality in this short. In addition, I will experiment with sound, movement, dance, and even animation.
Asare: You are currently working with Kingston Farady – who plays Black – for Black is Blue. In your last project, Mommy's Coming, you worked with Ignacio Rivera, and you worked with Skyler Cooper for The OWLS. How would you compare working with the three of them?
Dunye: Um, wow that is a big radical question: working with three different masculine of center, queer actors of color. I think each of them had their own unique goals for their project that drove the interaction.
I definitely know that Skyler wanted to learn more about script writing and directing, and that was our exchange. So I think that engagement and that performance was really about the script and performing the script. Skyler is currently working their directorial debut – Hero Mars – and other projects.
Ignacio – Papi Coxx as we call them – brought a real openness about their fluidity and was truly able to express that on screen – which was critical for Mommy's Coming. They are set to start work on their next project, The Postwoman, later this year.
Kingston playing Black in Black is Blue is like peeling an onion because there are so many layers to the role. It is rare that masculine of center, queer actors of color get to express emotional vulnerability on screen. I think this will be a very different experience for me as a director, and truly matches where I am at this point in my career and my life.
Asare: So you are taking off your cool for this project?
Dunye: Yes, I guess so.
Asare: Where can people watch your work, from Watermelon Woman to The OWLS to Mommy's Coming?
Dunye: Well, one place folks can watch The Watermelon Woman, The OWLS, and The Early Works of Cheryl Dunye is Sistah Sinema – Online, which is a new premier site focusing on queer women of color cinema on BuskFilms.com. In addition, The OWLS is streaming on Netflix.com. While Stranger Inside and Mommy's Coming must be purchased on DVD via Amazon and TLA Releasing respectively. The body of my work is distributed by First Run Features, and they have been a long-time supporter of my work.
You can learn more about Dunye's Kickstarter campaign here.
Isis Asare is the founder of Sistah Sinema, a monthly event hosted in various cities screening queer women of color (QWOC) cinema. Asare recently launched Sistah Sinema – Online, a queer women of color (QWOC) video-on-demand channel on BuskFilms.com.