Back to selection
TIFF Critics Notebook: Artful Thrillers and Satisfying Biopics (Despite Themselves!) are All the Rage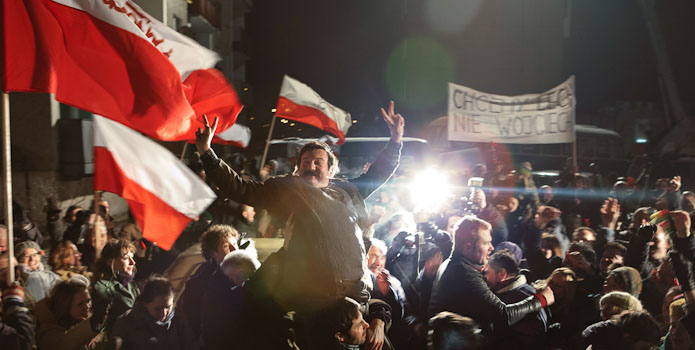 Walesa. Man of Hope
Many of the highest profile films unspool in Toronto are award-baiting biopics, and the first two films I caught are both in their own disparate ways model versions of the genre: inspirational true-life tales that the American mini-majors of old long made their bread-and-butter award season go-to baubles, the successors of Truffaut's Cinèma de Papa personified. Although neither sinks under the weight of the limitations of the genre and the clearly expressed real-world ambitions of their distributors, both Jean-Marc Vallée's Dallas Buyers Club and Andrzej Wajda's Walesa. Man of Hope are a bit overcooked if enjoyable and emotionally involving yarns. They give us multi-year but not cradle-to-grave windows into the lives of two working-class electricians who became heroes of one sort or another. Of course, that's where the similarities end.
Vallée's film is drawing serious award-season heat for Matthew McConaughey's performance as Ron Woodroof, a hard-living Dallas electrician and rodeo fanatic who contracted AIDS while the disease was still branded by conservative society as a plague visited upon gay men. A homophobe, cokehead and womanizer, Woodroof is given 30 days to live by his well-meaning doctors (Denis O'Hare and Jennifer Garner), but he managed to live for more than seven years, thanks to the help of a discredited American doctor in Mexico (Griffin Dunne in Jerry Garcia hair), by researching various non-FDA approved AIDS drugs that were being developed in other countries. To obtain these drugs he created a smuggling ring revolving around various Mexican, Japanese and Israeli suppliers and a "Buyers Club" run out of a fleabag motel. He circumvented the law against selling non-approved pharmaceuticals by having his patients, mostly young gay men who Woodroof slowly learned to accept, buy membership in the club instead of the drugs directly.
It's a fascinating story and it's brought to rich life by the 50-year-old Vallee (Young Victoria), who coaxes a magnificent pair of turns by McConaughey, whose incredible two-year stretch of work only continues to blossom, and an unexpectedly game Jared Leto as Woodroof's AIDS-infected and heroin-addicted transgender business partner and emotional guidepost, Rayon. Their rapport is the heart of the movie, this rugged Texas macho man and his dolled-up sidekick, and it makes for a riveting and often quite touching watch, even as the movie strains to score points against Big Pharma, which was pushing lethal doses of AZT, an eventual key part of the most successful early cocktails of AIDS drugs, on unsuspecting patients in the early days of the crisis.
The toll that AIDS afflicts on the body, especially in the years before modern anti-viral rendered the disease more manageable, has rarely been rendered with more pain and precision than by Vallée, ably abetted by his actors, sound designers, editors and makeup people; McConaughey looks convincingly stricken and gaunt throughout, painfully so in his sicker moments, but the cumulative aesthetic effect of the pulsing sound design and delicate degeneration of the flesh is equally felt. Regardless, it's as fully committed a performance as McConaughey has given his entire career and ranks with his work in Magic Mike, Mud, Killer Joe and We Are Marshall as among his finest.
The legendary Polish octegenarian Wajda, meanwhile, is back with a story of his country's most famous labor leader and among its most famous politicians, Lech Walesa, who co-founded the Soviet bloc's first independent trade union, Solidarity, and presided over the country as its first democratically-elected leader following the fall of the Berlin Wall. Skillfully interweaving archival footage to fill out a 20-year narrative that runs from Walesa's initial radicalization after the government's arbitrary 1970 food price hike sparked a wave of protests in his hometown of Gdansk through the tail end of Communism in Poland, the movie's narrative hinges on a interview that Walesa, ably played by Robert Wieckiewicz, gave to famed Italian journalist Oriana Fallaci (Maria Rosaria Omaggio) during the height of his international fame, in the run-up to his receiving the Nobel Peace Prize in 1983.
The movie skips both back and ahead in time from there, showing the beginnings of Walesa's leadership in Solidarity, including his first-hand experiences with the brutality of the Polish authorities strike-breaking techniques; his modest life as a mechanic, shipbuilder, husband and father; the constant harassment he received from Polish and later Russian authorities, and the difficulty he had maintaining a normal life with his wife and five children. It's a tricky balance, but the veteran Wajda pulls it off with panache, infusing the movie with an unexpected but oddly fitting post-punk soundtrack and calling forth a warts-and-all impersonation from Wieckiewicz, whose Walesa is a colorful working-class, round-bellied oddball turned political dynamo who still harbors secrets and regrets of forced collaborations from his earliest days of political impassiveness that threaten to come back and haunt him just as the Soviet bloc was inevitably beginning to crumble.
The ghosts of the Soviet past are very much alive in Alexey Uchitel's stylish Russian crime thriller Break Loose, based on Zakhar Prilepin's novel, which takes us back to the final, nihilistic days of the last millennium amongst a pack of elite Russian ex-soldiers turned police heavies who get way too involved in a bitter gang rivalry. The film shows off some brutal strike-breaking of its own, being meted out by the protagonists and his friends, despite whatever working-class solidarity they may or may not betray in private. So it is in Mother Russia in the waning days of Boris Yeltsin. Opening with a brutal gang brawl in a neon-lit nightclub, the movie eventually settles on Herman (Alexey Mantsigyn) as a protagonist, a bald Russian street fighter of few words who puts himself and his mates into even more trouble by falling for a young woman (Vilma Kutavichute) who happens to be the girlfriend of the wealthy gangster/oligarch (Artem Bystrov) whose henchmen are enmeshed in a brutal cycle of revenge with Herman and his elite OMON police crew. The picture plays like a low-rent, high-speed Russian version of Scorsese's The Departed — surprises are few and far in between, but the entire thing is elegantly made and feels like a headlong rush at a super-brisk 85 minutes. It features some glimpses of pre-Putin Russian life that are as striking as they are lost in the shuffle of the light-footprint but still evident genre conventions that govern the limits of the movie's social perceptiveness.
The same could be said for director Kevin McDonald's most recent film, How I Live Now. An adaptation of Meg Rosoff's 2004 novel of the same name, the film transports us to a nuclear war-ravaged, martial law-bound United Kingdom five minutes in the future where a New York teen named Daisy (Saoirse Ronan) has been sent, inexplicably, to stay for the summer with her British cousins. When World War III suddenly breaks out, their summer idyll goes up in flames and out come the men in uniforms and guns to haul off the children to a work camp. The kids, though, are split up, with Daisy and the youngest of the cousins having to fend for themselves amidst the forced labor, constant bombing and political uncertainty, while her dashing cuz Edmond (George MacKay) is held elsewhere. This is an even bigger bummer for her because they have a casually incestuous relationship going down and his mother is in Prague or something.
The movie isn't as thrilling as all this sounds. It's nicely rendered, but it never lives up to the promise of the post-punk and crude graffiti-style of its opening credits, meant to invoke a bygone era of Britain being under siege, but simply providing window dressing for a fairly pedestrian exercise in apocalyptic uplift brought to you by a group of kids who are more or less a walking Abercrombie and Fitch ad, which is another way of saying they're the last people one would expect the nuclear apocalypse to really come and bite in the ass. A pity, as McDonald is a frequently deft director (The Last King of Scotland), but he can't quite seem to get this actioner to stay aloft as its second act comes to a close. By film's end, I was mostly remembering the courageousness of Pan's Labyrinth, a similar albeit more ambitious tale that doesn't blink from the spectacle of putting its young feminine protagonist in legitimate danger.
Continued: Page 1
Page 2