Back to selection
"I Am the Master of My Destiny": Jeremy Irons Talks at TIFF's Bell Lightbox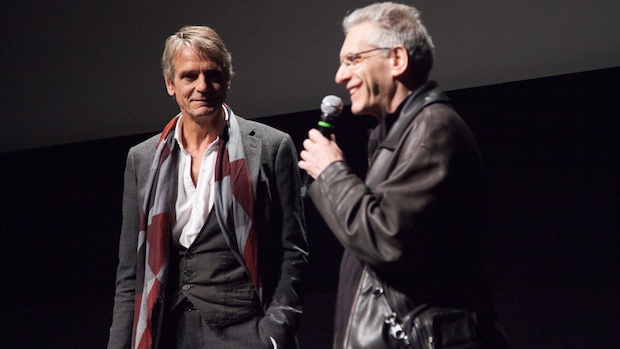 Jeremy Irons and David Cronenberg. (Photo courtesy of TIFF.)
In 1979, Jeremy Irons was in the middle of shooting the British TV drama, Brideshead Revisited when the show's technicians went on strike.   No one knew if or when the show would continue, so Irons talked to director Karol Reisz about filming The French Lieutenant's Woman the following March. "[Reisz] was going out on a big limb to allow the studio to use me," Irons recalls, "because I was a nobody."
Irons would become a household name for playing a stiff upper lipped Englishman because of Brideshead , but this past weekend in Toronto he showed a funny, candid and insightful side when he graced the stage of the TIFF Bell Lightbox. Irons was in Toronto to present Dead Ringers with hometown director David Cronenberg, and then discussed his own career the following night as part of  a multimedia celebration of the horror master's career. The 90-minute discussion ranks as one of the most entertaining yet thoughtful talks that TIFF has hosted.
The reason was Irons. He pulled no punches and told wonderful stories. He started by revealing to the sold-out audience that at 30, he had been known for performing in the London production of Godspell and for appearing in a few BBC-TV productions, but in 1979 had no movie marquee value. When Brideshead resumed shooting after four months, series producer Derek Granger promised to "sort out" any conflicts that would arise if Lieutenant got the green light. Sure enough, Reisz phoned Irons on the Brideshead set to announce: "We got Meryl [Streep] which means I can have you."  Just one problem: Granada TV would not release Irons from Brideshead.
Irons confronted Granger and said, "We are alone this room and I have got to tell you something: I am going to do that movie, so we have to sort it out."  Months later, his lawyer told Irons that they would probably win the case…in over a year. By then, the film would have wrapped with somebody else in his role. "This is dreadful," a depressed Irons thought, but then resolved, "If my career is going to work, it's to work in my thirties."
He composed a letter to the chairman of Granada that said:  My back is against the wall, but I believe I am right. If I don't have an agreement from Granada by six o'clock the next day, I will walk."  Granada became furious that a mere actor was holding the company for ransom, but it struck a cash deal with Lieutenant that allowed Irons to star in the film.
"That was when I grew up," recalls Irons, "because I suddenly thought, I am the master of my destiny, which is very important for an actor, because we are at everybody's beck and call so often. We have to wait for the answer to work.
When Lieutenant and Brideshead hit the small and silver screens in 1981 on both sides of the Atlantic, Jeremy Irons suddenly became a hot commodity.
He was too hot for Robert De Niro who (for whatever reason) wanted to play opposite an unknown in The Mission. However, director Roland Joffe cast Irons in the other starring role. "He was furious," recalls Irons, "and he used that fury to find the anger in his character."
Filming was a nightmare. The two leads wouldn't say good morning to each morning and would talk to each other through the director. "After a month of this we had the most amazing row in the make-up bus in the middle of the jungle. We called each other every name under the sun. Everything that was English and 'actory' about me he hated."
Word got back to De Niro's wife at the time, actress Diahnne Abbott, who cooked a pasta dinner for Irons and his wife. "We got stoned, we ate great food, we drank great wine," Irons recalls, "and since then he and I have been like that."
After The Mission, Irons starred as twin gynecologists in David Cronenberg's psychological horror, Dead Ringers. Irons explained at the Toronto screening how he prepared for the tricky role. "We tried actor-y things like having separate dressing rooms for them. I went shopping on separate days for their costumes." In particular, Irons placed the "energy" source for Elliot, the playboy twin in his frontal lobe "where you head-butt people," while he located the energy for the shy, vulnerable Beverly in his throat "where you're strangled."
Irons' dual performance in Dead Ringers is quite possible his greatest. Many at the time were stunned that he was not nominated for an Oscar, which made Irons conclude that the residual acclaim helped him win best actor for 1990's Reversal of Fortune for playing rich, real-life (alleged) villain, Claus von Bülow. "I suppose it is a reflection of people's perception of your work, but it has nothing to do with your work.  It has nothing to do with your talent. It's an ephemeral thing, the reason you get an Academy Award. It's just that your moment has come."
During the Q&A section, Irons shed light on How A Film Can Go Wrong when he explained the debacle behind Louis Malle's 1993 thriller, Damage, about a man having an affair with his son's lover (Juliette Binoche).  Irons admired the novel by Josephine Hart, but frankly hated playwright David Hare's adaptation. "I never liked the sort of Englishmen he writes…there's a lack of generosity in the upper-class Englishmen he writes." Irons wanted to withdraw from the project on the eve of rehearsals, but Malle said he would be forced to sue Irons.
Instead of a court battle, Irons, Hare and Malle made last-minute changes to the script, particularly to the several love scenes that the screenplay offered no details to play, according to Irons. Predictably, Irons did not ingratiate himself to Hare, the film never struck the correct tone and it died at the box office.
Irons would've been better off leaving Damage. After all, he joked that he accepts roles that other actors turn down. Lolita remains his most controversial choice, given the subject of a grown man having an affair with an underage girl. "I think it's interesting in the dark and safety of a movie theatre to see what happens to somebody who breaks that [taboo]," explained Irons. "Therefore we can understand why we have the law."
One audience member asked if Irons' varied varied roles have made him a more empathetic person. Irons answered that actors who have travelled and held a variety of experiences are more rounded individuals than politicians or businessmen. "We spend our lives getting into you, into different people.  We explore how it is to be different."