Back to selection
Going Beyond Burlesque with Beth B's Exposed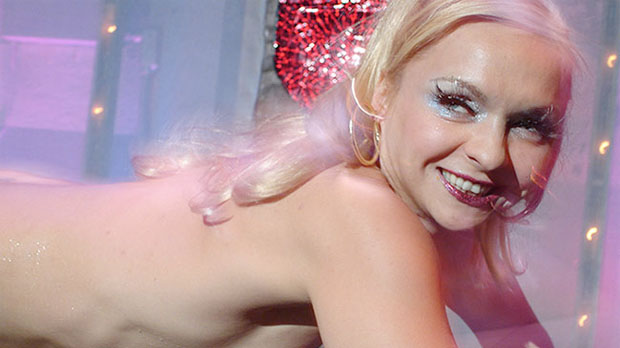 Exposed
"How do you cover up cellulite? With glitter and a spotlight." These words of wisdom from the legendary NYC, splendidly zaftig, female drag queen World Famous *BOB* pretty much sum up the ethos of legendary NYC, underground filmmaker Beth B's latest doc-extravaganza Exposed, a behind-the-scenes peep at today's proudly subversive burlesque movement. Its performers include folks like Rose Wood, a biologically male strip-teaser brought into the scene by biologically female drag queen Dirty Martini, and Mat Fraser, perhaps the sexiest Seal Boy – also the name of his critically-hailed one-man show – on the planet. (Sorry boys and girls, this disabled hottie is married to burlesque queen, and former Miss Exotic World, Julie Atlas Muz.)
And while the film itself is rather tame in format – clips from performances cut with straightforward interviews with those artists as well as with Tigger!, Bunny Love, Bambi the Mermaid and James Habacker – its presentation is not. Unsurprisingly, the punk godmother of No Wave cinema is adamant that Exposed not be "seen" but "experienced" – in the form of an event that includes actual live performances from one or more of the doc's subjects. To that end, Beth B might have a thing or two to teach younger filmmakers about getting butts in seats. And, even more importantly as a result, the gender-bending, body-image-shattering pioneers she presents onscreen might just be able to school the world at large. Filmmaker spoke with Beth B prior to the U.S. premiere of Exposed on Friday, November 15th at DOC NYC.
Filmmaker: So you've gone from No Wave cinema to indie flicks to TV work – to now a feature-length documentary. Where does Exposed fit in your overall career? Is this a return to transgressive cinema? A continuation?
Beth B: Coming out of the revolutionary times of the late 70s art, club, music, cinema scene in NYC, I was an idealistic punk who was going to change the world. I was uncompromising, often put my boot in your face, and scared a lot of people. It was the decade of alienation and I had the look and the stare that told people to go away. My affect may have changed, but my idealism has not.
After moving between fine arts and film for 20 years, I spent eight years producing and directing TV documentaries. But my idealism and passion for the underdog brought me back to independent filmmaking. Given my history of creating uncensored, socially provocative work, I thought it would take me a year to make Exposed. I underestimated the fear that people still have of strong women and of proud transgender artists performing in the nude. Behavior that's honest and "in your face" can be threatening. With this film I'm trying to help audiences get over that fear. I'm sad to say, however, that there's little support today for truly uncompromising independent filmmaking in America. So instead of being able to finish Exposed in one year, it took six.
With a background in and love of guerilla art and filmmaking, I expect art to be fist-up revolutionary, but I also want my art to entertain you and give you pleasure. The "beyond burlesque" scene gave me an opportunity to do both. Exposed profiles eight daring, completely uncensored, young burlesque stars who use their naked bodies to challenge our notions of sexuality, disability, and gender. These cutting-edge artists allow us to examine our own inhibitions by questioning the very concept of "normal." So, I guess I've come full circle, back to my roots in subversive cinema where I feel so at home. And I still think I can change the world! Why not try, at least? Otherwise, what the fuck are we doing as artists?
Filmmaker: All of your characters are legendary NYC show folk who've been doing burlesque for many years. How did you choose who to include, and was it a conscious decision to follow a wide variety of longtime stars like World Famous *BOB* and Julie Atlas Muz? (Rather than perhaps focus on one story like that of the riveting Mat Fraser – a disabled performer who oozes sexiness – or to film younger artists.)
Beth B: I had stepped away from the NY underground scene for nearly a decade, so I was not that familiar with the burlesque scene. I started filming every show, and this is how I cast the film. Exposed does not portray traditional burlesque. It is not the film you think it is. I wanted to focus on the artists who are going beyond burlesque.
I've always been focused on human rights, and the performers I've profiled – World Famous *BOB*, Rose Wood, Dirty Martini, Tigger!, Mat Fraser, Julie Atlas Muz, Bunny Love, Bambi the Mermaid, and James Habacker – are too. They are dealing with human rights for women, the disabled, transgender, queer, the disaffected, the outcast, and treating these issues in a satirical, hysterically funny and sexually provocative way. The key here is entertainment.
This is a revolutionary art "movement," and that also fueled my attraction. The performers are not isolated individual artists. To depict just one or two of the characters would have diminished the power of the whole. As artists I believe we have power in numbers. It's a super cool scene, just like the New Wave scene in the late 70s and early 80s, that I was part of. It took 30 years for the New Wave film scene to get onto celluloid – thank you Celine Dahnier, director of Blank City. I wanted to capture this vital scene, happening in New York City right now, while it was still alive. Not post-mortem.
Filmmaker: As a biological female who grew up doing lip synch shows alongside drag queens at Pyramid Club in the early 90s, it felt to me that these performers were continuing a long tradition of subversion rather than breaking any particular new ground. What's your view of this? Are they doing both?
Beth B: Let's face it, New Yorkers are jaded. We've seen it all, right? Exposed is provocative in part because it contains so much nudity. The performers expose themselves in ways that make us uncomfortable, but they do it with humor. We are allowed to laugh and sympathize with their physical foibles and our own. It makes the case for loving our bodies. In many societies, including our own, this is still a revolutionary concept. In the words of the head of the Nuremberg Human Rights Film Festival, where our film was shown this fall, "Exposed is 100% human rights." Exposed is about liberation of the body and the mind.
I've seen Rose Wood perform at The Box where the young "super cool" rich kids come to get high and feel omnipotent. They think they've seen it all and, suddenly, there's Rose Wood or Mat Fraser on stage shocking the hell out of them. Exposed takes people out of their comfort zone and asks, What are your boundaries? Just how cool and liberated are you? What are your taboos?
Filmmaker: I know it's important to you that your screenings include an "event" component. Can you discuss this – and perhaps how it relates to your earliest 8mm film screenings?
Beth B: We're aware of the limitations and conventions of cinema today. Art houses have been marginalized along with independent filmmaking. We want to expand the cinema experience, which can be passive, and allow our audiences some interactive encounters with our flesh and blood characters. Not only is this a lot of fun, it allows us to create a safe space to experience the uncompromised artistic expression that is the beating heart of our movie. And it turns the film into a "Happening" which has an artistic integrity of its own.
I guess I'm recreating some of the excitement of the late 70s when I traveled around with my Super 8 projector, touring with Teenage Jesus and the Jerks. We were creating spectacles. Now I'm doing this again with Exposed. Our events include live burlesque performances and live music by musician Jim Coleman (Cop Shoot Cop, The Children), who composed a lot of the music for the film. We've already had huge success with these live shows in Taiwan, Norway, and at a secret sneak preview at the Hot Springs Documentary Film Festival. We're planning similar Happenings in the U.S. and Germany with these live components as the movie rolls out across America in 2014, and will do the same in Germany.
It's like going back to the silent movies when they had live piano accompaniment. Burlesque has a history of live music accompaniment, and I like that historical resonance. Our Exposed spectacles create something temporal, unique, interactive and unforgettable.
Filmmaker: Finally, I found that the film could almost be a pilot for an intelligent reality TV series (if that's not an oxymoron) – where the freaks are the true normals. It also shares common ground with other recent docs, like Marie Losier's The Ballad of Genesis and Lady Jaye. Are post-gender representations on film ripe for exploitation – or the battlefield for the latest civil rights struggle? Where do we go from here?
Beth B: I will let Exposed's co-producer Sandra Schulberg speak to this question as she puts it so eloquently: "In the past year, 15 states have enacted legislation to allow same-sex marriage. America – the land that so prizes individual rights and freedom – may finally be ready to overturn the last barriers to social acceptance and self-acceptance that have imprisoned so many. To transcend the taboos and prejudices that make us feel small and afraid is a great goal for every society, ours included. I'm very proud of Exposed because it's a jubilant celebration of America's ability to keep expanding its sense of itself. Exposed is a fun and easy place to cross the bridge into the future – whether you have a physical or psychological barrier you want to overcome or you just want to bask for 80 minutes in a world where the "misfit toys" are allowed to play with everybody else."
And, to address your notion of Exposed being the basis of an intelligent reality-TV series – as a society we've gone from watching All In The Family to watching Modern Family. As glimpsed in Exposed, we will soon go even further in our appreciation of what constitutes an "American family."