Back to selection
"BREAKING UPWARDS'" DARYL WEIN & ZOE LISTER-JONES |
By Alicia Van Couvering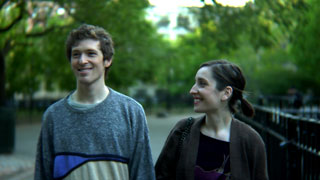 Originally posted in our SXSW 2009 coverage, Breaking Upwards opens in select theaters this Friday.
In Breaking Upwards, Daryl Wein and Zoe Lister-Jones play a young New York couple named Daryl and Zoe. The film was written by the two of them, plus Peter Duchan, directed by Wein, and produced by all three. Zoe plays an actress, starring in an Off-Broadway play; Julie White plays Daryl's mother, and was cast after appearing in an Off-Broadway play with Lister-Jones. To say that this film is autobiographical is, to be brief, an understatement. It's a romantic comedy that borrows its hyper-articulate, hyper-intellectual style from Woody Allen just as much as do the actual semi-Jewish, overly-educated New Yorkers upon whom Allen's films are based.
Both NYU graduates, Wein was also a professional actor before heading behind the camera for Unlocked, a Tribeca Film Festival short starring Olivia Thirlby, and his feature-length documentary, Sex Positive, which won a Grand Jury Prize at the L.A. Outfest last year and played at many other festivals in 2008, including SXSW. Lister-Jones is a writer and star of a one-woman show, Codependence is a Four-Letter Word (P.S. 122), whose film and TV credits include Arranged, The Marconi Brothers, Goyband State of Play, and guest star credits on every single show in the Law and Order universe (she is the youngest female ever to achieve that landmark, by the way.)
Their proximity to professional theatre gave the pair access to some of the best actors in New York or anywhere, including Julie White, Peter Friedman, Andrea Martin, Olivia Thirlby, Ebon Moss-Bachrach and La Chanze. Their proximity to each other gave them access to the weird real-life story that they turned into a movie. Breaking Upwards starts with Daryl and Zoe four years into a stagnant relationship, when they decide that it's time to split. So they devise a scientific method to extricate themselves from what is a decidedly co-dependent situation – three days on, four days off. No, four days on and three days off. Tuesdays are good because Zoe has rehearsal; texting is forbidden on days off… maybe. Dating other people? Encouraged, but no sharing of details. The result of all this planning is, of course, total chaos.
FILMMAKER: What were some of the complications of making a movie so autobiographical?
LISTER-JONES: Daryl was writing this in the midst of it happening in our lives. So we'd get into a fight, and then the day after there would be a scene written. That became really complicated for me because I felt – I don't know – I guess I felt a little exploited or something.
WEIN: I just wanted to exploit Zoe, and everything she's good for.
LISTER-JONES: It is really complicated to make something autobiographical simultaneous to its actual occurrence. It's much easier to write it in retrospect. But I think that is what's so interesting about this process — I came on once I had had enough distance from it.
FILMMAKER: How much distance was that, do you remember?
LISTER-JONES: That was like a year, right Daryl?
WEIN: Yeah, Peter and I worked on it on and off for like a year before Zoe became involved. And then it was all downhill. [laughs]
FILMMAKER: Wait, Zoe, how did you know that he was writing scenes?
WEIN: Well, when she woke up in the morning I was writing, and she would be like, "What are you doing?" That happened a few times. I mean I told her. We had a series of arguments about whether or not it was exploitative. And I used the Woody Allen-Diane Keaton excuse…
LISTER-JONES: …model…
WEIN: …model/excuse. I was like, "You have to write what you know! It's from my experience!" I think another challenge was trying to – it's like there's so many relationship movies that get made – trying to make it feel fresh and not repetitive in comparison to other movies and also within itself. [We wanted to make sure] that the story felt like it was evolving throughout this breaking apart-together kind of thing. We worked really hard on the script and the structure to make sure the characters went somewhere from the beginning to the end. We tried to find moments that weren't being represented as much amongst our age group in terms of break-ups and codependency.
FILMMAKER: Like you felt like you needed to keep honing down to that one idea that was unique about this?
LISTER-JONES: Yeah, well, that was happening throughout, I think pre-production, during production and post-production, that was constantly our greatest challenge: to really streamline the story so that it wasn't a meandering narrative about loss. That has been done too many times. We wanted it to be really quick in pace, with clear character arcs, to make sure that it was about two people who were struggling with issues that were not limited to their age range. I think that the issues that were being discussed in the film – codependency, monogamy — are pervasive in every generation. And that's why we really wanted to include the parents' storylines, too.
FILMMAKER: Can you talk about writing those characters? How the other actors changed them or made them different from how you wrote them?
LISTER-JONES: Daryl wrote his mother's role for Julie White. That was really the only role we wrote that was written for a specific person.
WEIN: And, Julie's energy is very similar to my mom's energy in real life — kind of manic and a bit abrasive — wanting to say everything and needing to know everything. The rest was kind left to Julie White to shade in, in whichever way she wanted to. She's very funny.
FILMMAKER: Did Julie ever meet your Mom?
LISTER-JONES: No?
WEIN: Yes, briefly, but not really, not enough for her to do any research.
LISTER-JONES: And Julie also, I think the reason why both Daryl and Peter envisioned her in the role from the get-go was because she's so brilliant at exuding that energy – that's really one of her –
WEIN: — signature characters—
LISTER-JONES: – yeah, signature characters that she plays. We were in a play together [The Little Dog Laughed by Douglas Carter Beane] and the character in that was super high-energy. That's what was really needed for that character, especially to counter my mother's characteristics – as played by Andrea Martin.
FILMMAKER: They are so meddling, your parents in the movie. Forcing the relationship in various ways, demanding that certain steps be taken to break it apart or keep it together…
LISTER-JONES: I think that's part of being in a really serious relationship — that you become part of that extended family. So there is actual heartache on the parents' part when something's going awry, because they get really attached.
FILMMAKER: What I connected to, unfortunately, was how the procedural aspect of the breakup that you set-up reflects the revolting procedural aspect of game-y dating – like, "Oh, I can text him because he texted me, but we hung out twice in the last three days so I should should wait at least a day…" All that counting.
WEIN: Yes, totally! That's so what we were going for in certain scenes – to show what that feels like, those specific moments when you don't know if you're allowed to be calling the person, but you want to see the person, but you're angry or uncomfortable and then you have a little fight over the phone. And then there's that scene where I cross all the boundaries and check her email.
LISTER-JONES: I think also it's that people our age, we move really quickly – especially in New York — so that our energy in relationships and in courtships is like "he should be writing me right now! Why isn't he writing me right now!" There is a manic energy to it that I don't think was the same energy of, let's say, our parents' generation. And it's why they make fun of us because at a dinner we can't not look at our cell phones every five minutes.
FILMMAKER: What's funny about applying it to a break-up of a four year relationship is that you guys are so past the game-playing point, and then you essentially impose the dating game onto a breakup and it just spirals out of control.
WEIN: Well, the open relationship aspect was something that was really important to us – [we wanted to get into] what it's like to have people other than your main partner come into the picture. Doing that together is a really weird thing. You know the scene where we're at the party and we pick Evan Moss-Bachrach as Zoe's dating target – I push her into it, and then it backfires on me.
FILMMAKER: That karaoke scene [where Daryl has made himself a complete third-wheel, and won't leave] is one that sticks in my mind– that is really sad.
WEIN: Aw, thanks.
LISTER-JONES: Luckily that was fictional because it's so fucking awkward. But a lot of [the movie] is like word-for-word factual. I mean, going back to your first question, we were adding conversations that we were having during production because it was NOT over. I mean there was no beginning and end to this thing. Its repercussions are forever. We would have this conversation and be like totally tearing our hair out at each other and then be like, "We got to put it in." And the next day that scene would be in the film. It was totally fucked up and meta in that way, but kind of perfect in terms of the technological-era aspect: immediately you run and document your story.
FILMMAKER: The film is also about performance in some ways. It perhaps hits at the fact that you are both professional actors, with that third eye of self-awareness always on you…
LISTER-JONES: Initially, you know, we weren't going to use our own names. But we decided that we should, for reasons pertaining exactly to those issues. Questions of performance became a serious thread throughout the film. For instance I was telling Daryl this, you know we have an all original soundtrack that our friend Kyle Forester made. I wrote all the lyrics for the songs, and he sang most of them. I thought it was really interesting because I was writing lyrics from a female perspective and then having a male perform them. It's kind of a major shift to go by your own names because it starts all these questions — what is fiction and what is fact and who's performing and who's not?
FILMMAKER: How different was the acting process for you in this film than on something you didn't write or direct?
WEIN: I can't speak for you, Zoe, but for me these characters are us, so I felt I was just doing my best to be myself all the time. But that was another tremendous struggle because Zoe and I were producing the film, and with that half on our shoulders at all times, acting in a way felt like an afterthought, at least for me because I was also directing. I was so stressed out thinking about whether we were getting done on time; were going to get out of the location; were the other actors doing what we need them to do, were we getting the right angles; were we going to have lunch at two o'clock…
LISTER-JONES: When Daryl says that we produced it — there's lots of people who "produce" things — the nature of the shoot was, because we were using really esteemed and reputable theatre actors we had to work around all their schedules and they were all in plays at the time. So the shoot took 35 days over the course of three and a half months. So, you know, we'd have like five days off and then three days on and then four days off and two days on.
WEIN: Which actually helped morale in some ways because when we had those days off, Zoe and I could regroup and kind of figure out everything that we needed to do for the production. If we were going back to back, it would just been impossible.
LISTER-JONES: But it was also hard for morale. I mean one day we'd have a P.A. and then they'd leave and we wouldn't get them ever back again. We had two different sound people that we were juggling because one had got a film and had to leave… In terms of scheduling alone Daryl and I were like tearing our hair out. And also, this was made "legitimately" in that we were using SAG actors, we were under a contract, we had to send in a timesheet every week, so it wasn't just like we could just pick up a video camera and shoot whenever we wanted – we were working within pretty strict guidelines for the same amount of money that a lot of other homemade films are working with.
FILMMAKER: You also know what a professional movie set looks like and how it's run, which is unique in a lot of ways for first-time producers and directors.
LISTER-JONES: Yeah, I know what a film set was supposed to look like – now that's not to say that ours looked like that. At all. We had no hair or makeup, we did the wardrobe ourselves, we did most of the props ourselves. Daryl would slate and then act and direct. Our D.P., who was totally genius and who enabled us to make the film for so little because he had the camera package and the lighting package and generously donated them and his services for free, did not have a gaffer or a grip. He was doing all the lights. He was a one-man operation.
WEIN: His girlfriend, Kim, awas AC'ing for him and pulling focus…
LISTER-JONES: …but she was a jewelry designer!
WEIN: But she was a jewelry designer by day.
LISTER-JONES: And she had never touched a film camera in her life.
WEIN: But we also had two nice, amazing people off Craigslist who were just in it for the experience and who helped lug stuff around.
FILMMAKER: What did you shoot on?
WEIN: We shot on HD on the [Panasonic] HVX200. We [shot] 1080p but we also had the Red Rock 35mm lens adapter. So that I think helped.
LISTER-JONES: Stylistically, I think it was really important a handheld film. Daryl made it really clear that he did not want that and that it was not going to be verite-style. We were going for an aesthetic that was highly crafted.
WEIN: Definitely. It was really important.
FILMMAKER: It's funny how much you are talking about other films that you wanted to avoid.
LISTER-JONES: [laughs]
WEIN: We're trying to do it so obliquely, though!
FILMMAKER: Like if I was a therapist, I would think there's an issue here that we need to explore.
WEIN: Damn it! Damn it!
LISTER-JONES: Yeah, I know, I know. Well, I think it's because we were in some ways commercially minded from the get-go. It was really important that we knew what else was out there in the same vein, and to make something that was a contrast. That was an interesting dichotomy — I mean we had uber-professional actors that we were working with and then you know, not that we were unprofessional, but we were really doing a balancing act between working with our budget or working with big actors. But everyone was a great sport about it. The love, I mean I'm not sure how much everybody felt the love at every moment, but that was really what got us through it, that everyone really loved it and wanted it to work.