Back to selection
"RIP!: A REMIX MANIFESTO'"S BRETT GAYLOR By Alicia Van Couvering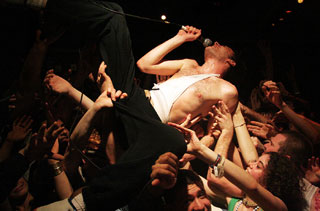 It was a calculated move on Brett Gaylor's part to not only make a movie about fair use, intellectual property and copyright, but to make a movie that you could dance to. It begins as a case study of the mashup musician Girl Talk, whose music is comprised of thousands of samples from artists as disparate as Madonna, Elton John, Rihanna, the Jackson 5 and Muddy Waters (and doesn't hesitate to try to make you dance). Then Gaylor jumps off into his Remixer's Manifesto, the points of which are:
1. Culture Always Builds on the Past.
2. The Past Always Tries to Control the Future.
3. Our Future is Becoming Less Free.
4. To Build Free Societies You Must Limit the Control of the Past.
These issues are part of a very big and monied argument between artists who want to use all the material they can get their hands on and corporations who want to retain ownership over their vast media holdings. Gaylor illustrates the fight using a mashup of all kinds of (uncleared but, according to him, fair-use protected) television clips, music samples, animation and interviews. He visits with Dan O'Neil, an illustrator who was persecuted by Disney for drawing Steamboat Willie too much in his comic books and went on, after years of losing lawsuits to Disney, to found the Mouse Liberation Front (Gaylor becomes a card-carrying member on camera). He interviews Lawrence Lessig, the Stanford Law Professor and founder of Creative Commons. He travels to Brazil, where wide-open copyright laws have encouraged massive cultural advancement in schools, as well as tremendous medical advancements based on drugs that should not, according to the laws of the United States, be available for anyone but major pharmaceutical companies to sell.
Gaylor, a Canadian, is the director of opensourcecinema.org and is the producer of the HomelessNation.org, a web project dedicated to bridging the digital divide. He spoke with Filmmaker on the eve of a new launch of opensourcecinema.org and the SXSW premiere of his documentary, RiP!: A Remix Manifesto.
FILMMAKER: So, your film, as I saw it, is framed as a manifesto for a new approach to copyright and fair use. I think you expose both sides, but I wouldn't say that it is even-handed, necessarily…
GAYLOR: Yeah, it's not meant to be in that tradition. It's not supposed to be the news or a talking heads sort of examination. It's very much meant to be a first person kind of manifesto. It's what I feel in my gut about these issues.
FILMMAKER: What are the counter-arguments from the "copy-right" as you call it (vs. the "copy-left"), that you avoided or cut out?
GAYLOR: Well, I don't know so much about the counter-arguments, but one of the things a film doesn't necessarily do well is sort of say, "okay, so what are the kind of nuts and bolts of how we're going to work this out," in terms of the business model for the future. We weren't going to say, "Here's where we're going to talk about voluntary collective licensing systems and how much revenue should be shared." That would be boring, and undermine your enjoyment on a cinematic level. It's also not really my role — there are a lot of people who have been thinking about this for many years who already have good proposals on the table. I mean, I kind of think the best way to get people talking is to stir their hearts and stir their heads.
FILMMAKER: To that end, I think the emotional argument in your movie is that these laws directly limit the creative output of our culture — how can you be an artist reflecting your culture if you can't actually use most of the elements of that culture?
GAYLOR: Yeah, that's the argument of the film, for sure. Even though the film is the manifesto, the Molotov cocktail thrown in the middle of [the argument], it's basically [meant] to push things more towards the center. You have to create something a little bit radical to get it away from the current discourse that's going on because the media companies own the means of production and distribution of the entire discussion. All the debate around this has been framed as kids lacking in morality stealing things online, whose behavior must be adapted. But it is such a nuanced issue.
FILMMAKER: Well, with Girl Talk especially, that's a homegrown, creative expression he's producing– but when he starts making lots of money it's just like a whole different ballgame.
GAYLOR: It is, yeah.
FILMMAKER: But when is he ever going to make tons of money if he can't release his stuff commercially?
GAYLOR: He does make a fair amount of money touring, which I think says something about where the possible revenue streams are in the digital universe.
FILMMAKER: As critic Cory Doctorow says in your film, "Live touring is back to being the most effective business model, just like at the beginning of the century. Technology giveth, and technology taketh away."
GAYLOR: Yeah, I think there's something to that. I mean some artists will say, "What if I play the theremin, what am I supposed to do?"
FILMMAKER: Tuba players everywhere are weeping into their sheet music.
GAYLOR: Yeah, they're freaking right out. But, you know, on this point of Girl Talk, I think he would say if there was a reasonable way he could compensate all the different artists he samples, he would do it. But there isn't. Basically what he would have to do is phone all the people on the publishing side, phone all the people on the master recording side, get them all to agree with each other, come up with a reasonable fee, pay it up front and then they would all have to agree that the work was good and approve the end result. And he samples some of the best-known stuff in the world. Madonna would have to agree to be layered over top of The Jackson Five, or it's all over. What he's saying is, "Is there is a system where I don't necessarily have to beg permission first, could there be some sort of automation, that every CD I sell trickles some revenue down to the artist…"
FILMMAKER: Perhaps the chance for big money, for striking it rich, is just diminishing for everyone.
GAYLOR: I think it allows for more people to make a living wage. For an independent musician, they can have more direct sales; they can sell their stuff online; they can have a fan base based on the ubiquity of their work online; they can have some guaranteed markets to tour; and they can piece together, you know, a living wage. I think it does diminish the ability for a small amount of people to make ridiculous sums of money. But I think that's probably okay.
FILMMAKER: Were the members of Metallica, who were early and very vocal opponents of Napster and downloading, maligned for what they said? The band member looked so greedy in that Charlie Rose clip you show: "if you steal music, have to contend with people with very deep pockets, like Metallica."
GAYLOR: Yes. But they've since rescinded, a little bit.
FILMMAKER: Really?
GAYLOR: Yeah, they created some kind of YouTube account and invited their fans into their creative process. He feels pretty bad about it. But I am sure he feels bad about a lot of things.
FILMMAKER: I was impressed with how polished your film is, how good the graphics and animation are. Did you do them yourself?
GAYLOR: No, those were done by our friends. That was how the film was made: collectively. Then there's the whole open-source cinema thing; some of the animation was done by strangers around the world.
FILMMAKER: Can you describe in a little more detail what open-source cinema is?
GAYLOR: It's sort of a collaborative website where people can contribute their art material to a film in progress. So basically what I would do, and what I continue to do now, is sort of place these calls to action. So we're looking for someone to make the best Girl Talk video, or we're looking for videos for people who were sued for downloading music. Then we download their work back to our computer and incorporate it. And so what we're doing with it now is trying to make that process available for anybody to use in films. We're going to do is launch it at South by Southwest, with our U.S. release.
FILMMAKER: When did you decide to use it for your film?
GAYLOR: We wanted to explore that from the beginning. But you know, back in 2004, YouTube didn't exist or anything. I remember pitching the concept to some execs, that we would make a film where average people would create audio and video content on their own computer and put it online, and it was just like… crickets. Like, "Who would have time to upload things to the internet? That's impossible!" [laughs] Then a couple of years later, boom, there's YouTube, Myspace, Facebook – all of that didn't exist when we were coming up with this concept.
FILMMAKER: So how did you even imagine it?
GAYLOR: I was an early video blogger, I and had these communities that I created quite a few years ago. It was pretty clear that that was the future of media – at least for us. It just took a couple years before that kind of became mainstream and easy enough for people to do it.
FILMMAKER: I don't mean this to be ironic, but did you have to obtain licensing agreements from all these people?
GAYLOR: Well, what we did was make sure that all the work that was uploaded you had to agree to upload under a Creative Commons license. So when I would post the original video that they could remix, I posted that under a Creative Commons license and basically said that if you want to use this you have to agree to the same terms.
FILMMAKER: Creative Commons is a concept and business model that was created by the lawyer Lawrence Lessig. Can you talk about meeting him? I feel like you're very star-struck doing that interview with him in the back of the taxi.
GAYLOR: Yeah, I know, I know. It's kind of embarrassing to watch it now. It's so funny because that was shot in China — we went about as far as you could go on the planet to get an interview with somebody in the back of a van. But we had a fixer in China that was a friend of mine – actually the younger brother of the director of Up The Yangtzee. And we asked to him to get us a car, because he had been so busy the whole time he was in Beijing that he just couldn't do an interview. So we thought, "Oh, maybe it would be interesting and globe-trotterish if we interview him as he goes on to the next step of his global campaign to right the wrongs of copyright." And all we can get is basically is this completely run-down chicken van. So Larry exits Beijing University where he's given this speech, and he's got this whole entourage of Chinese law students following him. They see this complete piece of shit that we've got for him and they're like, "no, no, sir, no, no, sir, we have a better van for you, we have a better van for you." Larry's just like, "No, I am going to go with these guys." And he gets in and he sits on one side of the seat, and it actually does like a complete Marx Brothers slide; one side completely flies up in the air. It kind of broke the ice, actually. He knew that this was not a typical movie.
FILMMAKER: Well, you are a soldier in his populist army, right?
GAYLOR: Yeah, for sure, and it is true that the film sits where his work is – somewhere in between very academic work with governments, and something like Girl Talk, which is very adolescent and exuberant.
FILMMAKER: Can you describe his work, his history with fighting Disney?
GAYLOR: Lessig challenged the 1998 Sonny Bono Copyright Term Extension Act, which a lot of people called the "Mickey Mouse Extension Act." That law was passed the very year that Mickey Mouse was about to fall into the public domain, and Disney and the MPAA lobbied pretty heavily at the time to extend the terms of copyrights. He fought this as a constitutional case on behalf of an archivist who was about to have all this work enter the public domain, and it was now going to be locked up. A friend of his said, "Larry, when was the last time someone went up against all the money in the world and won?"
FILMMAKER: And in fact, he did lose.
GAYLOR: Yes, and that was when he began the activism to start Creative Commons. Disney is so central in the argument because all of his work – all those famous Disney films were based on public domain stories [Snow White, Sleeping Beauty, etc.] Disney himself relied on this concept of a healthy public domain to be an innovator – to fulfill the American dream. He was in a basement making these things called "The Alice Shorts" – based on Alice in Wonderland [which was also public domain]– and that was how he started the Walt Disney empire. But then of course they became extremely litigious, you know, suing Day Care centers for putting Mickey Mouse on their walls.
FILMMAKER: Suing anyone and everything they could, really, for using what they had created to be some of the ubiquitous symbols of our culture.
GAYLOR: Right, and so that's one of our manifesto points: culture always builds on the past, but the past tries to control the future. Somebody had a Q&A last night called, "the ladder kick theory." The developed world climbs the ladder and gets to a certain point of achievement, and then kicks out the ladder so that developing nations can't get to their level, whether it's through terrible trade relationships or patents on drugs. They try to control the future.
FILMMAKER: I never realized that these issues of controlling intellectual property extended into medical patents and drug development.
GAYLOR: Yeah, we [were studying what they had done in] Brazil, that they had fought the U.S. on HIV drugs [to deregulate those patents and distribute HIV medication throughout their country.] It was clear that the film had to kind of bloom into talking about those issues.
FILMMAKER: So in terms of open-source cinema, how far did your personal network expand while making the film? How do you feel like you relate to other filmmakers on the web that are dealing with these issues as well?
GAYLOR: Filmmakers like Arin Crumley, Lance Weiler, all these folks trying to innovate on the web, and the whole From Here to Awesome thing – it's been fun to see that take off. I definitely feel like I found a community of other likeminded independent filmmakers who are saying, "The model is broken, but there is an opportunity for exciting, creative possibilities on the web in distribution and the creation process itself." It's been a great time to make a film.