Back to selection
The Other Moments of the 2013 Gotham Awards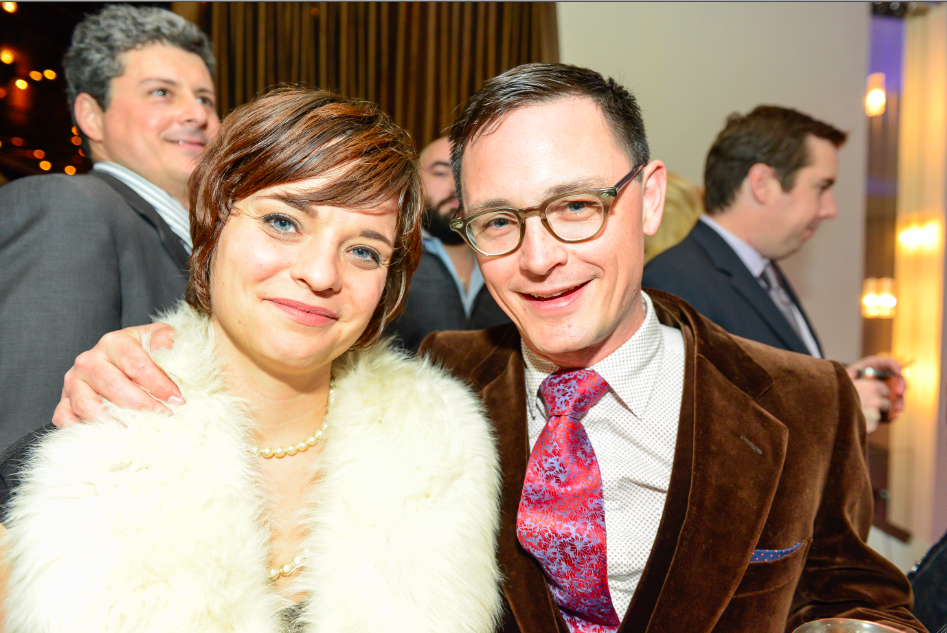 Penny Lane and Brian L. Frye
Almost a decade ago, I was assigned to cover an LA-based awards show by The London Times. I was attending as the guest of an employee of the organization which put on the show and so was afforded access that a journalist might not get. I remember sitting up in the gods, watching the show, getting the same experience one would get watching on television, except from a great distance. During the second commercial break, after watching the usually hilarious host stumble through some mostly unfunny material, I realized that I had literally nothing to write about and that the only thing to do was to leave my seat and go in search of moments elsewhere.
That's maybe the biggest piece of wisdom I took from that night, that awards shows are not really about the pieces of plastic that are given out — meaningful and important though they are — it's about those other moments. When I've attended the Gotham Awards in recent years, I've tried to seek out those moments that maybe go unseen and I collected a few this year.
Before the show or even the red carpet got underway this year, I began my own Gothams night on a bad note — by accidentally spilling a considerable amount of water over Gayby's Jonathan Lisecki, who was about to interview arriving nominees (ala Joan Rivers) for the pre-show livestream. Despite my drenching his ($240!) shoes, Lisecki was very decent about it and regained his cool after only limited tongue-in-cheek theatrics. We hung out a while at the after party, so I think I'm forgiven, but it bears saying that he's the funniest person in indie film. There, that should be enough.
Penny Lane and Brian L. Frye, who were among Lisecki's first interviewees, were looking very stylish at last night's show, but told me at the pre-show drinks that they had been traveling so much with Our Nixon recently that they had not been able to go home to get home prior to the Gothams and had in fact spent the day doing last-minute clothes shopping for the event. Also with them was Jeff Reichert, who not only works for Cinedigm, which released Our Nixon, but is the husband and creative partner of Filmmaker's own Farahih Zaman. Their excellent doc Remote Area Medical had a great fest run this year, and they are now in post on a Hurricane Sandy doc (which I previously wrote about here). Check out the Gothams section of the upcoming Winter issue of Filmmaker to see a picture of Jeff and Penny which proves definitely that they have the same hair.
Penny and Brian were on our 25 New Faces list in 2012 and were nominated last night in the Best Documentary category along with Let the Fire Burn director Jason Osder, who was on this year's 25 list. Osder was one of the few who didn't make it to Tacoma for the annual gathering, so it was good to finally meet him, albeit briefly, during the show.
I also met for the first time Zac Stuart Pontier, the editor of Martha Marcy May Marlene and Catfish and a Best Actor jury member, who told me about the documentary on murderer Robert Durst that he's been editing for three years, and also Laura Heberton, one of the producers of Gayby as well as a number of other fine indie titles from the past few years.
Pontier mentioned that he went to NYU with Kate Lyn Sheil, who was there representing Amy Seimetz's Sun Don't Shine, which was nominated for the Breakthrough Director award. Also present was Kentucker Audley, Sheil's co-star in that film, sporting a fine moustache; apparently it was not grown for Movember but instead for a film he's currently shooting in which he portrays a Christmas tree salesman in Greenpoint. "He's playing a normal person for once," Heberton told me.
Another person I caught up with was Andrew Sensenig, who played The Sampler in the Best Feature nominee Upstream Color (for which Seimetz was Best Actress nominated), who was looking for tips on places to get a sublet in Brooklyn. "There's a movement happening here," he said. He's not wrong. I had not seen Andrew since he played a major role in what will likely be the worst and most surreal 12 hours I will ever spend at Sundance. (More on that here.)
The show itself was defined, for me, by silence. Or rather the lack of it. It's very difficult at any award show to get people to be quiet, and last night both the host Nick Kroll and some of the presenters were having a tough time feeling like they were being heard. Kroll visibly loosened up as  the show went on and got a better response from the crowd as a result, but the some of the presenters — who are used to being listened to when they speak — weren't shy about expressing their dismay at being talked over so much. Julie Delpy, paying tribute to regular collaborator Richard Linklater, said that if she had self-immolated on stage no one would notice. Jared Leto, picking up the Best Actor award for his Dallas Buyers Club costar Matthew Conaughey, told the audience, "Shut the fuck up — you can eat your creme brulee after." (For the record, it was lemon meringue cake.) Lee Daniels, who paid tribute to his The Butler star Forest Whitaker, was the most visibly upset by the talkers, shouting "Shut the fuck up!" on two separate occasions. Daniels ultimately found that the way to quiet the room was by his own silence. He simply stopped talking, and said defiantly, "I will wait for this incredible man," holding his words about Whitaker until guests showed the requisite respect.
During the show, I found it fascinating to watch the nominees at the tables next to mine as their categories came up. Shane Carruth and Amy Seimetz watched intently as a clip from Upstream Color played in the Best Feature reel, then laughed as it came to an end. (Was this a comment on the exit point of the clip?) And as Shailene Woodley announced the winner of the euphoria CK Spotlight on Women Filmmakers "Live the Dream" grant, I was looking over at one of the three shortlisted directors, Gita Pullapilly. As her name was read out, Pullapilly seemed to react in slow motion, turning to share a wordless, disbelieving look with Aron Gaudet, her husband and co-director on Beneath the Harvest Sky, before smiling, getting up and making her way to the stage.
Photo by Aisha Singleton for IFP