Back to selection
The Changing Aatsinki Season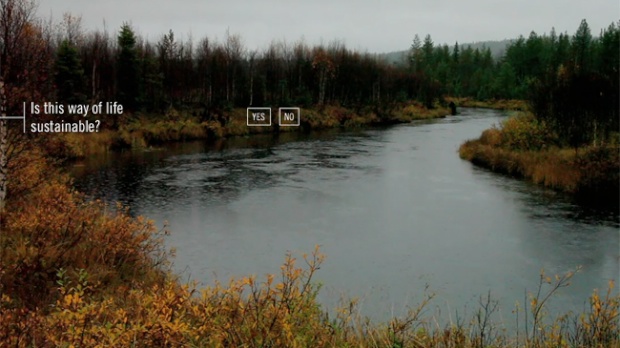 For us in North America, Winter formally arrives this Saturday, December 21. But the season has already changed — online, at least, and to Fall — for the arctic cowboys of Aatsinki Season, the hypnotic online collaboration between director Jessica Oreck and transmedia developers Murmur. For the last nine months, an online extension of Oreck's documentary, Aatsinki: The Story of Arctic Cowboys, has been streaming and scrolling online, with each quarter bringing a new set of meditative observations.
When the project premiered, Oreck discussed the difference between the film and the site:
The film is very pure, direct cinema—an immersive and atmospheric study of this family and their connection to the land.. Without changing the experience of the film, we wanted to find a way to get people talking about the complex issues that affect these herders and modern, independent farmers around the world. The Aatsinki Season enabled us to build out the story in both an engaging and educational way.
More recently, Oreck talked about the project with National Geographic, discussing the Christmas she spent with her subjects:
ORECK: I celebrated Christmas with them on several occasions, and they have their own Christmas mythology, which is that Santa comes from this mountain very close to where the Aatsinkis live, called Korva Tunturi (map).

So Santa Claus comes Christmas Eve because the Finns realize that he has so much of the rest of the world to deliver presents to that he does his hometown first, so to speak. So they get their presents Christmas Eve.

Are reindeer involved in the Santa story at all?

ORECK: Yes, definitely. Rudolph is actually named Petri, which is like a Finnish Peter.

There's actually a pretty hilarious scene in the movie at Christmastime where they're talking about Petri, who's waiting outside for Santa Claus, and the wife of the younger brother says, "Oh, well, isn't [Petri] going to wander away from the sled to go look at our female reindeers?"

And [the local man playing] Santa says, "No, no, no, I've made it so that he's not interested in females"—meaning that he's castrated him.
In other Oreck news, her Mysteries of the Vernacular — 26 short, etymological animations — has reached its conclusion as well. Check it out here.