Back to selection
Filmmaker's Top 10 Posts of December, 2013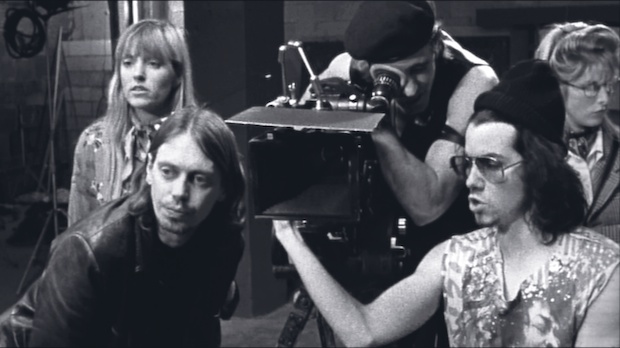 Tom DiCillo's Living in Oblivion
Our top ten posts of 2013 will follow, but, before we get to that, here are Filmmaker's top posts of December, 2013.
10. Film vs. Digital: The Canon 5D and 7E. Sarah Salovaara's post of a video A-B'ing two Canon still cameras as a way of comparing film and digital was next on the list.
9. Christine Vachon in Wroclaw. Another November post is in the #9 slot — a synopsis by Ashley Green of producer Christine Vachon's talk about the producing business at the American Film Festival in Wroclaw, Poland.
8. How Many Films Does the Average Low-Budget Filmmaker Make? Sarah Salovaara's post of a U.K. study on low-budget filmmaker output was next on the list.
7. Stream Previews of All 14 Videos from Beyonce's New Album. The surprise release of Beyonce's latest gained traffic for tons of sites — and dollars for Apple — so why not Filmmaker? Honestly, I was struck by the diversity of music video style in this playlist containing 30-second clips of every video on the singer's new album so I quickly posted it.
6. What Do You Do When Your Funding Falls Through: Proximity. Michael Murie's tale of a filmmaker improvising a short film when funding for a larger project fell through took our #6 spot.
5. Shocking Video: Celebrities are Ugly! We try not to do clickbait here at Filmmaker, and this was intended as such. But, occupying the #5 spot on the list, maybe it wound up that way. I'll occasionally post optical illusions and strange photography here on the site, and this movie-themed one is one of the best. It's a genuinely trippy video that turns favorite celebrities into Lovecraftian monsters before your very eyes.

4. Shia LaBeouf Tweets Apology for his Daniel Clowes Plagiarism. Shia LaBeouf's apparent plagiarism of a Daniel Clowes' comic is one of the stranger entertainment stories of the year. As with most case of plagiarism in the age of the internet, the question was left, what was he thinking? I can't say that I know, but my summary of the incident was our third most-read piece this month.
3. "I Don't Know Where To Put the Camera: Martin Scorsese on His Toughest Set-Up." This 1983 short French TV interview segment with Martin Scorsese is a lot of fun, alluding to both the director's own wild days as well as his cinematic monomania.
2. Nymphomaniac: Lars von Trier Up to his Old Tricks. "If the director was a musician, Nymphomaniac would be his greatest hits collection": Kaleem Aftab's review of Lars Von Trier's Nymphomaniac was our second most-read piece this month.
2. Warning: This Budget Can Be Hazardous to your Health. In our runner-up spot was, surprisingly, an archive piece from 1998. Earlier this year I made a list of some of the how-to articles we've published over the years, the ones that haven't dated due to technology or business changes. I've been posting them on our Facebook page on the weekend, when there isn't as much new content on the site. And Liane Bonin's piece, on the mistakes independent filmmakers often make — everything from bad sound to poor script development — took off. (The Living in Oblivion still above illustrated the article in our magazine.) It got tons of shares and likes, indicating that as much as look for the new, sometimes the most traditional wisdom is the best.
1. Why Your Film Needs a Good Gaffer: Watch How Lighting Changes a Face. Posted on the last day of the year, this video, which was originally uploaded to the internet in 2012 and discovered via Digg and Gizmodo, rocketed to our top spot. It is both instructive and truly trippy.